See also the main article on Wisconsin, for documented election integrity issues and further reports.
Former US military intelligence officer and statistical analyst Seth Keshel analyzed the trends of voter registrations versus actual votes. The following report indicates which counties' vote counts align with the trend in voter registrations and which have small or large divergences. Each county is flagged as red, yellow, or green, based on whether the 2020 vote totals aligned with the expected trends (as past decades demonstrate they typically do), or if they diverged in statistically unlikely ways.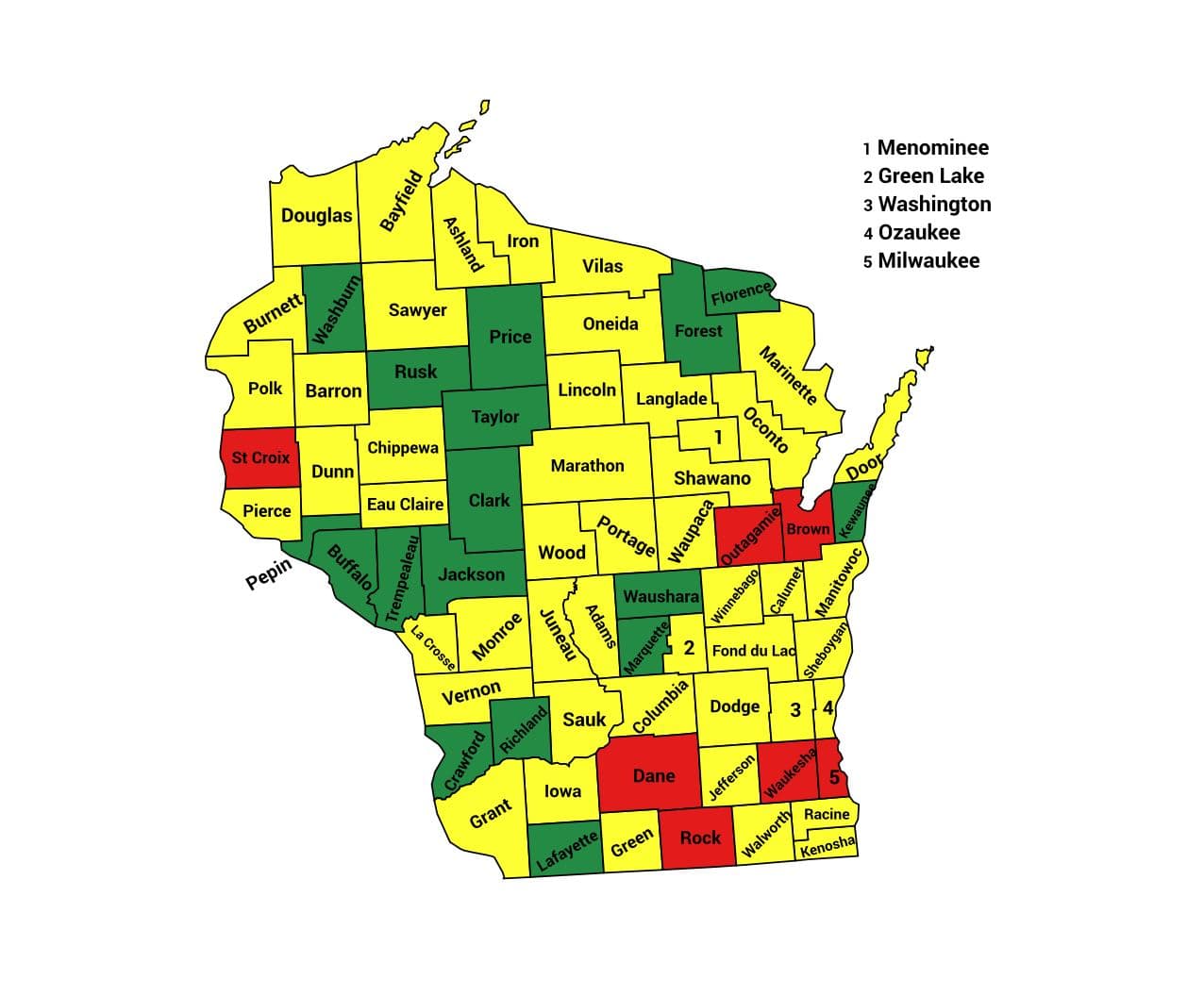 Trump votes
Biden votes
Other votes
Officially reported results

1610184

(48.82%)

1630866

(49.45%)

57056

(1.73%)

Estimate of potential fraud

139000

(4.2%)

Estimate of actual result
(with fraud removed)

1610184

(51.0%)

1491866

(47.2%)

57056

(1.8%)
Wisconsin is a little swingy with third party and independents, with more play in those numbers than Pennsylvania and Michigan. Additionally, with a much smaller state, excess vote totals are lower. Estimating Biden at 139k statewide excess in a state he "won" by 21k, on the strength of a 3:42 AM vote drop on 11/4 of 168,000 ballots going 85/15% for him.
Dane and Milwaukee both appear to be 15k heavy (which is lenient). The state, mostly within these two counties, had 244k "indefinitely confined" voters due to COVID, 4x the amount they had in the previous election. This allows a workaround to voter ID. Trump still trended western Wisconsin, which was key to his 2016 win.
If Biden is 139k heavy, Trump margin in Wisconsin was about 51.0% to 47.2%, or 3.8% overall (118k votes).
Best counties to target for audits:
| | |
| --- | --- |
| St. Croix | (5k excess) |
| Outagamie | (6k) |
| Brown | (7k) |
| Waukesha | (10k) |
| Calumet | (3k) |
| Winnebago | (3k) |
| Oneida | (2k) |
Top 100 Worst Counties
Seth has listed Wisconsin's Dane, Milwaukee, Rock, and Waukesha counties as being among the Nation's Top 100 Worst Counties in terms of abnormal trends during the 2020 election.
Stats By County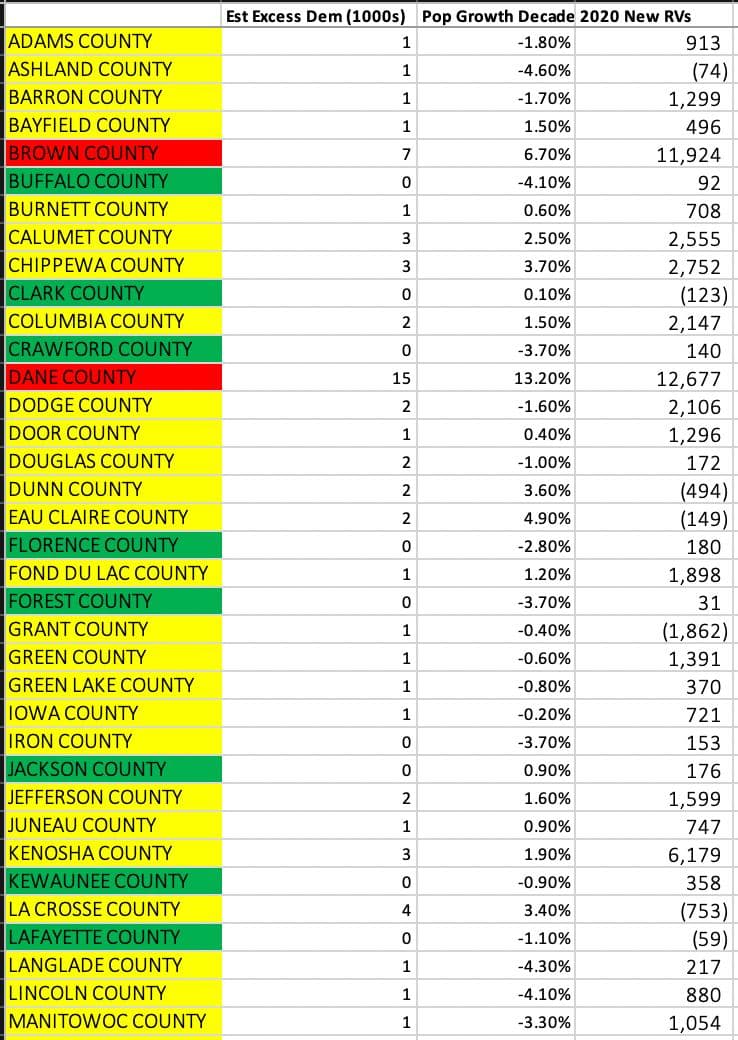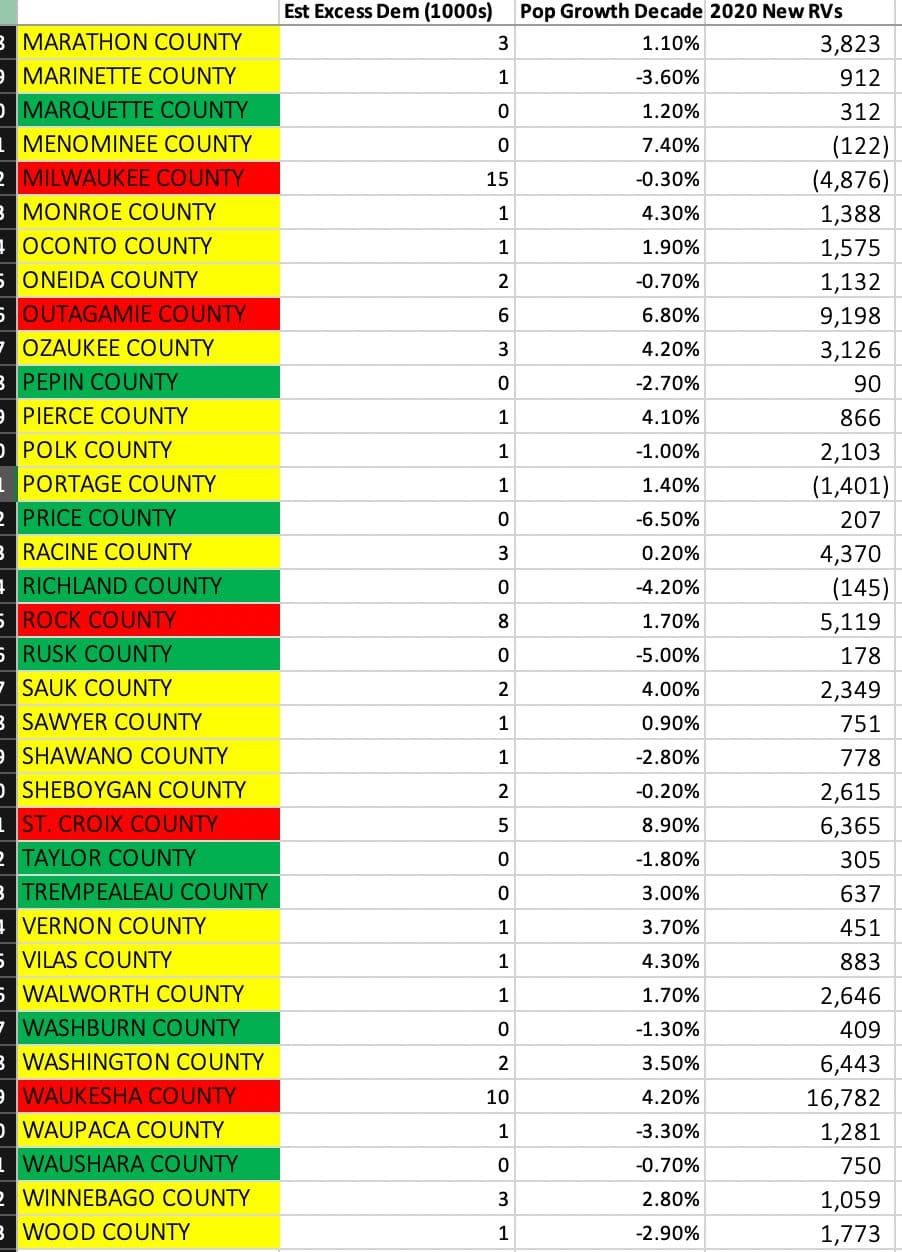 Written Reports
Or you can download the reports from this alternate link.
Brown County
The following heat-map graphic shows the precincts in Brown County with the most irregularities:
Dane County
Seth highlights some strange irregularities with the voter rolls in this Telegram post:
Kenosha County
Seth highlights some further specific issues with voter rolls that may indicate some link to the 2010 Census data, similar to what has been suggested by Dr. Doug Frank:
Outagamie County
Outagamie showed numerous anomalies in their voter registration list:
Rock County
The following video shows how Seth discovered 8,000 excess Biden votes, based on a 16-year trend line and identification of populist coalition shift.
St. Croix County
I have long believed St. Croix County, would be an ideal target for a conservative county audit in Wisconsin, since Milwaukee, Dane, and Rock would give so much resistance.

It appears the locals have allowed for a 14-to-5 Democrat-Republican split in the county government, unfortunately.

But here is a county that is 5k high for Biden based on registrations and trends, likely tied to Twin Cities activities.

This county has a Trump trend identifiable due to larger margin than Romney in 2016. All counties in PA, NC, FL showing that all expanded GOP registration advantage.
The following PDF shows a map of which precincts within the county had the most abnormal results:
Seth also flagged an issue whereby St. Croix voter rolls have 5,728 voters on the roll with a registration date of 1/1/1918, of which 1,430 are active.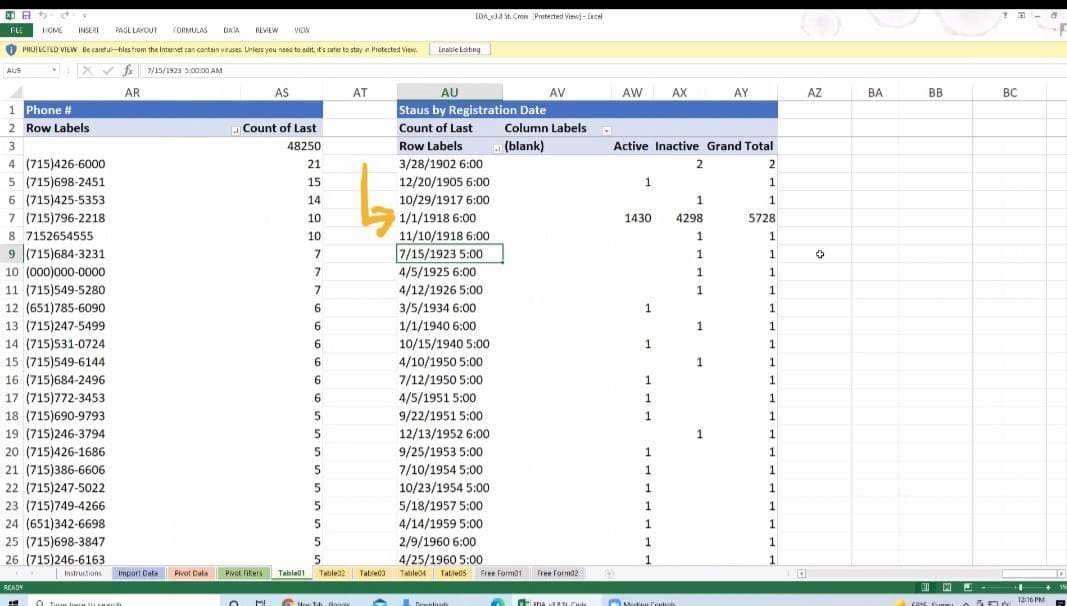 It's possible that this date was used as some kind of default when the date was unknown, but that seems like very poor database management. Passports don't allow an unknown date, drivers licenses don't allow an unknown date, credit cards don't allow an unknown date, so why should voter registrations allow one?
Seth on the Ramthun Report
Concerns with "Indefinitely Confined" Category
Seth provides some stats on the use (and possible abuse) of the "indefinitely confined" category for requesting an absentee ballot:
Events & Presentations
| Date | Presenter | Location | Link |
| --- | --- | --- | --- |
| Tue Dec 21, 2021 | Seth Keshel | Sheboygan, Wisconsin | More info |
| Thu Oct 28, 2021 | Seth Keshel | Waterford, Wisconsin | More info |
| Tue Sep 21, 2021 | Seth Keshel | Wilson, St. Croix County, Wisconsin | More info |
Methodology
Seth Keshel's estimates are based on the percentage of voters who are registered to each party (where it's possible to obtain this information) compared to the actual votes for each party. He examined these party trends over the last two decades, as well as population growth, which brought to light the strange and statistically unlikely outliers and anomalies that occurred in 2020. We explain this process, step by step, with visual examples, in our guide How to Predict Election Results Using Registration Data, so that you can investigate the numbers for yourself.
Raw Data
We aim to publish links to both the raw election data and voter registration data for Wisconsin so that citizens and researchers can analyze this information for themselves.
Other Reports
Get Involved
Volunteers are needed to help verify the irregularities found. One key way this is done is through voter canvassing, with teams analyzing the county and state records and voter rolls, and others going door-to-door to identify whether the records match the actual residents living at the address.
Election Audit Groups on Telegram
Further updates from Seth Keshel can be found on his Telegram Channel @RealSKeshel.
To join the grassroots efforts in pursuing election integrity and audits of the 2020 election in Wisconsin, you can join the following groups on Telegram:
For other states, see our Full List of Telegram Channels.
ElectionFraud20.org and Seth Keshel have no affiliation with nor any responsibility for these channels. Discern carefully, as some users and even admins of channels have shown obstruction to transparent audits of our elections.
Visitor Comments