Most research into election fraud began in the six battleground or swing states, yet after numerous other states reported integrity issues the research has widened. We're hoping to expand our coverage to every state in the US. The sections below outline what we know so far about Delaware.
Election Integrity Scorecard
The Heritage Foundation's Election Integrity Scorecard is an assessment of each state's voting laws, written regulations and procedures. Delaware was ranked equal 32nd out of 51.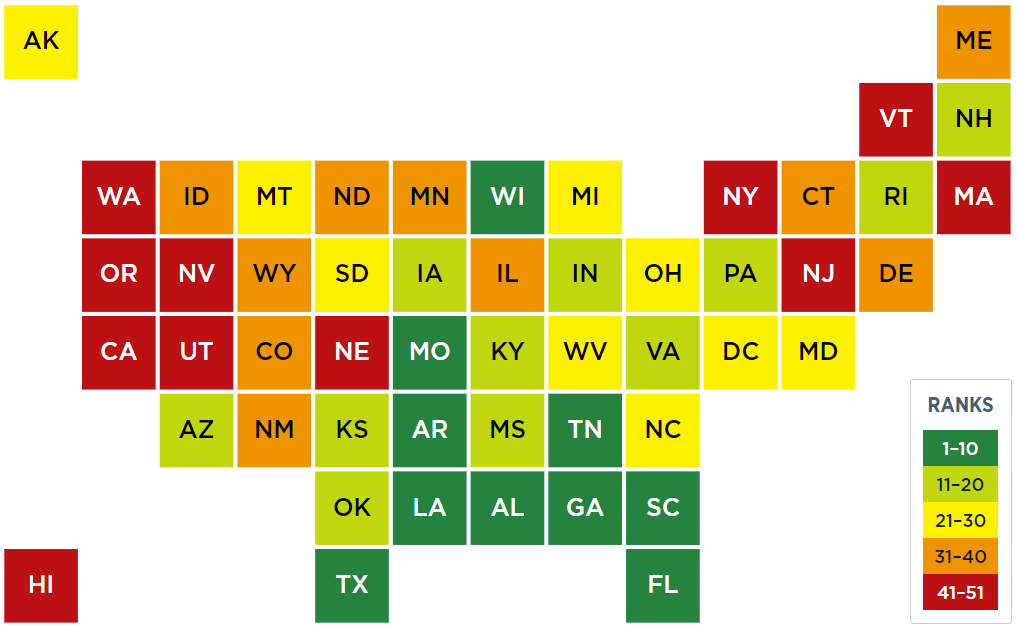 | Delaware's Total Score | 52% |
| --- | --- |
| Voter ID Implementation | 15% |
| Accuracy of Voter Registration Lists | 73% |
| Absentee Ballot Management | 76% |
| Vote Harvesting/Trafficking Restrictions | 0% |
| Access of Election Observers | 100% |
| Verification of Citizenship | 25% |
| Identification for Voter Assistance | 0% |
| Vote Counting Practices | 33% |
| Election Litigation Procedures | 0% |
| Restriction of Same-day Registration | 100% |
| Restriction of Automatic Registration | 100% |
| Restriction of Private Funding of Election Officials or Government Agencies | 0% |
View the full Scorecard for Delaware
It's important to note that the scores above reflect the laws, regulations, and processes that exist within the state, but not whether they were actually followed. In the 2020 election, some states with highly-rated election integrity measures did not uphold them. 1 As The Heritage Foundation reminds us, even the best laws are not worth much unless responsible officials enforce them rigorously. It is up to the citizens of each state to make sure that their elected and appointed public officials do just that.
Seth Keshel's Trend Analysis
Former US military intelligence officer and statistical analyst Seth Keshel analyzed the trends of voter registrations versus actual votes and discovered alarming anomalies in a number of counties, ones that defy typical historical trends. He has published a report for every state, indicating which counties' vote counts align with the trend in voter registrations and which have small or large divergences.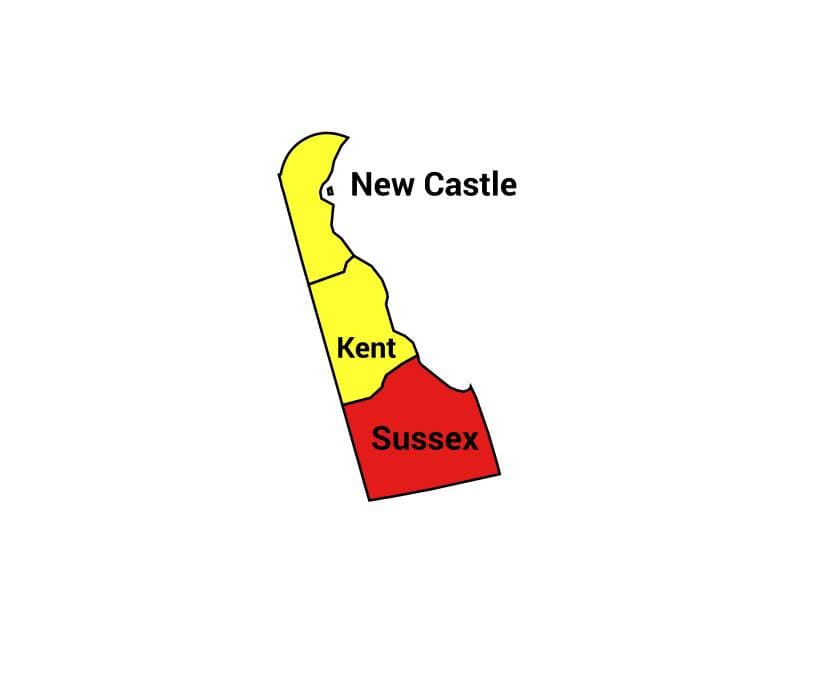 Trump votes
Biden votes
Other votes
Officially reported results

200603

(39.8%)

296268

(58.7%)

7571

(1.5%)

Estimate of potential fraud

27000

(5.4%)

Estimate of actual result
(with fraud removed)

200603

(42.0%)

269268

(56.4%)

7571

(1.6%)
Seth estimates that there may be approximately 27,000 votes for Biden in excess of what Delaware registration trends would indicate — a possible indicator of fraud. Counties with the greatest number of excess votes deserve closer inspection.
View Seth's National Summary   View Seth's Delaware Report
Electronic Voting Machines
The polling and tabulation equipment used for each county in the US is listed at Verified Voting, although see our disclaimer 2. They also have a detailed database including photographs of the various models of voting equipment. Note that the polling and ballot marking equipment is different to the scanning and tabulation equipment — both need to be highly secure, and in most cases are not.
Voting machines and computerized tabulation equipment have introduced many vulnerabilities and avenues for manipulation in elections. Cybersecurity experts tell us that there is no such thing as a fully secure computer system, and the more complex our voting systems and election systems get, with more moving parts and connections, the more impossible it will be for any state or county to defend against a nation-state-level threat. Local counties running elections can no longer defend against these motivated and well-funded foreign nations. The efficiency gains brought by machines are not reason enough to tolerate the loss of security, accountability, and transparency.
Elections need to return to paper ballots and mechanical or hand counting to minimize the threat of cyber attacks and manipulation by fraud. Let your state representative, county clerk, county commissioners, and Secretary of State know your opinion about this.
The Arizona Ballot Integrity Project is one such initiative promoting new, ultra-secure paper ballots with state-of-the-art security features to prevent fraud and help restore faith in elections. Learn more about the initiative.
Preliminary Audits
Preliminary Audits of the Delaware 2020 elections are damning. Only 10% of the votes have been audited and they've already found over 20k fraudulent ballots. Internal polling before the elections were EXTREMELY close. They couldn't let Joe Biden's home state seem even remotely competitive while they were busy stealing the swing states — [it] would have raised a few eyebrows. Ladies and gentlemen, it's looking like I pulled in at least 47% of the vote — I maybe even won. Thank you to Seth Keshel's Team for all of their hard work. More on this to come. Stay tuned!"

— Delaware U.S. Senate candidate Lauren Witzke 3
On Sep 28, 2021, the non-partisan coalition Patriots for Delaware relayed some alarming findings from their 2020 election canvass: 3
A high number of votes coming from some nursing homes who don't have nearly that many beds:

296 votes that came from a nursing home with only 94 beds. That's 315% votes coming from a facility that is rarely at full occupancy.
Several other nursing homes reported over 100%, while most facilities in the state reported anywhere from 0% to 75% votes in relation to available beds.

Hundreds upon hundreds of votes from "Uniformed and overseas citizens" that used the mailing/residential address of the three county elections offices in the state — a violation of election law
Dead people voting

Almost 30 thousand voters were added to the voter rolls in the months leading up to the Nov 3 election. Oddly enough, over 11 thousand of those voters were removed from the rolls in August 2021 alone. Why would 11 thousand people unregister to vote in one month? Were the elections offices "cleaning up" their voter rolls? If so, why wait until after a historic election to remove voters?

The astronomically high 47,205 ballots sent to adjudication — equal to 25% of all mail-in/absentee ballots cast in the state. The FEC allows 0.0008% of ballots to be sent to adjudication. Also, how did that many ballots get manually reviewed by the required three reviewers in such a short time?
Similar grassroots canvass efforts are underway in at least eleven states. Learn more about the thousands of irregularities being uncovered in our article on Door-to-Door Canvassing Results.
June 2021 Presentation
Patriots for Delaware delivered a presentation in June 2021 that included a summary of potential election fraud discovered in the state so far:
Further Election Reports
Patriots for Delaware has further election integrity updates and press releases on their website.
Get Involved
Volunteers are needed to help verify the irregularities found. One key way this is done is through voter canvassing, with teams analyzing the county and state records and voter rolls, and others going door-to-door to identify whether the records match the actual residents living at the address.
State Representatives Supporting Election Integrity & Audits
Following the results of the Maricopa Arizona Forensic Audit, 188 state representatives from 39 states signed a letter asking for forensic audits in all 50 states.
❌ No representatives from Delaware have yet signed the document.
The US Congress Election Integrity Caucus — a group of 55 federal members working together on issues of election integrity — has no members from Delaware.
Election Audit Groups on Telegram
To join the grassroots efforts in pursuing election integrity and audits of the 2020 election in Delaware, you can join the following groups on Telegram:
For other states, see our Full List of Telegram Channels.
ElectionFraud20.org has no affiliation with nor any responsibility for these channels. Discern carefully, as some users and even admins of channels have shown obstruction to transparent audits of our elections.
Raw Data
We aim to publish links to both the raw election data and voter registration data for Delaware so that citizens and researchers can analyze this information for themselves.
Further Leads
Footnotes & References
Visitor Comments
Do you have more information about what happened in Delaware? Share in the comments below.