NOTE: The following issues relate primarily to the November 2020 Presidential election in Georgia. A run-off election occurred subsequently on Jan 5, 2021. It's not yet clear whether the following issues persisted into that election also.
Number of disputed ballots
Up to 300,000 votes
Joe Biden's winning margin
11,779 votes (0.25%)
Georgia's electoral college votes under dispute
16 votes
(36 would need to be flipped for a Trump win)
Independent forensic audit investigation
❌ Partial ballot inspection for 1 county only
Outstanding Issues
Unobserved ballot counting

Outstanding/unresolved integrity issues with Dominion counting machines

Ballots appearing to have been duplicated by copy machine

Massive spike in number of ballots manually adjudicated

High numbers of underage voters, unregistered voters, deceased voters, incarcerated voters, and out-of-state voters

Widespread lack of verification of absentee ballots

Significant statistical anomolies

Over 40 witnesses gave testimony in Georgia on December 9-14

Massive errors found during a ballot audit
The chairman of the judiciary subcommittee in Georgia that examined evidence of fraud in the 2020 election, released a scathing 15-page report calling the results of the 2020 election, "untrustworthy" and recommending that the certification of the results be rescinded. 1
The November 3, 2020 General Election was chaotic and any reported results must be viewed as untrustworthy. The Subcommittee took evidence from witnesses and received affidavits sworn under oath. The Subcommittee heard evidence that proper protocols were not used to ensure chain of custody of the ballots throughout the Election, after the opening of ballots prior to the Election, and during the recounts. The Subcommittee heard testimony that it was possible or even likely that large numbers of fraudulent ballots were introduced into the pool of ballots that were counted as voted; there is no way of tracing the ballots after they have been separated from the point of origin."

— The Honorable William T. Ligon, Chairman Of The Election Law Study Subcommittee of The Georgia State Standing Senate Judiciary Committee 2
After 12 hours of testimony [I conclude that] you can't make some of this stuff up. I mean it's just unbelievable what we've seen in this 12 hours of testimony. I'm embarrassed. It's an embarrassment for our state and I am more and more convinced now that this is a well-orchestrated, well-coordinated effort, by several groups to commit widespread and systemic fraud."

— Georgia Senator Brandon Beach, Georgia's Senate Judiciary Subcommittee on Elections 3
A 5-hour segment of the Senate's hearing, including eyewitness accounts is shown below:
Key Allegations
Failures in ballot "chain of custody" procedures, where ballot batches were taken for same-day transport, yet took three days to arrive at their destination 3

During counting in Fulton County, the Election Director stated that out of 113,130 votes scanned up until that point, 106,000 of them had to be manually adjudicated (a massive 93.7%). Either the machines were faulty, or a large number of paper ballots had issues that prevented them from passing the computerized scan. 4

Vote counting rooms were announced as "closed down", and yet counting continued, without independent observers present, in violation of law. 5 6 7

At State Farm Arena, evidence of this was streamed live over the internet. After observers left, ballots were pulled out from underneath a covered desk. Trump's Legal Team estimates this could account for 37,500–120,000 votes. 8 3 9

Ballots appearing to have been duplicated by copy machine 10 (further details below)

1,700 instances of double-voting. 3

(Georgia's Secretary of State promised to investigate and prosecute over a thousand people that double-voted in the primary election. As of December 23rd, it was reported that there has not been one investigation nor one prosecution.) 3

Auditing of records found a high number of underage voters (66,247), unregistered voters (2,423), and deceased voters (10,315) 5 11 3 7

Independent video evidence showing how, in Coffee County, votes could be easily counted multiple times via the machine 5

Outstanding/unresolved integrity issues with Dominion counting machines. Learn more about Dominion.

Statistical anomalies, including:

There were 4,926 out-of-state voters (those registered in another state, yet voted in Georgia). A further 15,000 changed their address last-minute, after registration deadlines. 395 people voted in more than 1 state. 5 11 16

305,701 absentee ballots were applied for too early. 2,664 absentee ballots were sent to voters too early. 11

Absentee ballots were not checked for validity. 5 The rejection rate for absentee ballots has traditionally been 3% in 2016, 3.5% in 2018, and yet in the November 2020 election, after a 6x increase in absentee ballots requested, was a mere 0.34%. Had the statutory procedure for signature matching, voter eligibility and voter identity verification been followed, there should have been 38,250–45,620 absentee ballots rejected–far more that Biden's victory margin. 11

Staff at Atlanta's State Farm Arena polling center describe:

Witnessing absentee ballots arriving "in rolling bins 2,000 at a time" rather than in sealed, numbered boxes 17

Disagreeing on counts, sometimes with a difference of hundreds of ballots 17

Eye-witness testimony of highly-secretive and suspicious activity at Wigwam Resort, Litchfield, Arizona in Sept 2020, two months prior to the election, that appeared to be a significant election fraud and ballot harvesting operation, with two large ballrooms full of equipment, and transporting ballots between Arizona and Georgia. The witness was former Police Detective Gerald Buglione. 19

Testimony with video and photographic evidence of ballots being shredded in Cobb County. 20

Furthermore, according to witness Susan Knox, when she called 911 to report the shredding, police never responded. She was told later that police officials were under instruction not to respond to anything related to election fraud, or anything at Cobb County regarding the election, but to pass it on to GBI or SoS, yet there was no response from them either. 20

Despite ongoing disputes and incomplete audits, vote tallies were certified by Governor Brian Kemp, Secretary of State Raffensperger and Lieutenant Governor Geoff Duncan 5

Georgia officials in Fulton County (Democratic) have fired whistleblower election officials.

In total, approx. 300,000 disputed votes
"2000 Mules" Reveals Ballot Harvesting Operation
The May 2022 documentary 2000 Mules revealed video evidence of a coordinated, funded, illegal ballot trafficking network across critical swing states including Arizona, Georgia, Pennsylvania, Michigan, Wisconsin, Nevada, and Texas.
The documentary explains how True the Vote were able to identify over 2,000 ballot traffickers by obtaining 2 petabytes of geofencing cellphone ping data purchased from brokers. Their threshold for identifying a mule was if they visited at least 10 drop boxes and made at least 5 visits to a non-profit organization which showed evidence of functioning as a ballot "stash house". They then obtained 4 million minutes of drop box video surveillance footage through FOIA requests which showed the traffickers in action. 21
| | |
| --- | --- |
| GEORGIA |   |
| Mules identified: | 250 |
| Drop boxes involved: | 24 |
| Estimated illegal votes: | 30,000 |
This massive number of votes was more than enough in itself to tip Georgia's election outcome where Biden supposedly won by 11,779 votes.
Allegations from President Trump
President Trump also elaborated on the figures he is questioning on a phone call to Georgia Secretary of State Brad Raffensperger which was leaked to the Washington Post. Newsmax provides a more detailed transcript of the call with his statistics.
Witness Statements, Dec 2020
Over 40 witnesses gave testimony during a media conference at Cobb Country Republican Party Headquarters in Georgia on Dec. 9–14. The witnesses presented evidence of election irregularities and fraud they had collected during the 2020 election ballot counts and recount.
NTD News has published a 1-hour compilation video of the key witness testimonials, shown below, as well as a detailed archive of over 40 witness statements.
YouTube has censored the above clip. Shorter clips are available direct on the NTD website here. If you aware of an alternate link to the full 1-hour video, please let us know on Telegram or via the comments section below.
Machine-Duplicated Ballots
Numerous poll workers who observed the counts allege that hundreds (if not thousands) of ballots appeared to have been duplicated by copy machine. This was evidenced by:
Being printed on different paper
Being without fold marks (which would be required when requesting a mail-in ballot via mail)
Having identical black marks on large numbers of ballots
The marks not appearing to have been made by an ink pen
The claims involve six witnesses with affidavits:
Fulton County poll manager Suzi Voyles discovered 107 ballots for Joe Biden that appeared to have been duplicated by a copy machine. Her reports were ignored, and she was later fired by the county. At least three other poll workers (Robin Hall, Judy Aube, and Barbara Hartman) observed the same thing and have joined Voyles in swearing under penalty of perjury that they looked fake. 10 22

Carlos E. Silva, a registered democrat, declared in a Nov. 17 affidavit that he observed a similar "perfect black bubble" in thousands of absentee ballots for Biden during recounts in both DeKalb County and Cobb County. "All of these ballots had the same characteristics: they were all for Biden and had the same perfect bubble … and no other markings in the rest of the ballot." 10

Mayra Romera, another registered Democrat, testified that while monitoring the Cobb County recount, she noticed that "hundreds of these ballots seemed impeccable, with no folds or creases. The bubble selections were perfectly made … and all happened to be selections for Biden." 10
Certified poll watcher Garland Favorito (VoterGA.org) claims that this issue could potentially amount to 10,000–20,000 ballots, more than Biden's winning margin in the state. 10
Seth Keshel's Trend Analysis
Former US military intelligence officer and statistical analyst Seth Keshel analyzed the trends of voter registrations versus actual votes and discovered alarming anomalies in a number of counties, ones that defy typical historical trends. He has published a report for every state, indicating which counties' vote counts align with the trend in voter registrations and which have small or large divergences.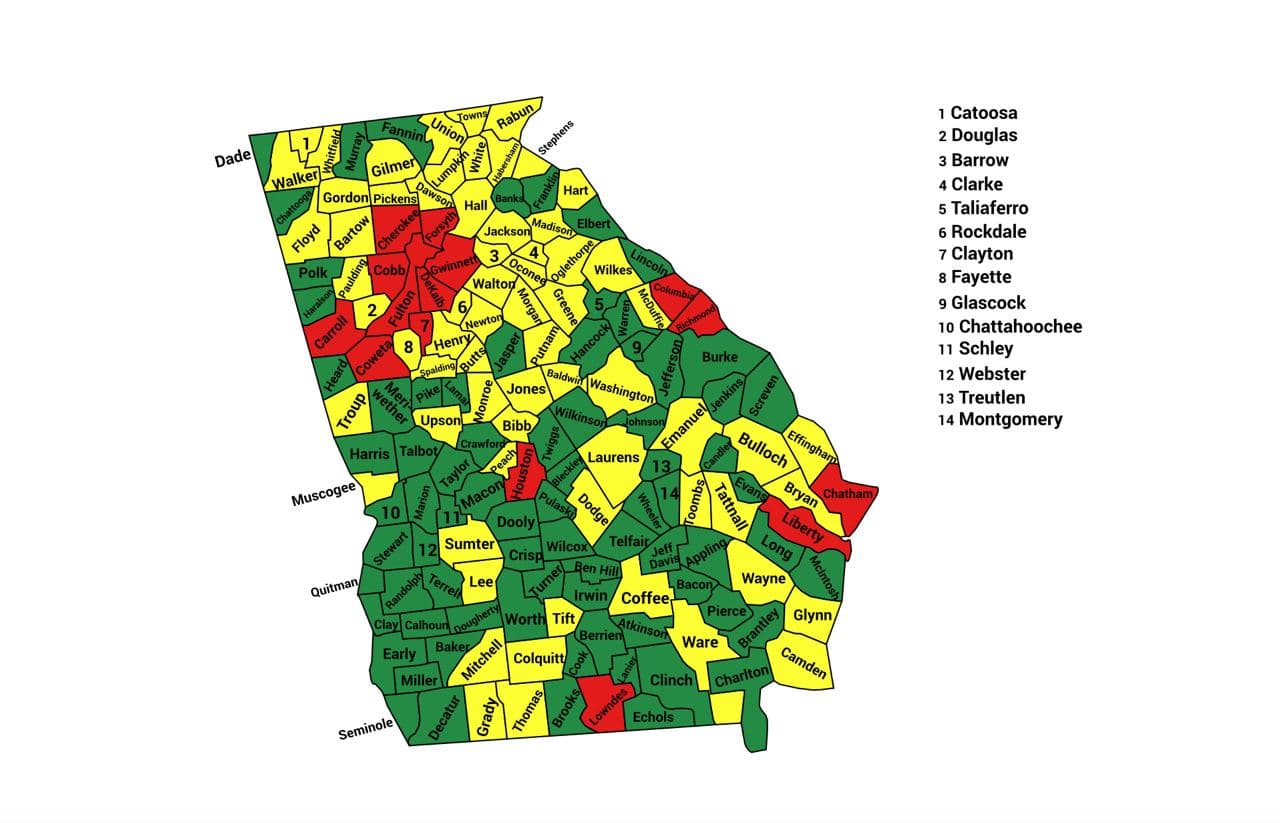 Trump votes
Biden votes
Other votes
Officially reported results

2461854

(49.2%)

2473633

(49.5%)

64964

(1.3%)

Estimate of potential fraud

299000

(6.0%)

Estimate of actual result
(with fraud removed)

2461854

(52.4%)

2174633

(46.3%)

64964

(1.4%)
Seth estimates that there may be approximately 299,000 votes for Biden in excess of what Georgia registration trends would indicate — a possible indicator of fraud. Counties with the greatest number of excess votes deserve closer inspection.
Seth has listed Georgia's Cherokee, Cobb, Dekalb, Forsyth, Fulton, and Gwinnett counties as being among the Nation's Top 100 Worst Counties in terms of abnormal trends during the 2020 election.
View Seth's National Summary   View Seth's Georgia Report
Election Integrity Scorecard
The Heritage Foundation's Election Integrity Scorecard is an assessment of each state's voting laws, written regulations and procedures. Georgia was ranked 1st out of 51.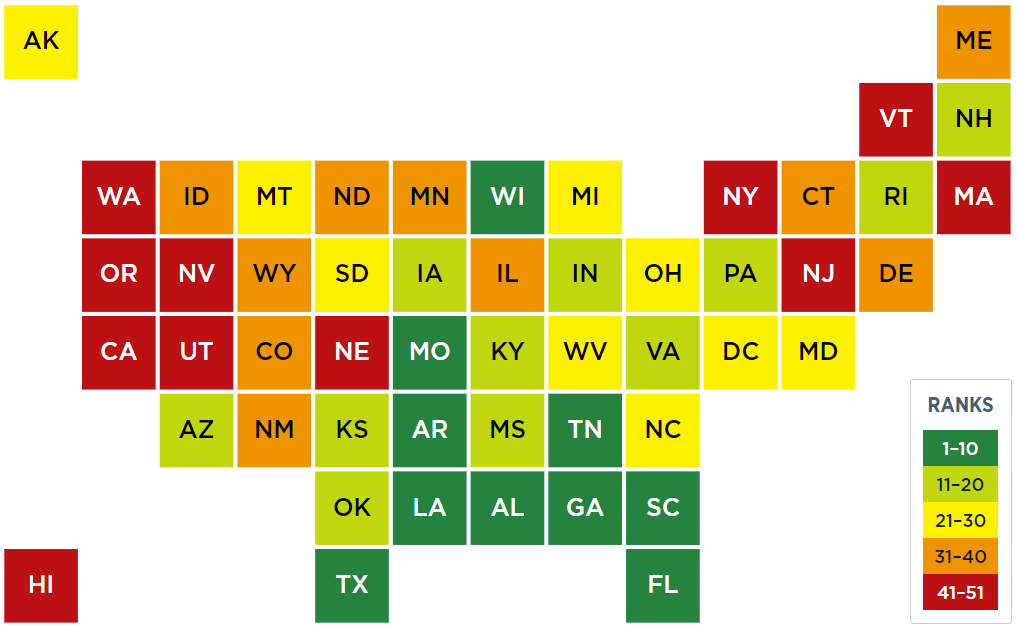 | Georgia's Total Score | 83% |
| --- | --- |
| Voter ID Implementation | 100% |
| Accuracy of Voter Registration Lists | 80% |
| Absentee Ballot Management | 81% |
| Vote Harvesting/Trafficking Restrictions | 75% |
| Access of Election Observers | 100% |
| Verification of Citizenship | 100% |
| Identification for Voter Assistance | 100% |
| Vote Counting Practices | 100% |
| Election Litigation Procedures | 0% |
| Restriction of Same-day Registration | 100% |
| Restriction of Automatic Registration | 0% |
| Restriction of Private Funding of Election Officials or Government Agencies | 100% |
View the full Scorecard for Georgia
It's important to note that the scores above reflect the laws, regulations, and processes that exist within the state, but not whether they were actually followed. In the 2020 election, some states with highly-rated election integrity measures did not uphold them. 23 As The Heritage Foundation reminds us, even the best laws are not worth much unless responsible officials enforce them rigorously. It is up to the citizens of each state to make sure that their elected and appointed public officials do just that.
Alleged Interference from Mark & Priscilla Zuckerberg
Multiple reports 24 25 26 27 28 29 accuse charities supported by Facebook CEO Mark Zuckerberg and his wife of illegally influencing the 2020 presidential election in multiple states, including Georgia. Through their donations of $400 million into charities like The Center for Tech and Civic Life (CTCL), millions poured into the key swing states of Michigan 30, Pennsylvania, Arizona, Wisconsin, Georgia, Nevada, as well as Texas, North Carolina, and Virginia, in violation of federal law. 27
25 out of the 26 cities and counties that received at least $1 million from CTCL were won by Biden in 2020. 25
Here are the 10 largest CTCL grants in Georgia, and who won the county: 25
Having paid poll workers in one district and only minimal volunteers in Republican districts added to the disparity while counting the votes, which could lead to inaccurate tallies.
The American Voter's Alliance published a detailed investigative report on this issue, as did RealClear Investigations, InfluenceWatch, and Caesar Rodney Election Research Institute.
As of March 2022, twelve states have either banned or severely restricted the acceptance and use of private funds for state and local elections: AZ, AK, FL, GA, ID, IN, KS, MS, ND, OH, TN, and TX. Another 5 states have passed anti-Zuckerbucks legislation that is awaiting a Republican governor's signature: AL, OK, SD and VA. We're hoping that more will soon follow suit.
Bloated Voter Rolls
In Oct 2020, a month before the election, Judicial Watch released a study that found 353 US counties in 29 states had voter registration rates exceeding 100% of the eligible voting-age citizens.
In Georgia the following counties exceeded 100%:
Bryan County (118%); Forsyth County (114%); Dawson County (113%); Oconee County (111%); Fayette County (111%); Fulton County (109%); Cherokee County (109%); Jackson County (107%); Henry County (106%); Lee County (106%); Morgan County (105%); Clayton County (105%); DeKalb County (105%); Gwinnett County (104%); Greene County (104%); Cobb County (104%); Effingham County (103%); Walton County (102%); Rockdale County (102%); Barrow County (101%); Douglas County (101%); Newton County (100%); Hall County (100%)
While this could be a symptom of poor clean-up of voter rolls — where voters that have died or moved interstate are left on the rolls for extended periods of time — it creates significant opportunity for fraudulent ballots to be submitted under the names of expired voters, making them appear legitimate. This was made even easier with the prevalence of mail-in ballots and widespread abandonment of voter ID rules which occurred in many states during the 2020 election.
The door-to-door canvassing across numerous states is proving that "phantom votes" were indeed counted for certain voters who were registered but did not themselves submit a ballot.
Research is also underway to explore disconcerting cases in some states whereby voter rolls appear to have been deliberately padded with false, duplicated, or expired records, possibly for the purpose of providing cover for fraudulent ballots. This is evidenced by graphing the changes to voter rolls over time and observing patterns which appear algorithmically-generated rather than organic, and then drilling down to identify specific anomalous records. We hope to release more findings on these anomalies in the coming weeks.
Voting Trend Anomalies
In our series of articles on election trend analysis, we identified the following statistical outliers for Georgia which deserve further investigation. Visit the linked articles to learn more.
| | | |
| --- | --- | --- |
| ⚠️ | High Democrat Vote Gain | Georgia's Forsyth and Cherokee counties experienced unusually high increases in Democrat votes in 2020, standing as vast outliers compared with previous elections. This was also evident in the state of Georgia as a whole. |
Voter Canvassing
In November-December 2020, election expert Matthew Braynard was contracted to investigate the election results. From analyzing the voter databases and via phone calls to at least 722 residents (mostly from Fulton County, but also a number of other counties) he reported that:
18.39% of registered voters of Georgia who were sent but did not return absentee ballots did not actually request absentee ballots;

33.29% of voters who were sent absentee ballots but were not recorded as having returned absentee ballots stated that they did actually mail their ballots back;

1.53% of registered voters of Georgia who changed addresses before the election and were recorded as having voted stated that they did not cast a vote;

20,312 absentee voters were not residents of the State of Georgia when they voted, and

1,043 early and absentee ballots were cast by people who were registered at post office box addresses; and

234 Georgians voted in multiple states.
Stephen Ansolabehere later submitted a rebuttal to the claims above in his report, here, indicating that the low number of respondents may not be high enough to extrapolate to the entire state. More canvassing may need to be done.
Similar grassroots canvass efforts are underway in at least eleven states. Learn more about the thousands of irregularities being uncovered in our article on Door-to-Door Canvassing Results.
Court Cases
As of October 2021, the district, state and supreme courts have ruled on several election fraud issues, while numerous other cases are still open. Some cases were dismissed on legal technicalities, preventing evidence from being presented and considered; but a detailed list of cases and outcomes available here show that at a national level, Trump/Republicans have so far prevailed in 18 out of 25 cases that were decided on the merits of the evidence.
It does not appear that Georgia courts have heard evidence on the above issues, despite two attempts:
A challenge filed on December 4 was rejected by the Fulton County Superior Court because "the paperwork was improperly completed and it lacked the appropriate filing fees". 31

The case was subsequently appealed directly to the state Supreme Court, asking justices to consider the case before Monday's meeting of the Electoral College. In a brief order, justices refused to take original juristiction of election fraud claims, stating that "petitioners have not shown that this is one of those extremely rare cases that would invoke our original jurisdiction." 31
Missing Chain-of-Custody Documentation
In June 2021, reports surfaced about missing documents that were supposed to verify the chain-of-custody of ballots.
New revelations that Fulton County is unable to produce all ballot drop box transfer documents will be investigated thoroughly, as we have with other counties that failed to follow Georgia rules and regulations regarding drop boxes. This cannot continue." – Secretary of State Brad Raffensperger 32
VoterGA Ballot Audit
Following the above revelations, and armed with witness affidavits, Garland Favorito and VoterGA.org pursued litigation, demanding access to the ballots. 33 10
After analysis, they announced the ballot images were "riddled with massive errors and provable fraud", including:
These issues are highly significant considering Biden only won Georgia by 11,779 votes.
Full copies of the ballot and tally images as inspected by VoterGA are available at this Dropbox link.
Get Involved
Volunteers are needed to help verify the irregularities found. One key way this is done is through voter canvassing, with teams analyzing the county and state records and voter rolls, and others going door-to-door to identify whether the records match the actual residents living at the address.
Learn more about Canvassing Volunteer in Your State
You can also contact your state representatives and ask them to thoroughly investigate all credible allegations and ensure forensic audits are pursued to completion, across all necessary counties.
Further Updates
Mar 26, 2022

A short snippet from Trump's speech in Georgia tonight, outlining the many outstanding issues and lack of investigations.

Donald Trump, via Liz Harrington
Jan 22, 2022

A team of 30 people have worked for close to a year on analyzing the ballot drop-boxes from the 2020 election. Here they present their findings with many examples of very poor handling, affecting over 100,000 ballots.

VoterGA
Jan 5, 2022

Allegedly, 242 ballot harvesters made 5,662 trips to Georgia drop boxes, late at night between 12am and 5am, with harvesters paid $10 per ballot to deliver them. It potentially amounts to 50k ballots, or even as high as 1 million — highly significant when Biden "won" the state by only 11,779.

ElectionFraud20.org Telegram
Dec 23, 2021

Numerous anomalies have been uncovered regarding the digital ballot images recorded at State Farm Arena, Fulton County, Georgia.

The Gateway Pundit
Dec 10, 2021

Newly-announced Georgia gubernatorial candidate David Purdue, who ignored evidence of fraud in the months following the 11/3 election, has filed a 78-page Petition to inspect Fulton County's absentee ballots, citing "counterfeit ballots" and "equal protection" violations.

Liberty Overwatch
State Representatives Supporting Election Integrity & Audits
Following the results of the Maricopa Arizona Forensic Audit, 188 state representatives from 39 states signed a letter asking for forensic audits in all 50 states. The signatories for Georgia include:
Representative Beth Camp
Representative Charlice Byrd
Representative Philip Singleton
Representative Sheri Gilligan
Representative Timothy Barr
Georgia Congressman Rick Allen, Congresswoman Marjorie Taylor Greene, Congressman Jody Hice, and Congressman Barry Loudermilk are part of the US Congress Election Integrity Caucus, a group of 55 federal members working together on issues of election integrity to ensure that Americans in every state and territory have confidence in free, fair, accurate, and transparent elections.
Election Audit Groups on Telegram
To join the grassroots efforts in pursuing election integrity and audits of the 2020 election in Georgia, you can join the following groups on Telegram:
For other states, see our Full List of Telegram Channels.
ElectionFraud20.org has no affiliation with nor any responsibility for these channels. Discern carefully, as some users and even admins of channels have shown obstruction to transparent audits of our elections.
Raw Data
We aim to publish links to both the raw election data and voter registration data for Georgia so that citizens and researchers can analyze this information for themselves.
Further Leads
Footnotes & References
Visitor Comments
Do you have more information about what happened in Georgia? Share in the comments below.