Number of disputed ballots
221,323 votes (approx.)
Joe Biden's winning margin
20,682 votes (0.6%)
Wisconsin's electoral college votes under dispute
10 votes
(36 would need to be flipped for a Trump win)
Independent forensic audit investigation
❌ Subpoenas were issued, but investigations were heavily obstructed via lawsuits and eventually paused
Outstanding Issues
Up to 200,000 ballots counted without independent observation

Poor identity verification practices

Approx. 226,000 absentee votes tainted by illegal solicitation and invalid applications

Incomplete/altered ballot certificates

205,000 voters removed from rolls in the months following the election
Key Issues Raised During US Senate Committee Hearing
Absentee voting in Wisconsin is treated quite differently than other parts of the country. The law clearly states that "Results which do not comply with those regulations may not be included in the certified results of any election", and yet, after an examination of ballots and envelopes:
3 million properly voted in the state of Wisconsin. More than 200,000 identified during this recount, did not, but those votes got counted, and our statute says they should not have been. That, in our view, is a taint on our election in Wisconsin."

— James R. Troupis, testifying to US Senate Committee on Homeland Security and Governmental Affairs hearing, examining irregularities in the 2020 Election. 3
"2000 Mules" Reveals Ballot Harvesting Operation
The May 2022 documentary 2000 Mules revealed video evidence of a coordinated, funded, illegal ballot trafficking network across critical swing states including Arizona, Georgia, Pennsylvania, Michigan, Wisconsin, Nevada, and Texas.
The documentary explains how True the Vote were able to identify over 2,000 ballot traffickers by obtaining 2 petabytes of geofencing cellphone ping data purchased from brokers. Their threshold for identifying a mule was if they visited at least 10 drop boxes and made at least 5 visits to a non-profit organization which showed evidence of functioning as a ballot "stash house". They then obtained 4 million minutes of drop box video surveillance footage through FOIA requests which showed the traffickers in action. 4
| | |
| --- | --- |
| WISCONSIN |   |
| Mules identified: | 100 |
| Drop boxes involved: | 28 |
| Estimated illegal votes: | 14,000 |
This is a massive number of votes, but not quite enough in itself to tip Wisconsin's election outcome where Biden supposedly won by 20,682 votes. However, considering the likelihood that not all mules were identified, and that numerous other irregularities exist, this likely played a significant role in flipping the election.
Key Allegations from Trump Legal Team
Election Integrity Scorecard
The Heritage Foundation's Election Integrity Scorecard is an assessment of each state's voting laws, written regulations and procedures. Wisconsin was ranked equal 8th out of 51.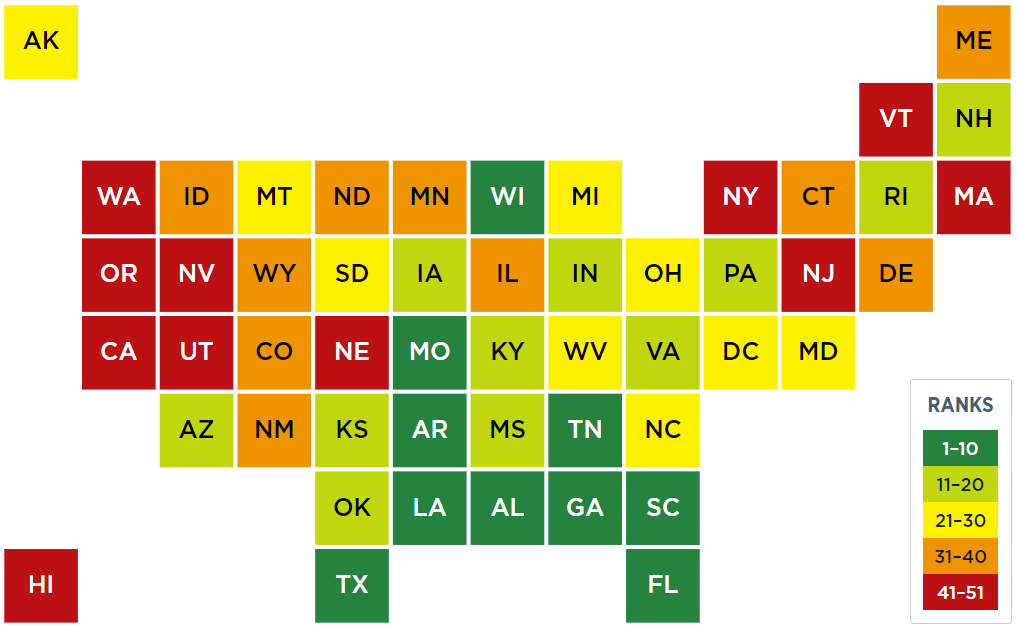 | Wisconsin's Total Score | 74% |
| --- | --- |
| Voter ID Implementation | 100% |
| Accuracy of Voter Registration Lists | 73% |
| Absentee Ballot Management | 71% |
| Vote Harvesting/Trafficking Restrictions | 100% |
| Access of Election Observers | 100% |
| Verification of Citizenship | 0% |
| Identification for Voter Assistance | 67% |
| Vote Counting Practices | 100% |
| Election Litigation Procedures | 67% |
| Restriction of Same-day Registration | 0% |
| Restriction of Automatic Registration | 100% |
| Restriction of Private Funding of Election Officials or Government Agencies | 0% |
View the full Scorecard for Wisconsin
It's important to note that the scores above reflect the laws, regulations, and processes that exist within the state, but not whether they were actually followed. In the 2020 election, some states with highly-rated election integrity measures did not uphold them. 6 As The Heritage Foundation reminds us, even the best laws are not worth much unless responsible officials enforce them rigorously. It is up to the citizens of each state to make sure that their elected and appointed public officials do just that.
Seth Keshel's Trend Analysis
Former US military intelligence officer and statistical analyst Seth Keshel analyzed the trends of voter registrations versus actual votes and discovered alarming anomalies in a number of counties, ones that defy typical historical trends. He has published a report for every state, indicating which counties' vote counts align with the trend in voter registrations and which have small or large divergences.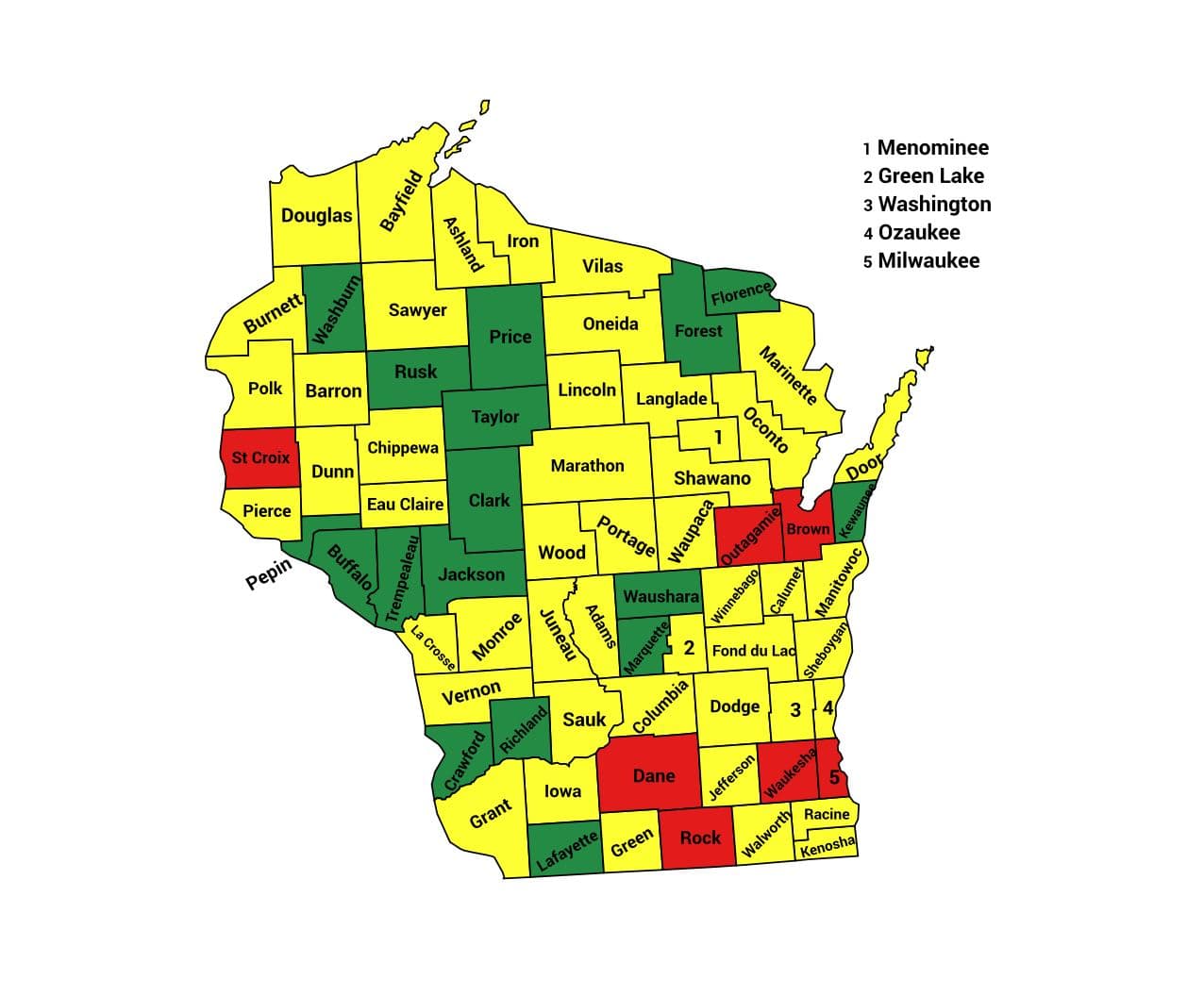 Trump votes
Biden votes
Other votes
Officially reported results

1610184

(48.82%)

1630866

(49.45%)

57056

(1.73%)

Estimate of potential fraud

139000

(4.2%)

Estimate of actual result
(with fraud removed)

1610184

(51.0%)

1491866

(47.2%)

57056

(1.8%)
Seth estimates that there may be approximately 139,000 votes for Biden in excess of what Wisconsin registration trends would indicate — a possible indicator of fraud. Counties with the greatest number of excess votes deserve closer inspection.
Seth has listed Wisconsin's Dane, Milwaukee, Rock, and Waukesha counties as being among the Nation's Top 100 Worst Counties in terms of abnormal trends during the 2020 election.
View Seth's National Summary   View Seth's Wisconsin Report
Dr. Doug Frank's Analysis
Dr. Douglas Frank discovered a strange algorithmic pattern that enabled him to accurately predict voter registration by age and voter turnout by age with a very high degree of accuracy.
The same, exact algorithm (or "key" as Frank calls the mathematical formula) used in one county could be applied to many other counties in Wisconsin to predict their voter registration and turnout by age, too.
Dr. Frank has performed his analysis on at least 17 other states and has found the same disturbing pattern where he is able to predict the voter turnout rate for every age bracket in many counties based only on US Census Bureau data.
Having registration and turnout rates that repeatedly reflect a common mathematical formula across numerous demographically-unique counties is an indication that voter rolls and votes themselves may have been illegally manipulated via a computer algorithm. In all cases where this has occurred, we believe a forensic audit of the ballots, software logs, election records, and voter rolls is highly necessary.
Learn More About Dr. Frank's Analysis View Dr. Frank's Report on Wisconsin
Further Issues
Significant statistical anomalies or "red flags" in the election data, including at least one major "vote dump" with an abnormally high swing to Biden that placed him in the lead 7

Payments to Native Americans to vote were supposedly "orchestrated by the Biden campaign . . . [with] Visa gift cards, jewelry, and other 'swag.'" 8

In August 2021, ten months after the election, Wisconsin removed 205,000 voters from its official rolls after they were deemed inactive and did not responding to mailings. 9 Donald Trump questioned why this wasn't done prior to the election. 10 Reportedly, the election commission voted in 2019 to remove voters after the 2021 elections, and decided at a June meeting not to change that decision.
Alleged Interference from Mark & Priscilla Zuckerberg
Multiple reports 11 12 13 14 15 16 accuse charities supported by Facebook CEO Mark Zuckerberg and his wife of illegally influencing the 2020 presidential election in multiple states, including Wisconsin. Through their donations of $400 million into charities like The Center for Tech and Civic Life (CTCL), millions poured into the key swing states of Michigan 17, Pennsylvania, Arizona, Wisconsin, Georgia, Nevada, as well as Texas, North Carolina, and Virginia, in violation of federal law. 14
25 out of the 26 cities and counties that received at least $1 million from CTCL were won by Biden in 2020. 12
Here are the 6 largest CTCL grants in Wisconsin, and who won the county: 12
Having paid poll workers in one district and only minimal volunteers in Republican districts added to the disparity while counting the votes, which could lead to inaccurate tallies.
The American Voter's Alliance published a detailed investigative report on this issue, as did RealClear Investigations, InfluenceWatch, and Caesar Rodney Election Research Institute.
As of March 2022, twelve states have either banned or severely restricted the acceptance and use of private funds for state and local elections: AZ, AK, FL, GA, ID, IN, KS, MS, ND, OH, TN, and TX. Another 5 states have passed anti-Zuckerbucks legislation that is awaiting a Republican governor's signature: AL, OK, SD and VA. We're hoping that more will soon follow suit.
Wisconsin Supreme Court Ruling
A narrowly divided Wisconsin Supreme Court on Dec 14, 2020 rejected Trump's lawsuit about an hour before the Electoral College cast Wisconsin's 10 votes for Democratic presidential candidate Joe Biden. In the 4-3 ruling, the court's three liberal justices were joined by Hagedorn, who said three of Trump's four claims were filed too late and the other was without merit. 18
According to James R. Troupis's testimony to the US Senate Committee, the Wisconsin Supreme Court was urged by Biden campaign not to address any substantive issues. As a result, Troupis reported that:
The [court's] decision itself is premised not on an analysis of the law, nor the analysis of the claims, [but] an idea that we should not have a transparent system, that does not address these things. It's a sad day, frankly, when the whole opposition doesn't argue we're wrong, it argues we shouldn't be heard. That's a strange thing in a state that's so transparent as ours."

— James R. Troupis, testifying to US Senate Committee on Homeland Security and Governmental Affairs hearing, examining irregularities in the 2020 Election. 3
Read the Court's Full Statement
Further Court Results
As of October 2021, the district, state and supreme courts have ruled on several election fraud issues, while numerous other cases are still open. Some cases were dismissed on legal technicalities, preventing evidence from being presented and considered; but a detailed list of cases and outcomes available here show that at a national level, Trump/Republicans have so far prevailed in 18 out of 25 cases that were decided on the merits of the evidence.
Ballot Recounts
Dane and Milwaukee Counties performed recounts at the request of the Trump campaign, involving recounting the ballots, mostly by hand, using a different team of people from those counting on election night. These were completed by Nov 29, 2020, and awarded an extra 87 votes to Trump and 132 to Biden. 19
Read the State Commission's Report
Note that a recount does not tend to identify chain of custody issues and the alleged injection or manipulation of fraudulent ballots, such as those noted in the above sections.
In response Donald Trump tweeted that "The Wisconsin recount is not about finding mistakes in the count, it is about finding people who have voted illegally, and that case will be brought after the recount is over, on Monday or Tuesday. We have found many illegal votes. Stay tuned!"
Election Audits
Both the Wisconsin State Assembly and the State Senate commissioned election investigations.
Why are there three audits underway? Representative Timothy Ramthun explains in this Rumble video that the first two are not what the people are demanding.
1. Michael Gableman Investigation
The State Assembly commissioned Michael Gableman, former Supreme Court Justice, assigning him to be Special Counsel, which gives him more authority in carrying out investigations. Gableman attended both the Arizona Forensic Audit and Lindell's Cyber Symposium, to learn and gather information. 20
Despite multiple obstructions to his subpoenas and investigative questioning, he has found numerous examples of unlawful activity in the state. Some investigations are still underway, while some of his findings have been released which you can find the Further Updates section below.
2. Legislative Audit Bureau
The Senate commissioned the Legislative Audit Bureau to perform an audit investigation, about which not much is publicly known. It's expected to be finished around fall in 2021.
3. Wisconsin State Assembly Elections Committee Forensic Audits
State Representative Janel Brandtjen (Republican), head of Wisconsin State Assembly's Elections Committee travelled to Arizona in order to watch the forensic audit in Maricopa County and has led the push for similar forensic audits in Wisconsin.
Around Aug 6, 2021, she issued official subpoenas to two different counties, demanding that they turn over all ballots and voting equipment for the state to conduct a top-to-bottom cyber investigation into the results. 21 22 Earlier this year, the assembly committee voted to give Brandtjen's committee both investigatory powers as well as the power to issue subpoenas, which she is now doing.
Legislators have been hearing from thousands of disgruntled constituents regarding their concerns with the November 2020 election. From outside money pouring into Democrat controlled communities, to individuals engaging in questionable activities; from improper guidance given to clerks from the Wisconsin Elections Commission, to clerks illegally prompting voters to declare themselves "indefinitely confined". The list goes on and on."

"I understand the Legislative Audit Bureau is conducting an audit, however, many constituents have raised objections to it due to the length of time it has taken and the lack of specifics, as it is open-ended.

"I sincerely welcome and applaud these efforts, however, the people of Wisconsin demand and deserve a transparently, full, cyber-forensic audit as described in the subpoenas submitted to both Milwaukee and Brown Counties. The clock is ticking as the 2022 elections will commence in just a matter of months."

— Rep. Janel Brandtjen, Aug 6, 2021, explaining her reasoning for the subpoenas 21 22
The state's Elections Commission (a different department to The Campaigns and Elections Committee) has denied some of Brandtjen's claims about voter registration databases and voter ID checks 23 24 , but their responses do not mention the other issues raised.
The two subpoenas were sent to:
Milwaukee County, where results posted early in the morning catapulted Biden to victory in the state (with 69% of the vote), however Republicans have questioned the timing of the release. The clerks say there was nothing suspicious, but that was just how long it took to count the ballots. 22

Brown County, which includes city of Green Bay where Trump won with 52% of the vote. Republicans have been accusing the Mayor of Green Bay of letting a Facebook-funded consultant run that city's election. This consultant had the keys to the city's ballot counting location. 22
Clerks for these counties must appear before the committee on Sept 7th, 2021 and they must turn over all the ballots, voter names and addresses, election equipment, tabulators, servers, etc.
It's not clear whether these two counties will readily comply with the subpoenas or whether they will push back and challenge them in court, as happened in Arizona. Milwaukee County has not yet issued a response. Brown County is currently reviewing the subpoena.
While there has been a lot of support for her actions, Democrats have criticized the subpoenas, calling Ms Brandtjen "an enemy of our democratic system". Minority Leader Gordon Hintz said of the forensic audit: "It really should be viewed as an attack on our country and an attack on our election system". 22
Why would Democrats describe a forensic audit, done lawfully, as "an attack on our election system?"
State Representatives Janel Brandtjen and Timothy Ranthum continue to lead the efforts towards forensic audits.
Racine County Sheriff's Report
On Oct 28, 2021, the Racine County Sheriff announced at a press conference that had evidence of widespread election law violations across the state, including class I felony crimes being committed. 25
BREAKING: Racine Co., WI Sheriff's Office says the statute broken by election officials is a "Class I felony," plus multiple misdemeanors pic.twitter.com/k9otx0BdhU

— RSBN 🇺🇸 (@RSBNetwork) October 28, 2021
In the report, the investigation determined that workers in long-term care facilities were told to vote for any patients who were not lucid enough to vote on their own. They were advised to do this by Wisconsin election officials.
Despite the Racine Sheriff attempting to send the reports and investigation notes to the Wisconsin Attorney General, they were rejected. The Wisconsin AG has been scrutinized for attempting to protect WEC officials who are being investigated as part of another election integrity case. 25
See Further Updates below.
Get Involved
Volunteers are needed to help verify the irregularities found. One key way this is done is through voter canvassing, with teams analyzing the county and state records and voter rolls, and others going door-to-door to identify whether the records match the actual residents living at the address.
Learn more about Canvassing Volunteer in Your State
You can also contact your state representatives and ask them to thoroughly investigate all credible allegations and ensure forensic audits are pursued to completion, across all necessary counties.
Further Updates
Mar 16, 2022

An impactful and uplifting podcast episode discussing the latest election fraud developments in Wisconsin and how it might impact the nation. Featuring a great panel of guests including Peter Bernegger, Draza Smith, Jeff O'Donnell, and Dr. Frank. Hosted by Joe Oltmann and Ashe Epp.

Conservative Daily Podcast
Mar 3, 2022

Explanation of the possible avenues for decertifying a Presidential election.

Liberty Overwatch
Mar 2, 2022

The full 136-page report on Wisconsin, delivered to the state senate.

ElectionFraud20.org Telegram
Mar 2, 2022
Mar 2, 2022

At the Wisconsin Assembly Committee on Campaigns and Elections hearing this morning, Special Counsel Mike Gableman began his presentation with a recommendation for election nullification: "I believe the legislature ought to take a very hard look at the option of decertification of the 2020 Wisconsin presidential election."

Liberty Overwatch
Feb 16, 2022

Sheriff Schmaling, who led an investigation into nursing home ballot harvesting in Racine County, told the press he will be reaching out to other district attorneys to ask them to bring charges against the Wisconsin Elections Commission (WEC) "today, as soon as I'm done talking to you."

Liberty Overwatch
Feb 12, 2022

The Wisconsin Assembly on Campaigns and Elections held an informational hearing on Wednesday in which Peter Bernegger presented compelling red flag analysis of Wisconsin's voter rolls and voter registration system. His team purchased $60K worth of Wisconsin Elections Commission (WEC) statewide and county voter registration lists spanning 4 different dates and secured access to a "super computer" to help analyze the data and found numerous disturbing anomalies.

Liberty Overwatch
Feb 12, 2022

New information emerging out of Wisconsin about the 2020 election, including evidence and names of those involved in the coverup of election violations.

Right Side Broadcasting Network
Jan 20, 2022

While Rep. Ramthun's been working hard to decertify the 2020 election based on the dozens of broken rules and regulations, House Speaker Robin Vos decided instead to fire Ramthun's entire staff and block this formal resolution.

Nick Moseder
Jan 1, 2022

The Western Journal reports that Special Counsel Michael Gableman is issuing approximately 70 subpoenas to state entities and employees, special interest groups, private companies, mayoral staffers, and IT departments throughout Wisconsin to obtain records and more information on the election process. The team is also focused on the Wisconsin Elections Commission, which illegally voided laws designed prevent nursing home ballot harvesting.

Liberty Overwatch
Dec 14, 2021

Rep. Timothy Ranthum has submitted a bill that would require the Elections Commission to perform regular checks for deceased voters and update the voter rolls on a monthly basis. Failure to comply would result in a Class 1 felony. Ranthum notes, "There are 7.1 million voters on the list when our state has roughly 4.5 million people old enough to vote."

Liberty Overwatch
Dec 9, 2021

Numerous anomalies were highlighted in the election committee hearing, including 121,251 active WI voters having been registered for 110-119 years; 957,977 voters registered as new voters in 2020; 45,665 of these new voters registered with a driver's license that did not match DMV records; 205,355 active voters with a registration application date of Nov 3, 2020, and more.

Liberty Overwatch
Dec 9, 2021

Full presentations from Janel Brandtjen, Jeff O'Donnell, Dr. Doug Frank, and Erick Kaardal. 2hr 20min video. Free account required.

Locals.com
Dec 5, 2020

Employee working for the United States Postal Service testified that they were told 100,000 ballots are missing, ordered to back-date ballots, and that there were extensive security cameras at the facilities which should be reviewed.

Rumble Video
Election Audit Groups on Telegram
To join the grassroots efforts in pursuing election integrity and audits of the 2020 election in Wisconsin, you can join the following groups on Telegram:
For other states, see our Full List of Telegram Channels.
ElectionFraud20.org has no affiliation with nor any responsibility for these channels. Discern carefully, as some users and even admins of channels have shown obstruction to transparent audits of our elections.
State Representatives Supporting Election Integrity & Audits
Following the results of the Maricopa Arizona Forensic Audit, 188 state representatives from 39 states signed a letter asking for forensic audits in all 50 states.
From Wisconsin, only Representative Tim Ramthun has so far signed the document.
Wisconsin Congressman Glenn Grothman is part of the US Congress Election Integrity Caucus, a group of 55 federal members working together on issues of election integrity to ensure that Americans in every state and territory have confidence in free, fair, accurate, and transparent elections.
Raw Data
We aim to publish links to both the raw election data and voter registration data for Wisconsin so that citizens and researchers can analyze this information for themselves.
Further Leads
Footnotes & References
Visitor Comments
Do you have more information about what happened in Wisconsin? Share in the comments below.