Colorado proudly brand themselves as the "Gold standard in elections". 1 However, as you'll soon see, with the number of irregularities and total opposition to any kind of transparency, Colorado is not any kind of gold standard in integrity. More collusive and underhanded activity is being brought to light every week; but here's a summary of what we know about Colorado so far.
Election Integrity Report
In March 2021, a team of scientists from Election-Integrity.info produced the report 2020 Presidential Election Contrast Analysis which lists Colorado as the state with the 3rd highest number of unexpected Biden votes.
Lax Voter ID Laws
Through a combination of automatic voter registration (where everyone with a driver's license is registered to vote), and poor ID verification methods (where election judges in voting centers were not allowed to ask for alternative forms of ID in order to confirm a voter's eligibility), holes in the wall of election integrity have been allowed to widen, and opportunities for fraud have increased. 2
Use of Non-Certified Voting Machines
According to investigative journalist Holly at Altitude, 3 Dominion Voting Machines were certified in the state in June 2019 based on a Pro V&V Test Report, despite Pro V&V's EAC accreditation having expired in Feb 2017. The certification was not renewed until Feb 2021. This also affected ClearBallot Voting Systems the vendor used in Garfield and Douglas counties. That means:
Both Clear Ballot and Dominion voting machines used in Colorado's 2020 elections were not legally certified under Colorado law.

All Colorado elections conducted since June, 2019 using those systems may not be legal.

Sec State Griswold and Colorado County Clerks have certified potentially illegal elections.
Suppression of Audits & Public Testimony
Despite 1,400 petitions submitted to Colorado Secretary of State Jena Griswold, she put a ban on all independent election audits in the state. 4 5 6 Not only did she ignore the requests, but also cut short the hearings in which members of the public could give testimony about election fraud and irregularities. 7
The Colorado Secretary of State's Office today adopted emergency elections rules prohibiting third-parties [read: auditors] from accessing voting equipment in the state of Colorado. 'Colorado's elections are considered the safest in the nation,' Griswold claims."

— Colorado Secretary of State Jena Griswold's Press Release 4
Tina Peters vs Secretary of State Jena Griswold
Tina Peters, a Clerk in Mesa County, Colorado, took a different approach after being contacted by citizens about notable irregularities. She was keen for an honest and open investigation into the election which she was responsible for, yet is undergoing heavy persecution for not adopting official state narratives. 7
In May 2021, Tina was alerted to the fact that Dominion Voting Machines was requiring Colorado to apply a "software update" to their voting machines, which they call a "trusted build". During this they disallowed any county staff or independent observers to be present. She was concerned that crucial forensic data might be lost during the update, and so took hard drive images prior to the update occurring. Her concerns were valid, as explained below. 8 9
During a flight to Sioux Falls for the Cyber Symposium (read our overview here), authorities raided her office, barring other staff from observing what went on. Tina claims they were looking to pin blame on her for the leaking of voting machine passwords which only the Secretary of State actually has access to. 8
Watch Tina's story, given at the Cyber Symposium, August 10, 2021:
A more detailed interview with Tina and Sherronna is available from Truth and Liberty, with further coverage via Ashe in America, the Mesa County Clerk Peters Rally, American Faith and USEIP. Tina's Legal Defense Fund also has a summary.
Forensic Evidence of Dominion Deleting Election Data
Following initial revelations at the Cyber Symposium, forensic experts reviewed two hard drive images taken from a Dominion EMS Server in Mesa County. The two images were from the same machine, one taken prior to a "system update" applied by Dominion, and the other taken afterward.
The hard drive images can be downloaded from BitTorrent Link 1 and BitTorrent Link 2.
Their report clearly demonstrates that 695 log files, databases, and thousands of other files and other crucial data were removed during this "update", in breach of both state and federal laws that require election data to be maintained for at least 22 months following an election. 10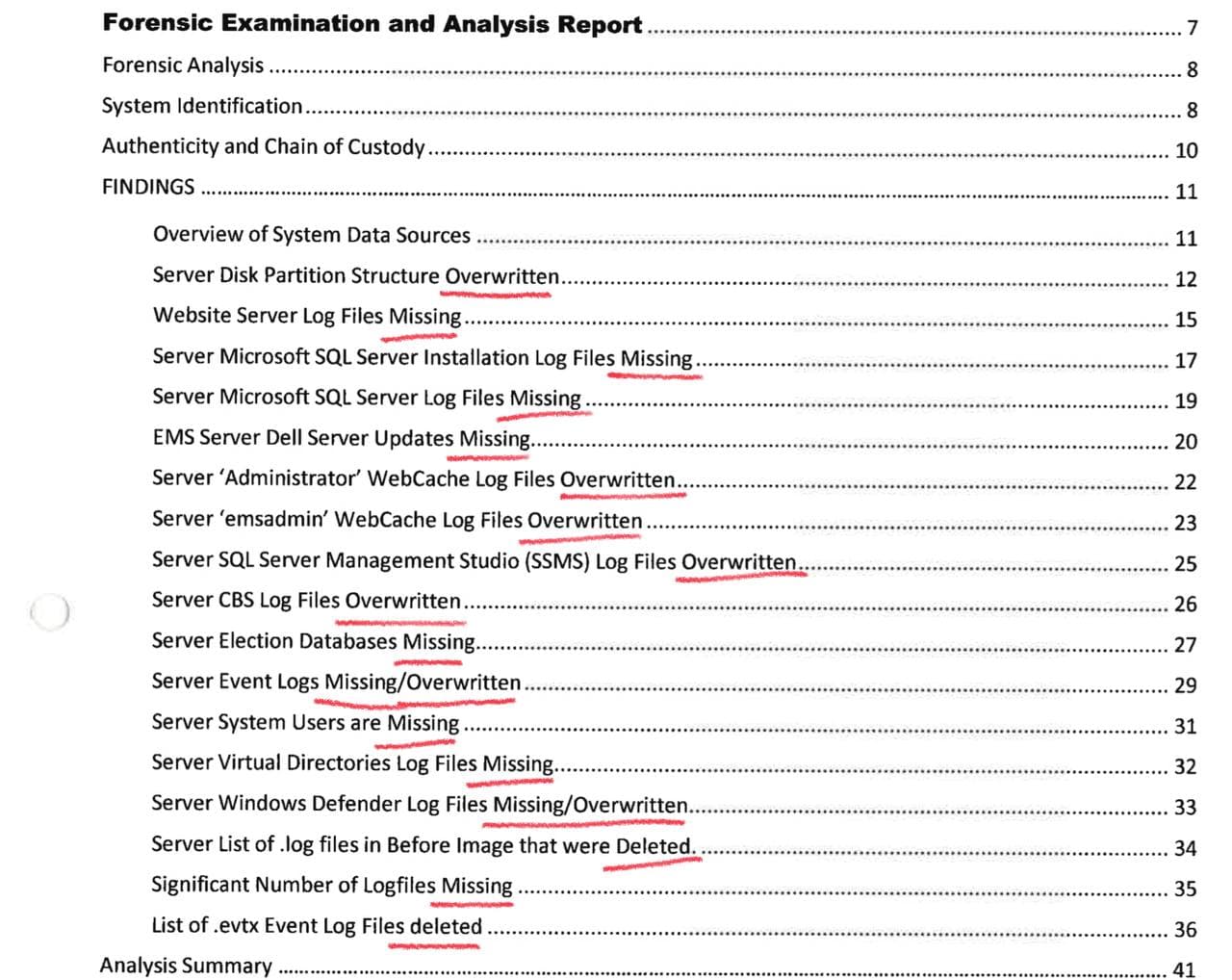 The forensic examination and report was prepared by Doug Gould, of CyberTeamUS.
It seems clear that in Mesa County, Dominion has actively erased both election data (in breach of law) as well as forensic evidence that could be used to audit the 2020 election. It's likely this has occurred in other counties and states also.
The report also identified open access points on the Dominion voting systems through which votes and vote tallies can be secretly altered without detection.
USEIP has more detail in their press release.
A follow-up report by Jeffrey O'Donnell, Database and Systems Analyst, in October 2021, expanded on the numerous security vulnerabilities, including the potential for votes to be "flipped" or manipulated within the machines — without leaving a trace. 11
Canvass Results Revealing Phantom Voters
Sherronna Bishop reports that the canvassing efforts — going door-to-door verifying voters' information — is indicating that around 5% of ballots in Mesa County may have been cast via faked or "phantom" registered voters. 12 Weld County and Pueblo County are showing potentially even higher rates. They have discovered residents who have stated that they didn't vote yet official records show that a vote was submitted under their name, similar to what was discovered during Arizona canvassing. Details and written affidavits are being finalized, and we hope to hear further results soon.
Note: We have not confirmed which organization has been running this canvass, but it's quite likely that it's USEIP in Colorado.
Similar grassroots canvass efforts are underway in at least 7 states. Learn more about the thousands of irregularities being uncovered in our article on Door-to-Door Canvassing Results.
Blackmailed Into Renewing Dominion Contract
Mesa County Commissioners were threatened with litigation from Dominion unless they agreed to extend the contract with Dominion Voting Systems all the way through to 2029. Thirty-four Mesa County constituents spoke to the commission on Aug 24, all of whom asked them to abstain, yet the concerns were ignored and the Commissioners voted 3-to-0 to sign the contract. Litigation has been dropped. 13
Seth Keshel's Trend Analysis
Former US military intelligence officer and statistical analyst Seth Keshel analyzed the trends of voter registrations versus actual votes and discovered alarming anomalies in a number of counties, ones that defy trends that (in some cases) have proved reliable for over 100 years. He has published a report for every state, indicating which counties' vote counts align with the trend in voter registrations and which have small or large divergences.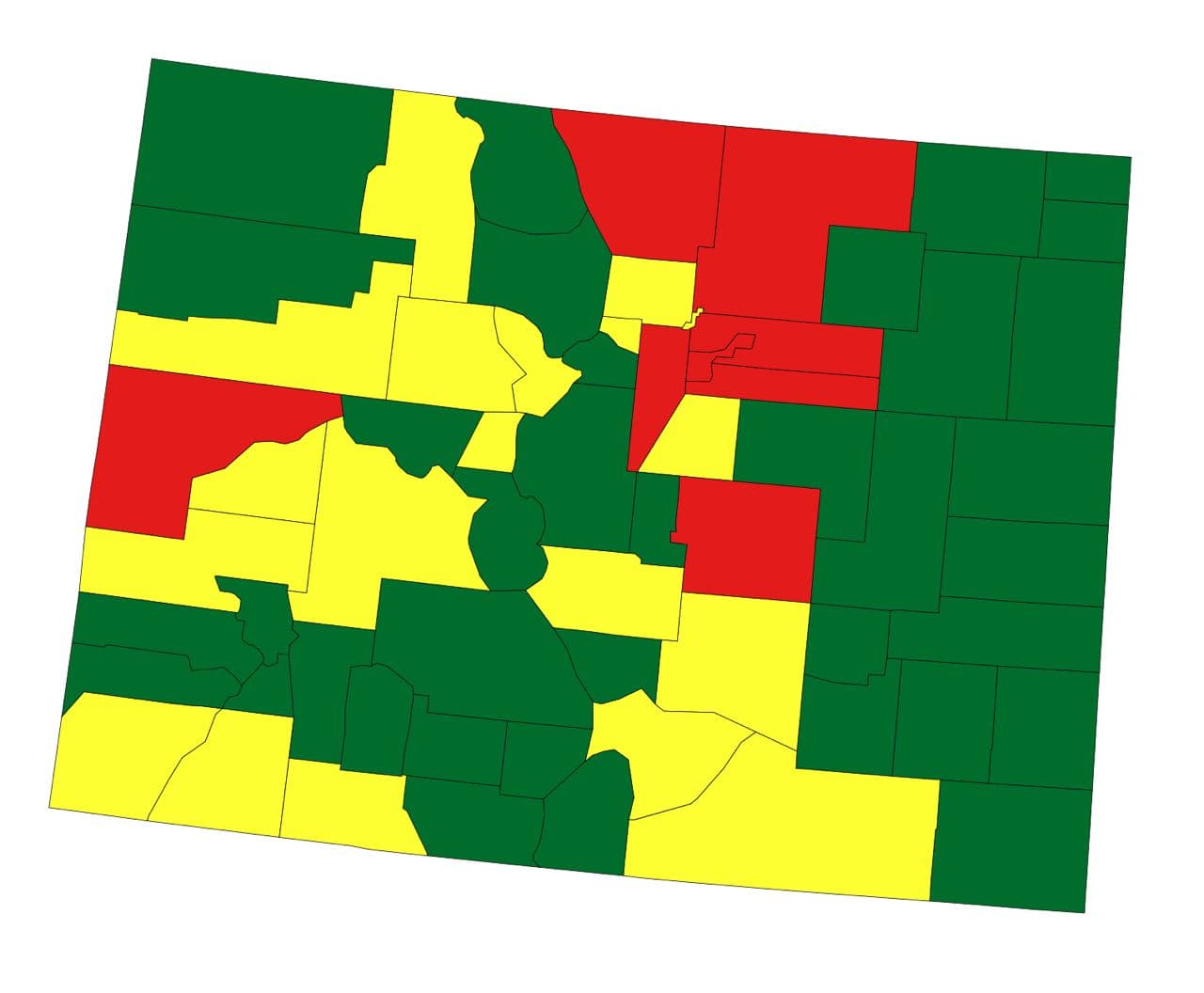 Trump votes
Biden votes
Other votes
Officially reported results

1364607

(41.90%)

1804352

(55.40%)

87938

(2.7%)

Estimate of potential fraud

183000

(5.6%)

Estimate of actual result
(with fraud removed)

1364607

(44.4%)

1621352

(52.7%)

87938

(2.9%)
Seth estimates that there may be approximately 183,000 votes for Biden in excess of what Colorado registration trends would indicate — a possible indicator of fraud. Counties with the greatest number of excess votes deserve closer inspection.
View Seth's National Summary   View Seth's Colorado Report
Dominion Voting Machines
Colorado used Dominion Voting Machines in at least some counties. Numerous integrity issues have been uncovered with Dominion.
The polling place equipment used for each county in the US is listed at Verified Voting. They also have a detailed database including photographs of the various models of voting equipment. Note that the polling and ballot marking equipment is different to the scanning and tabulation equipment — both need to be highly secure, and in most cases are not.
Voting machines have introduced many vulnerabilities and avenues for manipulation in elections. Cybersecurity experts tell us that there is no such thing as a fully secure computer system, and the more complex our voting systems and election systems get, with more moving parts and connections, the more impossible it will be for any state or county to defend against a nation-state-level threat. It's not possible. The efficiency gains brought by machines are not reason enough to tolerate the loss of security, accountability, and transparency.
Elections need to return to paper ballots and mechanical or hand counting to minimize the threat of cyber attacks and manipulation by fraud. Let your state representative, county clerk, county commissioners, and Secretary of State know your opinion about this.
SCORE Voter Registration Database Vulnerabilities
Retired US Air Force Colonel Shawn Smith has raised concerns about SCORE, Colorado's Statewide Voter Registration System 14, along with it's connection to the interstate system ERIC. He says that the numbers of voters being registered in the system appear to indicate padding or "stuffing" of the voter rolls. For example, between 2016 and 2020, in El Paso County alone, active Democrat voters increased 11%, active Republican voters increased 0.5% and unaffiliated voters increased by over 40%. This is a highly unusual trend that may indicate fake or "phantom" entries are being added to the database for the purpose of casting fraudulent ballots. Inflated rolls is a significant issue that is occurring in multiple states. 15
Shawn has counted over 200 cyber vulnerabilities in the SCORE system. 15 He believes that while the officials tasked with securing the SCORE system may be well-meaning, they're not equipped to withstand the threats of foreign nations intent on attacking US elections.
There is also little transparency in SCORE's closed system. Voters are unable to see what signatures are stored on their record. 16
USEIP
The U.S. Election Integrity Project (USEIP) was established in Colorado in November 2020 in response to blatant election fraud. Their aim is to enable election integrity groups to share knowledge and educational resources.
USEIP gave a presentation to the Republican Study Committee in Colorado in April, 2021 that outlined the major security vulnerabilities in election systems. View the presentation slides and related documents here. They also post detailed news and analysis on issues in Colorado on their blog.
USEIP members including Retired US Air Force Colonel Shawn Smith and Sherronna Bishop met with Mesa County Commissioners in early September 2021, attempting to explain the critical security vulnerabilities in their Dominion Election Systems. The meeting which was thought to be private, was instead attended by hostile media, Dominion representatives and other officials in apparent collusion. The security concerns were mostly ignored. 17
Other Reports & Updates
Colorado's "Gold Standard"
Despite the above mentioned major integrity concerns, leaders continue to boast about the security of their systems:
"Colorado is the 'Gold Standard' of safe and secure voting." — Governor Polis
"Colorado's election model is the nation's gold standard." — Secretary of State Griswold
"…arguably the best system in the country." — ELP CCR Broerman
"Our votes are not being manipulated." — Congressman Ken Buck
"There's no evidence." — CO Rep Fields
"Dominion…tested [small, risk-limiting audits] in 62 (CO) counties at least 807 times." — Former SoS Williams
"No voting systems connected to the internet" — Nobody who has checked
"No election fraud has been proven in court" — The Media
Do you live in Colorado?
Contact your County Clerk, make sure they have read the recent forensic report from Mesa County, and ensure they take forensic images of all Dominion machines before they apply the next software update, to prevent the loss of crucial forensic data.
Get Involved
Volunteers are needed to help verify the irregularities found. One key way this is done is through voter canvassing, with teams analyzing the county and state records and voter rolls, and others going door-to-door to identify whether the records match the actual residents living at the address.
Election Audit Groups on Telegram
To join the grassroots efforts in pursuing election integrity and audits of the 2020 election in Colorado, you can join the following groups on Telegram:
For other states, see our Full List of Telegram Channels.
ElectionFraud20.org has no affiliation with nor any responsibility for these channels. Discern carefully, as some users and even admins of channels have shown obstruction to transparent audits of our elections.
State Representatives Supporting Election Integrity & Audits
Following the results of the Maricopa Arizona Forensic Audit, 112 state representatives signed a letter asking for forensic audits in all 50 states. The signatories for Colorado include:
Representative Ron Hanks
Representative Dave Williams
Representative Stephanie Luck
Representative Andres Pico
Representative Richard Holtorf
Raw Data
Footnotes & References
Visitor Comments
Do you have more information about what happened in Colorado? Share in the comments below.