Colorado proudly brand themselves as the "Gold standard in elections". 1 However, as you'll soon see, with the number of irregularities and total opposition to any kind of transparency, Colorado is not any kind of gold standard in integrity. More collusive and underhanded activity is being brought to light every week; but here's a summary of what we know about Colorado so far.
Election Integrity Report
In March 2021, a team of scientists from Election-Integrity.info produced the report 2020 Presidential Election Contrast Analysis which lists Colorado as the state with the 3rd highest number of unexpected Biden votes.
Election Integrity Scorecard
The Heritage Foundation's Election Integrity Scorecard is an assessment of each state's voting laws, written regulations and procedures. Colorado was ranked equal 34th out of 51.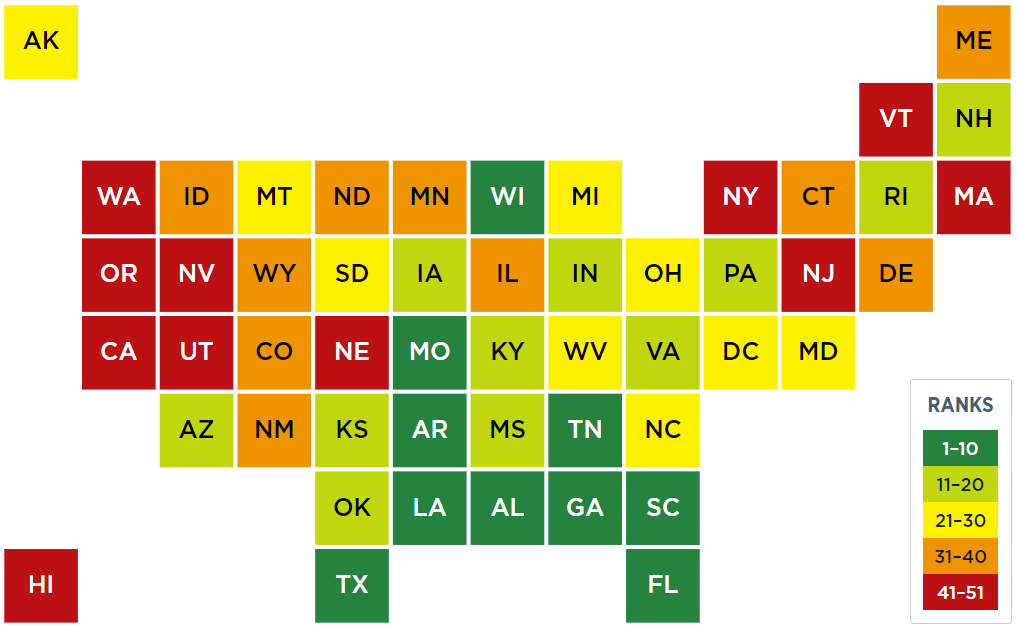 | Colorado's Total Score | 51% |
| --- | --- |
| Voter ID Implementation | 30% |
| Accuracy of Voter Registration Lists | 87% |
| Absentee Ballot Management | 38% |
| Vote Harvesting/Trafficking Restrictions | 0% |
| Access of Election Observers | 100% |
| Verification of Citizenship | 50% |
| Identification for Voter Assistance | 67% |
| Vote Counting Practices | 67% |
| Election Litigation Procedures | 67% |
| Restriction of Same-day Registration | 0% |
| Restriction of Automatic Registration | 0% |
| Restriction of Private Funding of Election Officials or Government Agencies | 0% |
View the full Scorecard for Colorado
It's important to note that the scores above reflect the laws, regulations, and processes that exist within the state, but not whether they were actually followed. In the 2020 election, some states with highly-rated election integrity measures did not uphold them. 2 As The Heritage Foundation reminds us, even the best laws are not worth much unless responsible officials enforce them rigorously. It is up to the citizens of each state to make sure that their elected and appointed public officials do just that.
Lax Voter ID Laws
Through a combination of automatic voter registration (where everyone with a driver's license is registered to vote), and poor ID verification methods (where election judges in voting centers were not allowed to ask for alternative forms of ID in order to confirm a voter's eligibility), holes in the wall of election integrity have been allowed to widen, and opportunities for fraud have increased. 3
Use of Non-Certified Voting Machines
According to investigative journalist Holly at Altitude, 4 Dominion Voting Machines were certified in the state in June 2019 based on a Pro V&V Test Report, despite Pro V&V's EAC accreditation having expired more than 2 years earlier, in Feb 2017. The certification was not renewed until after the election, in Feb 2021. This also affected ClearBallot Voting Systems, the vendor used in Garfield and Douglas counties, the only two that don't use Dominion. That means:
Both Clear Ballot and Dominion voting machines used in Colorado's 2020 elections — which we believe amounts to 100% of all election machines used in the state — were not legally certified under Colorado law.

All Colorado elections conducted since June, 2019 using those systems may not be legal.

Secretary of State Griswold and Colorado County Clerks have certified potentially-illegal elections.
For further details and explanatory videos, see our article Voting Machines Lacking EAC Accreditation.
Suppression of Audits & Public Testimony
Despite 1,400 petitions submitted to Colorado Secretary of State Jena Griswold, she put a ban on all independent election audits in the state. 5 6 7 8 Not only did she ignore the requests, but also cut short the hearings in which members of the public could give testimony about election fraud and irregularities. 9
The Colorado Secretary of State's Office today adopted emergency elections rules prohibiting third-parties [read: auditors] from accessing voting equipment in the state of Colorado. 'Colorado's elections are considered the safest in the nation,' Griswold claims."

— Colorado Secretary of State Jena Griswold's Press Release 5
Colorado's elections are not the safest in the nation, as you'll see below.
Tina Peters vs Secretary of State Jena Griswold
Tina Peters, a Clerk in Mesa County, Colorado, took a different approach after being contacted by citizens about notable irregularities. She was keen for an honest and open investigation into the election which she was responsible for, yet is undergoing heavy persecution from state and federal authorities for not adopting official state narratives. 9
In May 2021, Tina was alerted to the fact that Dominion Voting Machines was requiring Colorado to apply a "software update" to their voting machines, which they call a "trusted build". During this they disallowed any county staff or independent observers to be present. She was concerned that crucial forensic data might be lost during the update, and so took hard drive images prior to the update occurring. Her concerns were valid, as explained below. 10 11
During a flight to Sioux Falls for the Cyber Symposium (read our overview here), authorities raided her office, barring other staff from observing what went on. Tina claims they were looking to pin blame on her for the leaking of voting machine passwords which only the Secretary of State actually has access to. 10
Watch Tina's story, given at the Cyber Symposium, August 10, 2021:
A more detailed interview with Tina and Sherronna is available from Truth and Liberty, with further coverage via Ashe in America, the Mesa County Clerk Peters Rally, American Faith and USEIP.
On Nov 16, 2021, Tina Peters, a 66-year-old who lives alone, had her home raided by FBI officers with combat gear, automatic weapons, and a battering ram. All her electronic devices, USB drives, and storage devices were confiscated. 12 13 14 She has not yet been charged with any crime.
Tina needs assistance with battling the mounting legal battles from those who want to silence her and destroy the evidence she has collected. Contributions can be made at StandWithTina.org.
Dominion Voting Machines
Colorado used Dominion Voting Machines in all but two counties (Garfield and Douglas). Numerous integrity issues have been uncovered with Dominion.
The polling and tabulation equipment used for each county in the US is listed at Verified Voting, although see our disclaimer 15. They also have a detailed database including photographs of the various models of voting equipment. Note that the polling and ballot marking equipment is different to the scanning and tabulation equipment — both need to be highly secure, and in most cases are not.
Voting machines and computerized tabulation equipment have introduced many vulnerabilities and avenues for manipulation in elections. Cybersecurity experts tell us that there is no such thing as a fully secure computer system, and the more complex our voting systems and election systems get, with more moving parts and connections, the more impossible it will be for any state or county to defend against a nation-state-level threat. Local counties running elections can no longer defend against these motivated and well-funded foreign nations. The efficiency gains brought by machines are not reason enough to tolerate the loss of security, accountability, and transparency.
Elections need to return to paper ballots and mechanical or hand counting to minimize the threat of cyber attacks and manipulation by fraud. Let your state representative, county clerk, county commissioners, and Secretary of State know your opinion about this.
The Arizona Ballot Integrity Project is one such initiative promoting new, ultra-secure paper ballots with state-of-the-art security features to prevent fraud and help restore faith in elections. Learn more about the initiative.
The Money Trail
Apparently, Dominion Voting Systems, through their lobbyist Brownstein Hyatt Farber Schreck, have made at least 30 donations to Colorado Secretary of State Jena Griswold's election campaign, which would indicate a strong conflict of interest in her decision-making. 16 17 Griswold has already displayed a strong, defence stance over Dominion, granting them cover, and permitting them to destroy election records, in violation of law, as we outline below. Griswold also has connections with the Lincoln Project, and with George Soros. 13
Dominion also donated to Colorado Attorney General Phil Weiser's re-election campaign. 17 The AG has yet to investigate the election laws broken by Dominion.
We believe these connections and any possible malfeasance should be thoroughly investigated.
See also Blackmailed Into Renewing Dominion Contract, below.
Forensic Evidence of Dominion Deleting Election Data
Following initial revelations at the Cyber Symposium, forensic experts reviewed two hard drive images taken from a Dominion EMS Server in Mesa County. The two images were from the same machine, one taken prior to a "system update" applied by Dominion, and the other taken afterward.
The hard drive images can be downloaded from BitTorrent Link 1 and BitTorrent Link 2.
Their report clearly demonstrates that 695 log files, databases, and thousands of other files and other crucial data were removed during this "update", in breach of both state and federal laws that require election data to be maintained for at least 22 months following an election. 18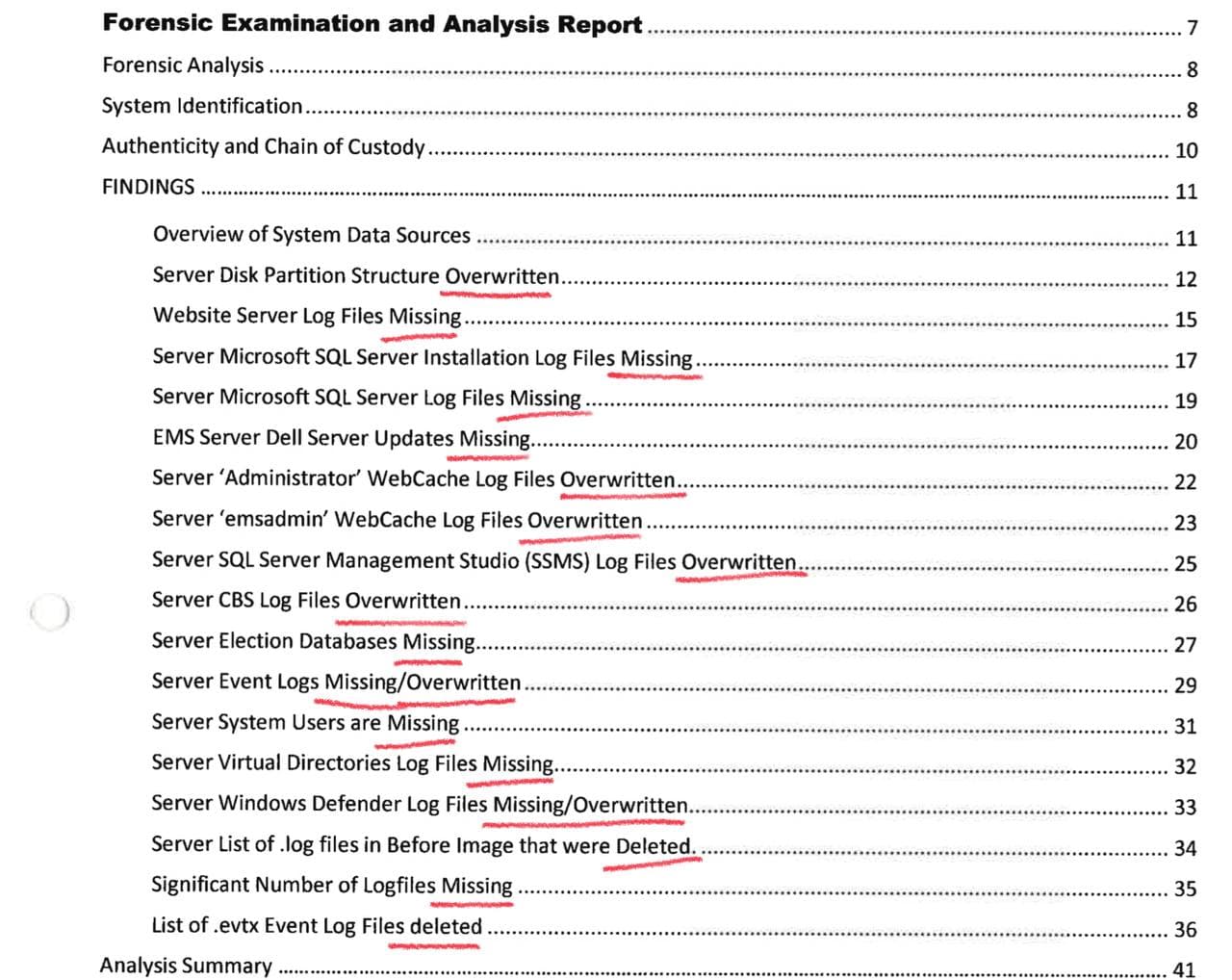 The forensic examination and report was prepared by Doug Gould, of CyberTeamUS.
It seems clear that in Mesa County, Dominion has actively erased both election data (in breach of law) as well as forensic evidence that could be used to audit the 2020 election. It's likely this has occurred in other counties and states also.
The report also identified open access points on the Dominion voting systems through which votes and vote tallies can be secretly altered without detection.
USEIP has more detail in their press release.
The forensic report was signed in the manner of an affidavit (under penalty of perjury) and handed to Mesa County District Attorney Rubinstein. He is obligated under Colorado law to investigate, but has done nothing of the kind, instead choosing to investigate Clerk Peters. 12
A follow-up report by Jeffrey O'Donnell, Database and Systems Analyst, in October 2021, expanded on the numerous security vulnerabilities, including the potential for votes to be "flipped" or manipulated within the machines — without leaving a trace. 19
Canvass Results Revealing Phantom Voters
Sherronna Bishop reports that the canvassing efforts — going door-to-door verifying voters' information — is indicating that around 5% of ballots in Mesa County may have been cast via faked or "phantom" registered voters. 20 Weld County and Pueblo County are showing potentially even higher rates. They have discovered residents who have stated that they didn't vote yet official records show that a vote was submitted under their name, similar to what was discovered during Arizona canvassing. Details and written affidavits are being finalized, and we hope to hear further results soon.
Note: We have not confirmed which organization has been running this canvass, but it's quite likely that it's USEIP in Colorado.
Similar grassroots canvass efforts are underway in at least eleven states. Learn more about the thousands of irregularities being uncovered in our article on Door-to-Door Canvassing Results.
Blackmailed Into Renewing Dominion Contract
Mesa County Commissioners were threatened with litigation from Dominion unless they agreed to extend the contract with Dominion Voting Systems all the way through to 2029. Thirty-four Mesa County residents spoke to the commission on Aug 24, all of whom asked them to abstain from renewing the contract, yet the concerns were ignored and the Commissioners voted 3-to-0 to sign the contract.
With a fresh contract for millions of dollars in hand, Dominion swiftly dropped their litigation. 21
Seth Keshel's Trend Analysis
Former US military intelligence officer and statistical analyst Seth Keshel analyzed the trends of voter registrations versus actual votes and discovered alarming anomalies in a number of counties, ones that defy typical historical trends. He has published a report for every state, indicating which counties' vote counts align with the trend in voter registrations and which have small or large divergences.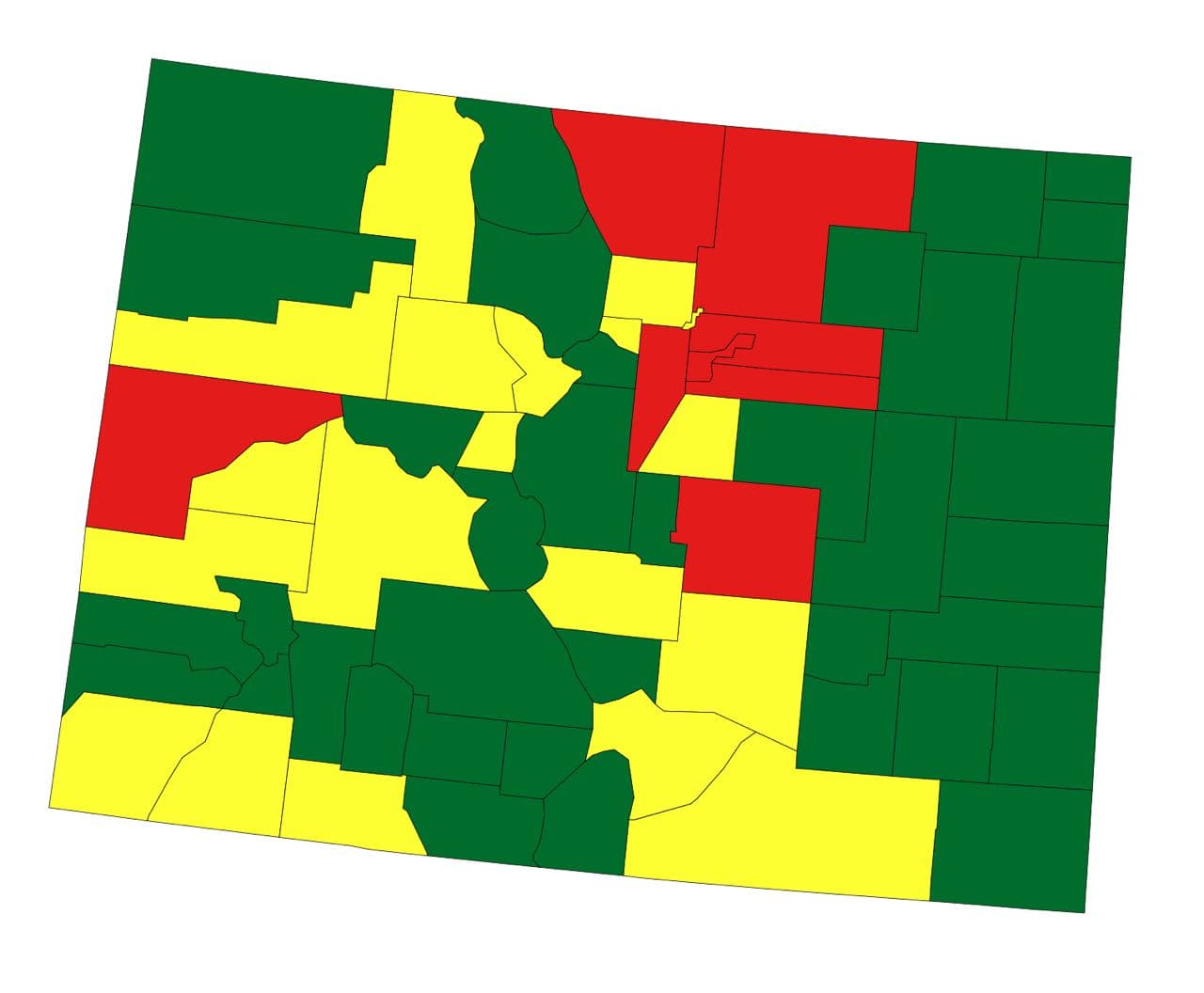 Trump votes
Biden votes
Other votes
Officially reported results

1364607

(41.90%)

1804352

(55.40%)

87938

(2.7%)

Estimate of potential fraud

183000

(5.6%)

Estimate of actual result
(with fraud removed)

1364607

(44.4%)

1621352

(52.7%)

87938

(2.9%)
Seth estimates that there may be approximately 183,000 votes for Biden in excess of what Colorado registration trends would indicate — a possible indicator of fraud. Counties with the greatest number of excess votes deserve closer inspection.
Seth has listed Colorado's Douglas and El Paso counties as being among the Nation's Top 100 Worst Counties in terms of abnormal trends during the 2020 election.
View Seth's National Summary   View Seth's Colorado Report
Dr. Doug Frank's Analysis
Dr. Douglas Frank discovered a strange algorithmic pattern that enabled him to accurately predict voter registration by age and voter turnout by age with a very high degree of accuracy (a correlation of 0.993).
Alarmingly, some counties across Colorado had more registered voters in certain age groups than eligible voters exist in the population. Additionally, in many older age-groups, voter turnout was nearly 100% and sometimes exceeded the total eligible population.
The same, exact algorithm (or "key" as Frank calls the mathematical formula) used in one county could be applied to many other counties in Colorado to predict their voter registration and turnout by age, too.
Dr. Frank has performed his analysis on at least 17 other states and has found the same disturbing pattern where he is able to predict the voter turnout rate for every age bracket in many counties based only on US Census Bureau data.
Having registration and turnout rates that repeatedly reflect a common mathematical formula across numerous demographically-unique counties is an indication that voter rolls and votes themselves may have been illegally manipulated via a computer algorithm. In all cases where this has occurred, we believe a forensic audit of the ballots, software logs, election records, and voter rolls is highly necessary.
Learn More About Dr. Frank's Analysis View Dr. Frank's Report on Colorado
Lawsuit Filed Against SoS Jena Griswold
On Nov 19, 2021, a lawsuit was filed against Secretary of State Jena Griswold. It centers around three levels of state corruption:
Election officials knowingly destroyed election records in violation of both state and federal laws.

Election officials certified voting equipment based on a test lab that was not accredited, again in violation of law.

SOS issued "emergency" decrees to block the independent audits that citizens have been asking for, stating that only election officials can audit themselves.
View Press Release View Court Filing
SCORE Voter Registration Database Vulnerabilities
Retired US Air Force Colonel Shawn Smith has raised concerns about SCORE, Colorado's Statewide Voter Registration System 22, along with it's connection to the interstate system ERIC. He says that the numbers of voters being registered in the system appear to indicate padding or "stuffing" of the voter rolls. For example, between 2016 and 2020, in El Paso County alone, active Democrat voters increased 11%, active Republican voters increased 0.5% and unaffiliated voters increased by over 40%. This is a highly unusual trend that may indicate fake or "phantom" entries are being added to the database for the purpose of casting fraudulent ballots. Inflated rolls is a significant issue that is occurring in multiple states. 23
Shawn has counted over 200 cyber vulnerabilities in the SCORE system. 23 He believes that while the officials tasked with securing the SCORE system may be well-meaning, they're not equipped to withstand the threats of foreign nations intent on attacking US elections.
After requesting information from the state officials, Shawn was given a list of internet IP addresses that made connections to the SCORE system around the time of the election. Apparently a number of these IP addresses were located in foreign nations, which should never have occurred. The state office likely regrets sharing this information and refuses to give any further details. 24
There is also little transparency in SCORE's closed system. Voters are unable to see what signatures are stored on their record. 25
Bloated Voter Rolls
In Oct 2020, a month before the election, Judicial Watch released a study that found 353 US counties in 29 states had voter registration rates exceeding 100% of the eligible voting-age citizens.
In Colorado the following counties exceeded 100%:
San Juan County (158%); Dolores County (127%); Jackson County (125%); Mineral County (119%); Ouray County (119%); Phillips County (116%); Douglas County (116%); Broomfield County (115%); Elbert County (113%); Custer County (112%); Gilpin County (111%); Park County (111%); Archuleta County (111%); Cheyenne County (111%); Clear Creek County (110%); Teller County (108%); Grand County (107%); La Plata County (106%); Summit County (106%); Baca County (106%); Pitkin County (106%); San Miguel County (106%); Routt County (106%); Hinsdale County (105%); Garfield County (105%); Gunnison County (105%); Sedgwick County (104%); Eagle County (104%); Larimer County (104%); Weld County (104%); Boulder County (103%); Costilla County (103%); Chaffee County (103%); Kiowa County (103%); Denver County (103%); Huerfano County (102%); Montezuma County (102%); Moffat County (102%); Arapahoe County (102%); Jefferson County (101%); Las Animas County (101%); Mesa County (100%)
Statewide, 102% of the eligible population was registered.
While this could be a symptom of poor clean-up of voter rolls — where voters that have died or moved interstate are left on the rolls for extended periods of time — it creates significant opportunity for fraudulent ballots to be submitted under the names of expired voters, making them appear legitimate. This was made even easier with the prevalence of mail-in ballots and widespread abandonment of voter ID rules which occurred in many states during the 2020 election.
The door-to-door canvassing across numerous states is proving that "phantom votes" were indeed counted for certain voters who were registered but did not themselves submit a ballot.
Research is also underway to explore disconcerting cases in some states whereby voter rolls appear to have been deliberately padded with false, duplicated, or expired records, possibly for the purpose of providing cover for fraudulent ballots. This is evidenced by graphing the changes to voter rolls over time and observing patterns which appear algorithmically-generated rather than organic, and then drilling down to identify specific anomalous records. We hope to release more findings on these anomalies in the coming weeks.
Voter Roll Growth Anomalies
Potentially-related to the SCORE issues noted above, USEIP shared this chart from DataJeff that shows that in the lead-up to an election, Colorado's voter rolls increase in size far quicker than the population is growing, and then are cleaned out immediately after: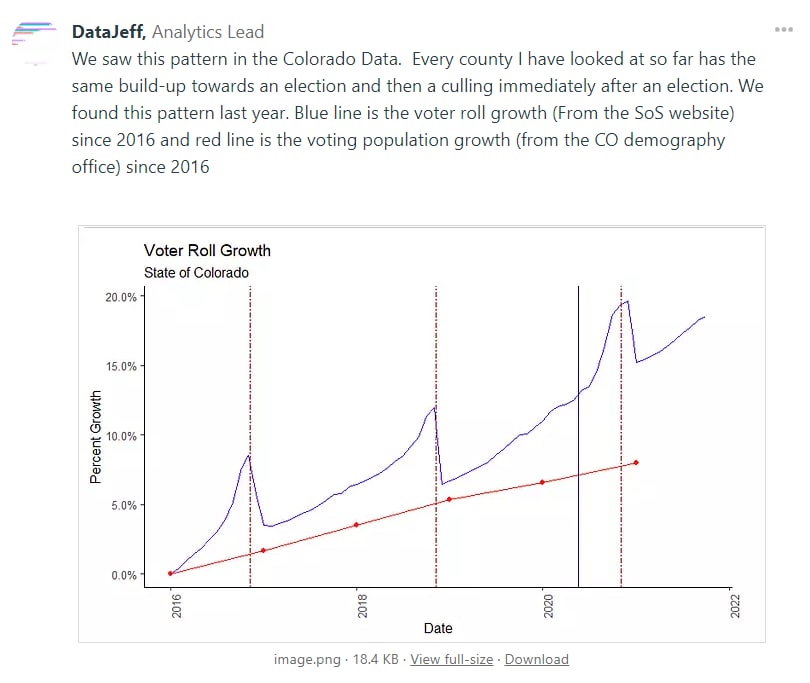 Unless the state has a rational explanation for why this occurs, it raises further suspicion that fake or "phantom" entries are being illegally injected for the purpose of casting fraudulent ballots.
USEIP
The U.S. Election Integrity Project (USEIP) was established in Colorado in November 2020 in response to blatant election fraud. Their aim is to enable election integrity groups to share knowledge and educational resources.
Find out more and Get Involved
USEIP gave a presentation to the Republican Study Committee in Colorado in April, 2021 that outlined the major security vulnerabilities in election systems. View the presentation slides and related documents here. They also post detailed news and analysis on issues in Colorado on their blog.
USEIP members including Retired US Air Force Colonel Shawn Smith and Sherronna Bishop met with Mesa County Commissioners in early September 2021, attempting to explain the critical security vulnerabilities in their Dominion Election Systems. The meeting which was thought to be private, was instead attended by hostile media, Dominion representatives and other officials in apparent collusion. The security concerns were mostly ignored. 26
Voting Trend Anomalies
In our series of articles on election trend analysis, we identified the following statistical outliers for Colorado which deserve further investigation. Visit the linked articles to learn more.
Other Reports & Updates
Colorado's "Gold Standard"
Despite the above mentioned major integrity concerns, leaders continue to boast about the security of their systems:
"Colorado is the 'Gold Standard' of safe and secure voting." — Governor Polis
"Colorado's election model is the nation's gold standard." — Secretary of State Griswold
"…arguably the best system in the country." — ELP CCR Broerman
"Our votes are not being manipulated." — Congressman Ken Buck
"There's no evidence." — CO Rep Fields
"Dominion…tested [small, risk-limiting audits] in 62 (CO) counties at least 807 times." — Former SoS Williams
"No voting systems connected to the internet" — Nobody who has checked
"No election fraud has been proven in court" — The Media
Do you live in Colorado?
Contact your County Clerk, make sure they have read the recent forensic report from Mesa County, and ensure they take forensic images of all Dominion machines before they apply the next software update, to prevent the loss of crucial forensic data.
Get Involved
Volunteers are needed to help verify the irregularities found. One key way this is done is through voter canvassing, with teams analyzing the county and state records and voter rolls, and others going door-to-door to identify whether the records match the actual residents living at the address.
Further Updates
Mar 23, 2022
Mar 12, 2022

Two Republican county clerks, Elbert County's Dallas Schroeder and Douglas County's Merlin Klotz, want access to their election servers.

Next 9NEWS
Feb 10, 2022

Certified Poll Watcher, Shelley Rowe reported that "I was not allowed to be in close proximity to have access to the election process such that I could attest to the accuracy of election related activities" and that County Clerk, Carly Koppes, rejected poll watchers.

USEIP
Dec 6, 2021

A sample of interviews where Mesa County Clerk Tina Peters and America's Mom Sherronna Bishop report on being raided by the FBI.

US Election Integrity Plan
Sep 19, 2021
Sep 8, 2021
Sep 4, 2021
Aug 26, 2021
Aug 24, 2021

Judicial Watch announced that a federal court ruled its lawsuit can proceed against Colorado officials to force a cleanup of the state's voter rolls. Judicial Watch filed the lawsuit October 5, 2020, in the U.S. District Court for the District of Colorado on behalf of itself and three residents of Colorado against Jena Griswold, Colorado Secretary of State, and the State of Colorado for failing to clean the state's voter rolls as required by the National Voter Registration Act of 1993 (NVRA).

Judicial Watch
Aug 24, 2021
Aug 18, 2021
Jun 17, 2021
Feb 12, 2021

Election analysis about Colorado voter data, comparing previous elections and the massive statistical jumps that raise questions.

The New York Gazetta
Oct 5, 2020

Judicial Watch announced that it filed a lawsuit in federal court to force Colorado to clean up its voter rolls. The lawsuit was filed on behalf of itself and three residents of Colorado against Jena Griswold, Colorado Secretary of State, and the State of Colorado for failing to clean the state's voter rolls as required by the National Voter Registration Act of 1993 (NVRA).

Judicial Watch
State Representatives Supporting Election Integrity & Audits
Following the results of the Maricopa Arizona Forensic Audit, 188 state representatives from 39 states signed a letter asking for forensic audits in all 50 states. The signatories for Colorado include:
Representative Andres Pico
Representative Dave Williams
Representative Richard Holtorf
Representative Ron Hanks
Representative Stephanie Luck
The US Congress Election Integrity Caucus — a group of 55 federal members working together on issues of election integrity — has no members from Colorado.
Election Audit Groups on Telegram
To join the grassroots efforts in pursuing election integrity and audits of the 2020 election in Colorado, you can join the following groups on Telegram:
For other states, see our Full List of Telegram Channels.
ElectionFraud20.org has no affiliation with nor any responsibility for these channels. Discern carefully, as some users and even admins of channels have shown obstruction to transparent audits of our elections.
Raw Data
We aim to publish links to both the raw election data and voter registration data for Colorado so that citizens and researchers can analyze this information for themselves.
Further Leads
Footnotes & References
Visitor Comments
Do you have more information about what happened in Colorado? Share in the comments below.