Most research into election fraud began in the six battleground or swing states, yet after numerous other states reported integrity issues the research has widened. We're hoping to expand our coverage to every state in the US. The sections below outline what we know so far about New Mexico.
The Audit Force Voter Fraud Report
A grassroots group — America's Audit Force — published a detailed 261-page report in October 2021 that highlighted the many disturbing anomalies with voter rolls, mismatched ballot counts, machine vulnerabilities, third-party interference and other areas of concern.
Quoting from the executive summary:
This report presents clear and convincing evidence highlighting the most likely paths where systemic fraud is taking place, and are as follows:

The outcome of the election for certain races and issues is decided ahead of time
Estimates are made to determine how many "phantom votes" must be cast to overcome the will of the people and install the selected candidates. "Phantom votes" may be cast on behalf of genuine eligible voters on the rolls or fictitious entries not tied to a real person.
The registration database is inflated leading up to the election to create an adequate credit line of phantom voters and also keep the predicted total turnout within a reasonable range.
The voting system is pre-programmed to perform the monitoring and manipulation activities required to achieve the desired outcome on election day. The individual tabulators may be connected to the internet, but don't need to be to accomplish this.
The voter rolls are backfilled with enough phantom votes to match the predetermined outcome.
In the months following the election, some percentage of phantom registrants are removed

These conclusions are supported by the evidence uncovered during the current investigation, and falls into four categories:

Patterns in the data reveal calculations at work and could not have come from natural, human behavior

The relationship between population, registration, and votes is too closely correlated to have occurred naturally. Portions of the registration database and vote totals are calculated.
The voter registration database shows fraudulent activity has been occurring for years and is automated with an equation to produce desired outcomes.
The election data broadcast by the media on election night show votes were being calculated and not counted in every state

There are serious anomalies throughout voter registration database and election results.

More people are registered and voted than even live in most New Mexico counties for certain age groups.
Voter registration trends do not correlate with election results. These trends have been used for decades to accurately predict election results. The fact that trends did not correlate with election results in 2020 provides independent evidence that all was not right in 2020.
50,000 voters are listed as having registered after election day; voters as old as 120 voted in November.
Registration and turnout rates in all counties exceed historical norms and are high enough to indicate fraud. Some counties had more people voting than even live in the county for certain age groups.
There are serious anomalies in the data for absentee ballot voting.
Tabulator tapes checked in nine counties do not match the total votes reported by the SOS.
The voter registration rolls are currently being canvassed across the state. Preliminary estimates of results indicate a minimum error rate of 6 percent up to 40 percent depending on the county.

Vulnerable voting registration database and sloppy policies and practices have left our election system corrupt and exposed.

1,198 third-party groups were given enhanced access to add voters to the registration database by the Secretary of State (SOS), Maggie Toulouse Oliver.
Third-party organizations sent ridiculous numbers of voter registration and absentee ballot forms to New Mexico residents, encouraging fraud. The mailers were coercive and sent without any attempt reach only to eligible voters.
Numerous addresses have excessive numbers of voters and preliminary canvassing results indicate many of these are fraudulent.
Secretary of State is not performing her duty to purge voter rolls of deceased voters.
In some counties, poll watchers and presiding judges are being cut out of the election process and not allowed meaningful access or supervision of the election.

Voting machines provided by Dominion Voting Systems have illegal features and are vulnerable to hacking.

The "adjudication" feature was never contemplated by the legislature and produces illegal error rates and results in anomalous outcomes in counties where it was used.
Election equipment is possibly connected to the internet, which may include tabulators. Examination of the same voting machines used in New Mexico revealed cellular modems hidden in the hardware. The Secretary of State does not deny the tabulators may have capability to connect to the internet.
Dominion Voting Systems' software fractionalizes votes in violation of state law.
Dominion Voting Systems provides tens of thousands of pre-printed official ballots in addition to test ballots. It is unclear what these are used for. It is the solemn duty of county government officials to ensure elections are free of corruption. This report demonstrates overwhelming evidence that our elections are not in compliance with protections recognized and afforded by the New Mexico State and U.S Constitution
Otero County Forensic Audit
Following the October 2021 report, above, the grassroots team consisting of engineers, technical experts, legal experts and other willing volunteers were able to gain the legal means and permission of the county commissioners and clerk to audit the ballots, machines, and canvass the voters themselves. The county Sherriff and District Attorneys have also provided willing assistance and helped ensure the process is legal, well-grounded and will result in the necessary evidence for further action. 1
Dr Shiva — MIT PhD and inventor of email — and his organization EchoMail is currently performing an analysis of ballot images and envelope signatures.
Volunteer canvassers are surveying county residents to verify whether the election records match with how the voter says how they voted. The canvass is already discovering a large number of incorrect and non-existent addresses and voters: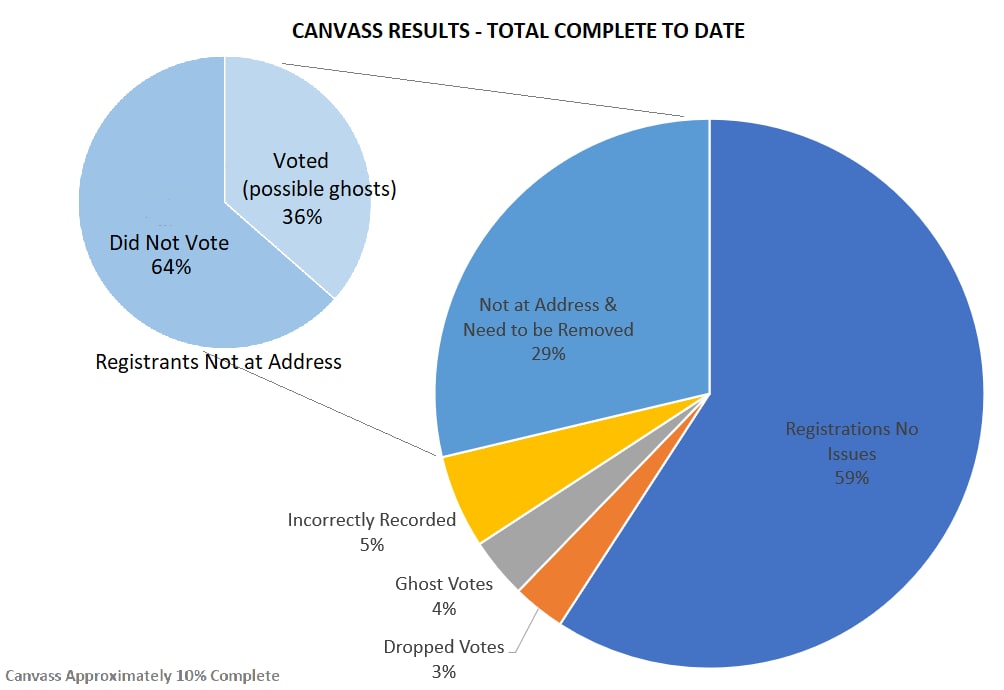 Similar grassroots canvass efforts are underway in at least eleven states. Learn more about the thousands of irregularities being uncovered in our article on Door-to-Door Canvassing Results.
Opposition to the Audit
The chairs of the federal US Congress Committee on Oversight and Reform sent a threatening letter to Dr Shiva and a copy to the US Attorney General—although when an official federal committee references The Daily Beast and other legacy propaganda outlets as the source of their concerns it reveals how little objective grounds they have for interfering. The committee's letter was riddled with inaccuracies, slander, partisan bias, and projects onto the auditors that they are undermining democracy by doing a thorough investigation. A rebuttal of several of the points is available here.
Threats have also been made that the electronic machines will be forcibly decertified if they are opened for forensic inspection—although many residents would gladly welcome that consequence, provided they are not replaced with new ones.
The auditors believe that the county clerk has done her best to run the election correctly, but being forced to outsource management of the complex Dominion machines that involve 400 customizable settings opens their elections to manipulation.
The audit is due to conclude in mid-April 2022 and we'll be sure to share the results.
More Findings from Otero NM New Mexico Audit Force
Election Integrity Scorecard
The Heritage Foundation's Election Integrity Scorecard is an assessment of each state's voting laws, written regulations and procedures. New Mexico was ranked 31st out of 51.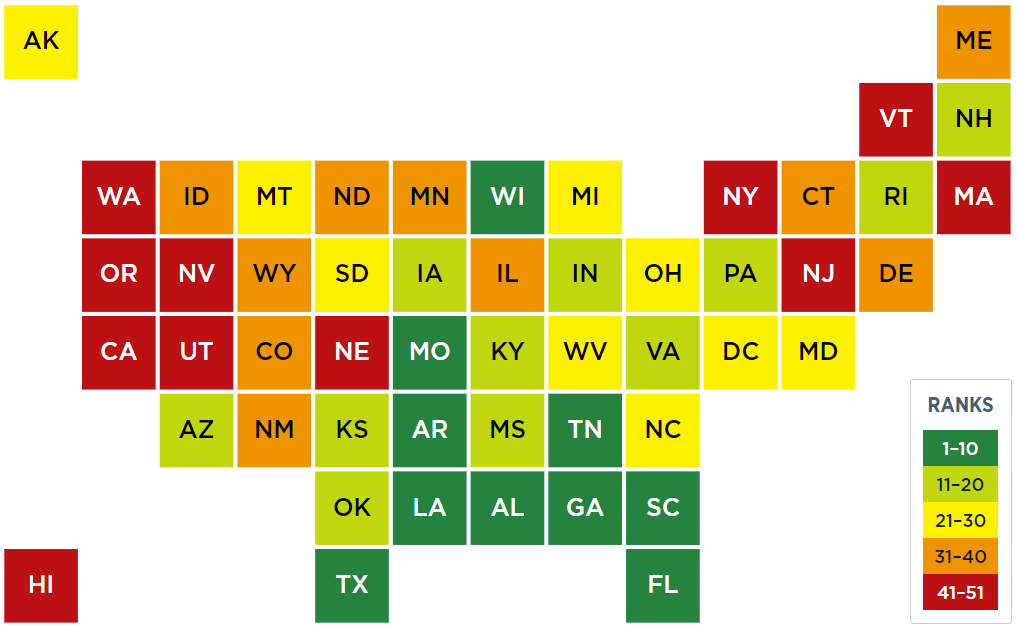 | New Mexico's Total Score | 53% |
| --- | --- |
| Voter ID Implementation | 15% |
| Accuracy of Voter Registration Lists | 77% |
| Absentee Ballot Management | 76% |
| Vote Harvesting/Trafficking Restrictions | 100% |
| Access of Election Observers | 100% |
| Verification of Citizenship | 0% |
| Identification for Voter Assistance | 67% |
| Vote Counting Practices | 67% |
| Election Litigation Procedures | 0% |
| Restriction of Same-day Registration | 0% |
| Restriction of Automatic Registration | 0% |
| Restriction of Private Funding of Election Officials or Government Agencies | 0% |
View the full Scorecard for New Mexico
It's important to note that the scores above reflect the laws, regulations, and processes that exist within the state, but not whether they were actually followed. In the 2020 election, some states with highly-rated election integrity measures did not uphold them. 2 As The Heritage Foundation reminds us, even the best laws are not worth much unless responsible officials enforce them rigorously. It is up to the citizens of each state to make sure that their elected and appointed public officials do just that.
Seth Keshel's Trend Analysis
Former US military intelligence officer and statistical analyst Seth Keshel analyzed the trends of voter registrations versus actual votes and discovered alarming anomalies in a number of counties, ones that defy typical historical trends. He has published a report for every state, indicating which counties' vote counts align with the trend in voter registrations and which have small or large divergences.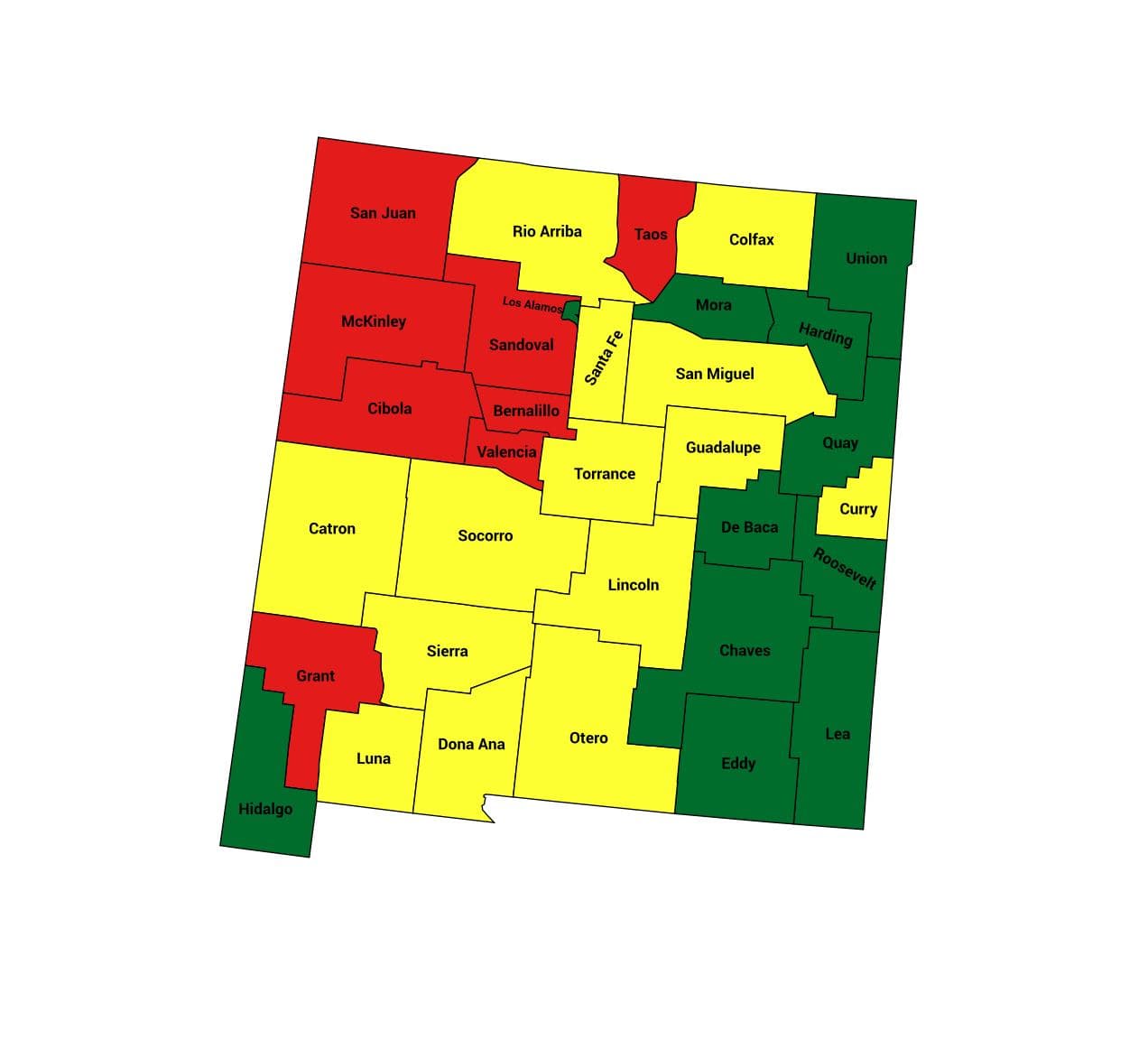 Trump votes
Biden votes
Other votes
Officially reported results

401894

(43.5%)

501614

(54.3%)

20323

(2.2%)

Estimate of potential fraud

84000

(9.1%)

Estimate of actual result
(with fraud removed)

401894

(47.9%)

417614

(49.7%)

20323

(2.4%)
Seth estimates that there may be approximately 84,000 votes for Biden in excess of what New Mexico registration trends would indicate — a possible indicator of fraud. Counties with the greatest number of excess votes deserve closer inspection.
Seth has listed New Mexico's Bernalillo County as being among the Nation's Top 100 Worst Counties in terms of abnormal trends during the 2020 election.
View Seth's National Summary   View Seth's New Mexico Report
Bloated Voter Rolls
In Oct 2020, a month before the election, Judicial Watch released a study that found 353 US counties in 29 states had voter registration rates exceeding 100% of the eligible voting-age citizens.
In New Mexico the following counties exceeded 100%:
Harding County (177%); Los Alamos County (110%)
While this could be a symptom of poor clean-up of voter rolls — where voters that have died or moved interstate are left on the rolls for extended periods of time — it creates significant opportunity for fraudulent ballots to be submitted under the names of expired voters, making them appear legitimate. This was made even easier with the prevalence of mail-in ballots and widespread abandonment of voter ID rules which occurred in many states during the 2020 election.
The door-to-door canvassing across numerous states is proving that "phantom votes" were indeed counted for certain voters who were registered but did not themselves submit a ballot.
Research is also underway to explore disconcerting cases in some states whereby voter rolls appear to have been deliberately padded with false, duplicated, or expired records, possibly for the purpose of providing cover for fraudulent ballots. This is evidenced by graphing the changes to voter rolls over time and observing patterns which appear algorithmically-generated rather than organic, and then drilling down to identify specific anomalous records. We hope to release more findings on these anomalies in the coming weeks.
Dominion Voting Machines
New Mexico used Dominion Voting Machines in at least some counties. Numerous integrity issues have been uncovered with Dominion.
The polling and tabulation equipment used for each county in the US is listed at Verified Voting, although see our disclaimer 3. They also have a detailed database including photographs of the various models of voting equipment. Note that the polling and ballot marking equipment is different to the scanning and tabulation equipment — both need to be highly secure, and in most cases are not.
Voting machines and computerized tabulation equipment have introduced many vulnerabilities and avenues for manipulation in elections. Cybersecurity experts tell us that there is no such thing as a fully secure computer system, and the more complex our voting systems and election systems get, with more moving parts and connections, the more impossible it will be for any state or county to defend against a nation-state-level threat. Local counties running elections can no longer defend against these motivated and well-funded foreign nations. The efficiency gains brought by machines are not reason enough to tolerate the loss of security, accountability, and transparency.
Elections need to return to paper ballots and mechanical or hand counting to minimize the threat of cyber attacks and manipulation by fraud. Let your state representative, county clerk, county commissioners, and Secretary of State know your opinion about this.
The Arizona Ballot Integrity Project is one such initiative promoting new, ultra-secure paper ballots with state-of-the-art security features to prevent fraud and help restore faith in elections. Learn more about the initiative.
Get Involved
Volunteers are needed to help verify the irregularities found. One key way this is done is through voter canvassing, with teams analyzing the county and state records and voter rolls, and others going door-to-door to identify whether the records match the actual residents living at the address.
State Representatives Supporting Election Integrity & Audits
Following the results of the Maricopa Arizona Forensic Audit, 188 state representatives from 39 states signed a letter asking for forensic audits in all 50 states.
❌ No representatives from New Mexico have yet signed the document.
New Mexico Congresswoman Yvette Herrell is part of the US Congress Election Integrity Caucus, a group of 55 federal members working together on issues of election integrity to ensure that Americans in every state and territory have confidence in free, fair, accurate, and transparent elections.
Election Audit Groups on Telegram
To join the grassroots efforts in pursuing election integrity and audits of the 2020 election in New Mexico, you can join the following groups on Telegram:
For other states, see our Full List of Telegram Channels.
ElectionFraud20.org has no affiliation with nor any responsibility for these channels. Discern carefully, as some users and even admins of channels have shown obstruction to transparent audits of our elections.
Raw Data
We aim to publish links to both the raw election data and voter registration data for New Mexico so that citizens and researchers can analyze this information for themselves.
Further Leads
Footnotes & References
Visitor Comments
Do you have more information about what happened in New Mexico? Share in the comments below.