Number of disputed ballots
300,000 votes (approx.)
Joe Biden's winning margin
10,457 votes (0.3%)
Arizona's electoral college votes under dispute
11 votes
(36 would need to be flipped for a Trump win)
Independent forensic audit investigation
Partial investigations performed in 2 counties, although heavily obstructed
Outstanding Issues
Unobserved ballot counting

Many nonimmigrants and non-citizens voting without verification

Statistical impossibilities

29,326 voter roll anomalies

Thousands of duplicated ballots lacking serial numbers

Use of unofficial ballot paper

Outstanding/unresolved integrity issues with Dominion counting machines, including the erasure of security log files

Maricopa County's obstruction of the forensic audit and refusal to comply with state Senators' requests
Initial Allegations
Unobserved Ballot Counting
Vote counting rooms were announced as "closed down", and yet counting continued, without independent observers present. This occurred in Pima County, Coconino County, and Maricopa County – which combined, reach into hundreds of thousands of ballots. 1
Many Non-Citizens Voted In Election
Arizona's Governor Doug Ducey 2 submitted an official vote count and statement that claims there were zero non-immigrant and non-citizen votes. However, based on a survey of voters by Trump legal team, a conservative estimate of 36,000 non-citizens voted in the election (or possibly as high as 237,000). 1
Arizona also reportedly had over 21,000 "federal only voters" who did not provide proof of citizenship when registering to vote. Senator Kelly Townsend alleges that "These voters cannot prove they are a citizen or that they even exist. They are not in the MVD system and all they need is a bank statement (easily doctored) to get a ballot." 3 These alone are more than double Biden's winning margin.
Ballot Harvesting
Eye-witness testimony of highly-secretive and suspicious activity at Wigwam Resort, Litchfield, Arizona in Sept 2020, two months prior to the election, that appeared to be a significant election fraud and ballot harvesting operation, with two large ballrooms full of equipment, and transporting ballots between Arizona and Georgia. The witness was former Police Detective Gerald Buglione. 4
"2000 Mules" Reveals Ballot Harvesting Operation
The May 2022 documentary 2000 Mules revealed video evidence of a coordinated, funded, illegal ballot trafficking network across critical swing states including Arizona, Georgia, Pennsylvania, Michigan, Wisconsin, Nevada, and Texas.
The documentary explains how True the Vote were able to identify over 2,000 ballot traffickers by obtaining 2 petabytes of geofencing cellphone ping data purchased from brokers. Their threshold for identifying a mule was if they visited at least 10 drop boxes and made at least 5 visits to a non-profit organization which showed evidence of functioning as a ballot "stash house". They then obtained 4 million minutes of drop box video surveillance footage through FOIA requests which showed the traffickers in action. 5
| | |
| --- | --- |
| ARIZONA |   |
| Mules identified: | 200 |
| Drop boxes involved: | 20 |
| Estimated illegal votes: | 20,000 |
This massive number of votes was more than enough in itself to tip Arizona's election outcome where Biden supposedly won by 10,457 votes.
Statistical Anomalies
Vote Dump
A massive, abnormal "vote dump" with an unexpected swing to Biden: 6 7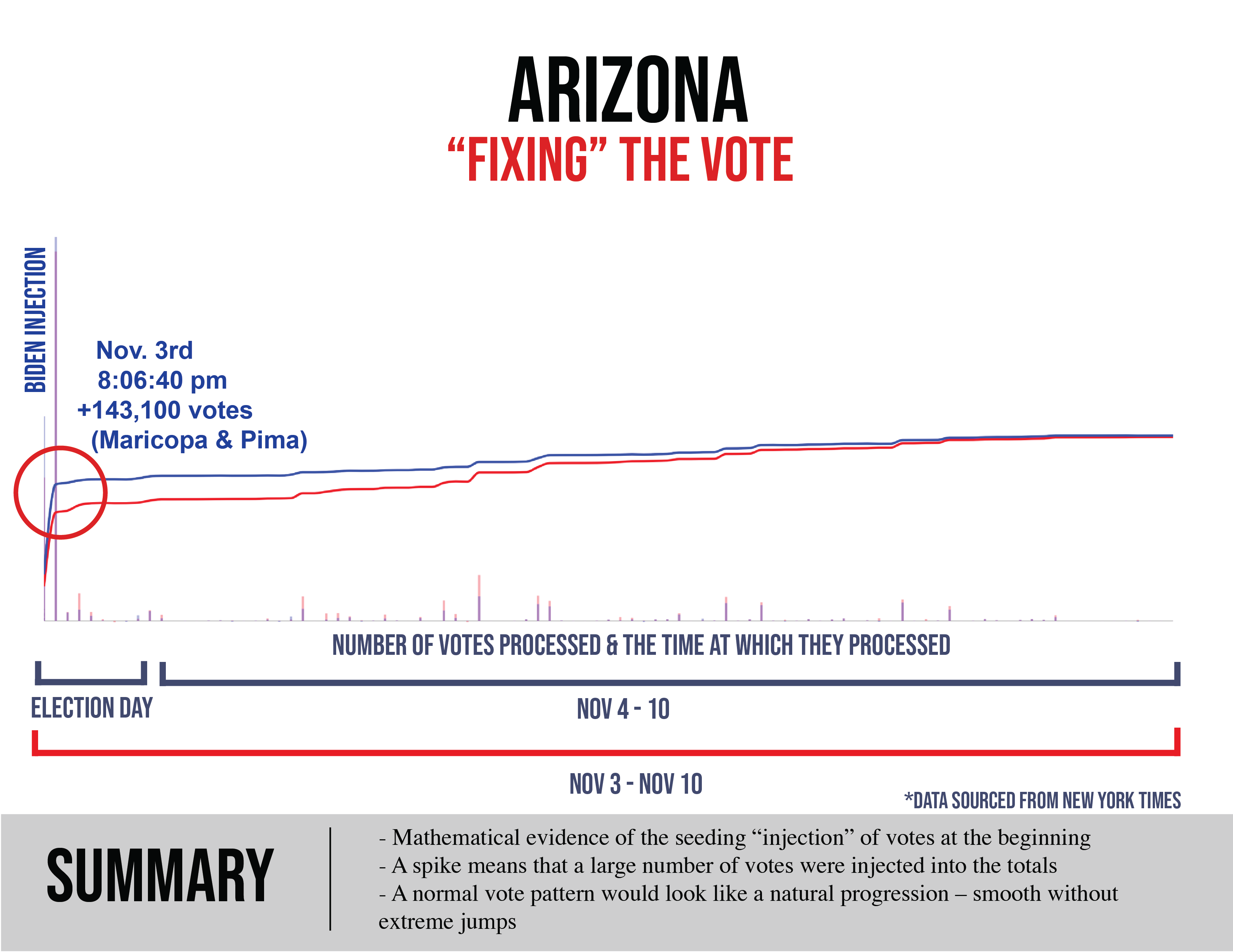 Seth Keshel's Trend Analysis
Former US military intelligence officer and statistical analyst Seth Keshel analyzed the trends of voter registrations versus actual votes and discovered alarming anomalies in a number of counties, ones that defy typical historical trends. He has published a report for every state, indicating which counties' vote counts align with the trend in voter registrations and which have small or large divergences.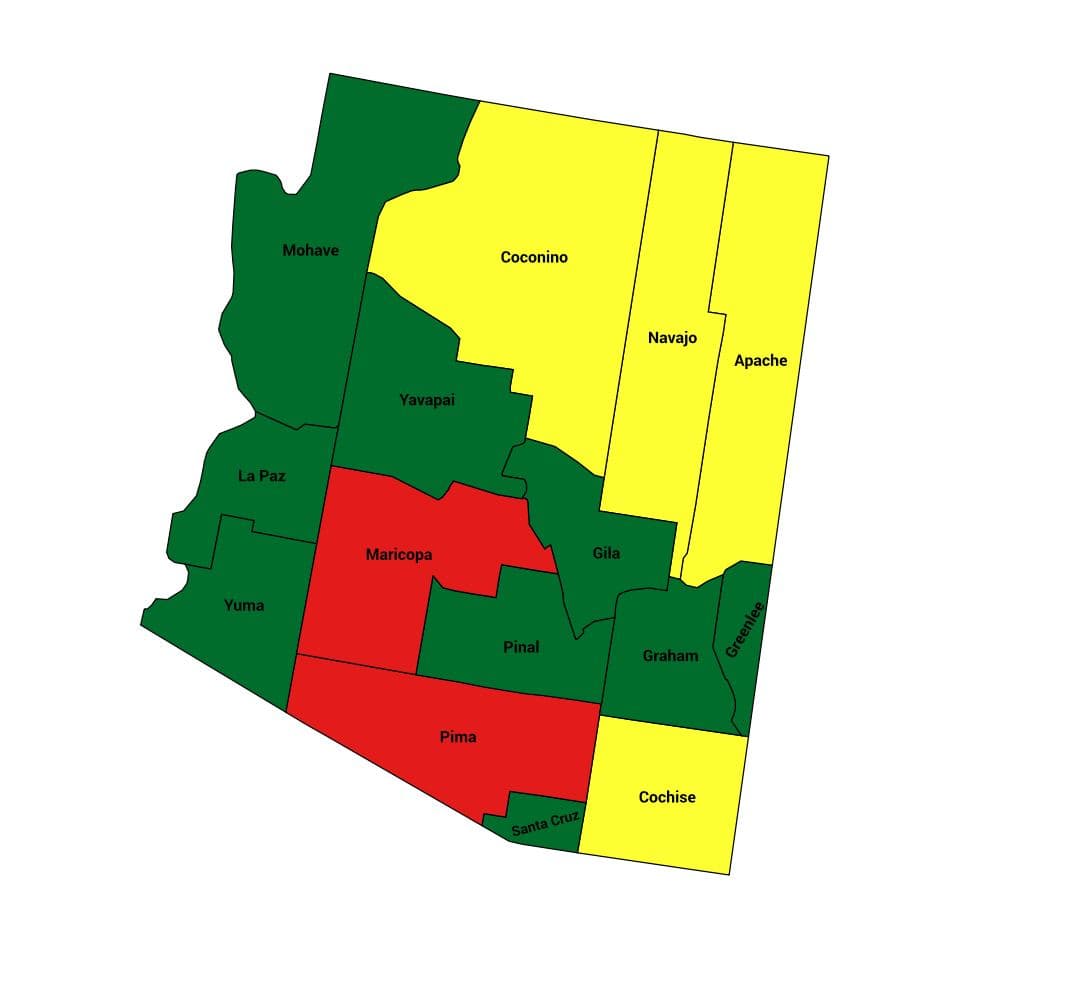 Trump votes
Biden votes
Other votes
Officially reported results

1661686

(49.1%)

1672143

(49.4%)

50774

(1.5%)

Estimate of potential fraud

210000

(6.2%)

Estimate of actual result
(with fraud removed)

1661686

(52.3%)

1462143

(46.1%)

50774

(1.6%)
Seth estimates that there may be approximately 210,000 votes for Biden in excess of what Arizona registration trends would indicate — a possible indicator of fraud. Counties with the greatest number of excess votes deserve closer inspection.
Seth has listed Arizona's Maricopa and Pima counties as being among the Nation's Top 100 Worst Counties in terms of abnormal trends during the 2020 election.
View Seth's National Summary   View Seth's Arizona Report
Bobby Piton's Analysis
Mathematician Bobby Piton reviewed election data and stated during the state legislature hearing that he believes the numbers in Arizona are fraudulent, saying he would "stake his life" on it based on the mathematically problematic data. Piton estimated there are between 160,000 and 400,000 phantom voters. 8 Piton's Twitter account was suspended during his testimony. 9
Out-of-State Voters
Trump's Legal Team has alleged that the number of suspicious out-of-state voters were higher than Joe Biden's winning margin. 1
Election Integrity Scorecard
The Heritage Foundation's Election Integrity Scorecard is an assessment of each state's voting laws, written regulations and procedures. Arizona was ranked equal 19th out of 51.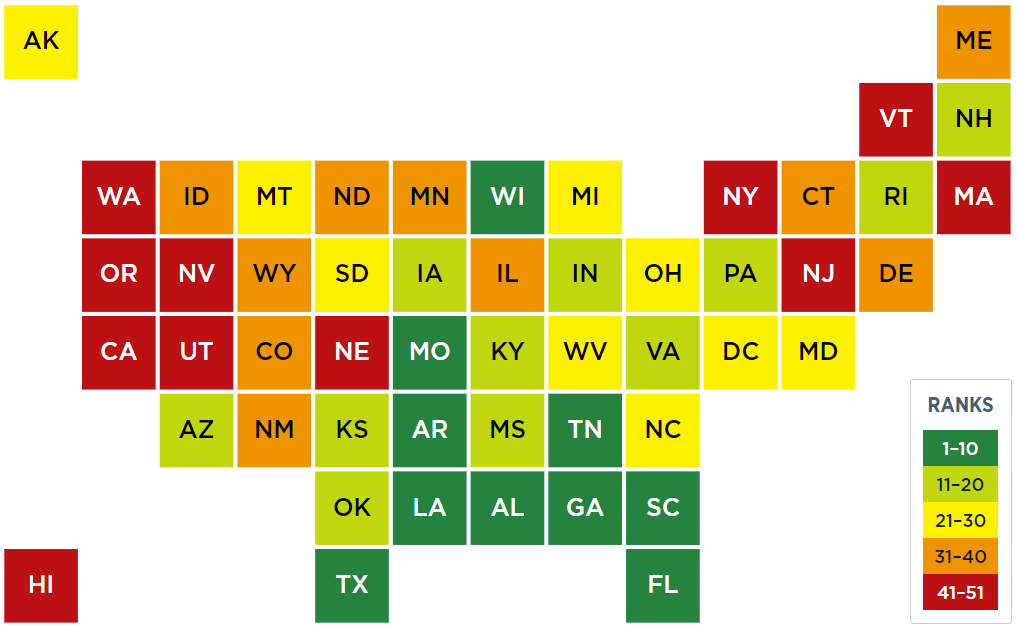 | Arizona's Total Score | 63% |
| --- | --- |
| Voter ID Implementation | 45% |
| Accuracy of Voter Registration Lists | 63% |
| Absentee Ballot Management | 67% |
| Vote Harvesting/Trafficking Restrictions | 100% |
| Access of Election Observers | 100% |
| Verification of Citizenship | 75% |
| Identification for Voter Assistance | 33% |
| Vote Counting Practices | 33% |
| Election Litigation Procedures | 0% |
| Restriction of Same-day Registration | 100% |
| Restriction of Automatic Registration | 100% |
| Restriction of Private Funding of Election Officials or Government Agencies | 100% |
View the full Scorecard for Arizona
It's important to note that the scores above reflect the laws, regulations, and processes that exist within the state, but not whether they were actually followed. In the 2020 election, some states with highly-rated election integrity measures did not uphold them. 10 As The Heritage Foundation reminds us, even the best laws are not worth much unless responsible officials enforce them rigorously. It is up to the citizens of each state to make sure that their elected and appointed public officials do just that.
Alleged Interference from Mark & Priscilla Zuckerberg
Multiple reports 11 12 13 14 15 16 accuse charities supported by Facebook CEO Mark Zuckerberg and his wife of illegally influencing the 2020 presidential election in multiple states, including Arizona. Through their donations of $400 million into charities like The Center for Tech and Civic Life (CTCL), millions poured into the key swing states of Michigan 17, Pennsylvania, Arizona, Wisconsin, Georgia, Nevada, as well as Texas, North Carolina, and Virginia, in violation of federal law. 14
25 out of the 26 cities and counties that received at least $1 million from CTCL were won by Biden in 2020. 12
Here are the CTCL grants in Arizona, and who won each county: 12
Having paid poll workers in one district and only minimal volunteers in Republican districts added to the disparity while counting the votes, which could lead to inaccurate tallies.
The American Voter's Alliance published a detailed investigative report on this issue, as did RealClear Investigations, InfluenceWatch, and Caesar Rodney Election Research Institute.
As of March 2022, twelve states have either banned or severely restricted the acceptance and use of private funds for state and local elections: AZ, AK, FL, GA, ID, IN, KS, MS, ND, OH, TN, and TX. Another 5 states have passed anti-Zuckerbucks legislation that is awaiting a Republican governor's signature: AL, OK, SD and VA. We're hoping that more will soon follow suit.
Bloated Voter Rolls
In Oct 2020, a month before the election, Judicial Watch released a study that found 353 US counties in 29 states had voter registration rates exceeding 100% of the eligible voting-age citizens.
In Arizona the following counties exceeded 100%: Santa Cruz County (107%); Apache County (106%).
While this could be a symptom of poor clean-up of voter rolls — where voters that have died or moved interstate are left on the rolls for extended periods of time — it creates significant opportunity for fraudulent ballots to be submitted under the names of expired voters, making them appear legitimate. This was made even easier with the prevalence of mail-in ballots and widespread abandonment of voter ID rules which occurred in many states during the 2020 election.
The door-to-door canvassing across numerous states is proving that "phantom votes" were indeed counted for certain voters who were registered but did not themselves submit a ballot.
Research is also underway to explore disconcerting cases in some states whereby voter rolls appear to have been deliberately padded with false, duplicated, or expired records, possibly for the purpose of providing cover for fraudulent ballots. This is evidenced by graphing the changes to voter rolls over time and observing patterns which appear algorithmically-generated rather than organic, and then drilling down to identify specific anomalous records. We hope to release more findings on these anomalies in the coming weeks.
Court Cases
Summary by The American Spectator, "Election 2020: Can Classic Fraud Evidence Save The Day?":
"In a lawsuit filed by Arizona Elector Kelli Ward on behalf of Team Trump, the Arizona Supreme Court denied her petition. The decision rested upon a trial court finding after a small sample of ballots were audited, with presentations from each side's expert witness, that the election had seen far too little fraud to alter the outcome. Arizona's election law requires that the margin be within 0.01 percent — in Arizona's 2020 election, 3,339 votes — for an automatic recount. Further, unlike in Wisconsin, the Arizona Election Commission's administrative guidelines, per legislative delegation, have the force of law. Given the extremely stringent threshold for contesting the election, the Court's ruling appears reasonable."
As of October 2021, the district, state and supreme courts have ruled on several election fraud issues, while numerous other cases are still open. Some cases were dismissed on legal technicalities, preventing evidence from being presented and considered; but a detailed list of cases and outcomes available here show that at a national level, Trump/Republicans have so far prevailed in 18 out of 25 cases that were decided on the merits of the evidence.
Maricopa County Election Audits
1. Maricopa County Internal Audit
On Jan 28, 2021, Maricopa County officials voted unanimously to approve their own "forensic audit" by hiring two supposedly-independent companies to conduct a review into whether voting machines counted votes correctly, and whether they were tampered with or hacked in any way.
The Maricopa Board of Supervisors demanded that the auditor be an EAC-accredited Voting System Test Laboratory (VSTL), of which there were only two: Pro V&V and SLI Compliance. Although the Senate disagreed, the Maricopa BoS went ahead anyway and unilaterally contracted both firms to audit the Dominion voting systems and equipment (while ignoring other important aspects of the election). 18
The major concern with this was that Dominion had previously contracted these two companies to certify their machines, and as such they would be inherently biased against finding issues in the same machines they, themselves, were paid to certify. There were also reports that neither of the two firms above were actually certified at the time Maricopa County claimed they were. When this was reported by The Gateway Pundit, within four hours the EAC issued their certifications. 18
Arizona state Senator Warren Peterson also believed that it lacked the depth and breadth required, stating that "A county audit will not prevent the Senate from doing their own audit. My concern with the county audit is that the scope of the audit is an inch deep. With the limited scope they have asked to be audited, they are guaranteed to find nothing." 19
2. Senate Forensic Audit of Maricopa County
For a more detailed overview, see Maricopa Forensic Audit.
The state Senate issued several subpoenas (legally binding requests) to the Maricopa Country election board and county recorder, to access its voting machines, copies of all ballots and much more so it can perform its own audit. The election board repeatedly resisted and refused a number of the requests, saying they were overly broad, and aimed to negotiate a settlement with the Senate. 19 The Senate eventually received the ballots and some of the other requested materials, and began the audit.
Several preliminary issues were raised during the audit process:
The full Senate hearing from July 16 was available on YouTube Censored, or on Rumble, here.
Maricopa County officials have been highly oppositional to the audit at every stage, and deny each of the issues. They have responded to common questions and allegations on their website.
After the county continued to refuse the Senate's subpoenas, the matter has been referred to the State Attorney General for investigation.
Telling the Story
On Aug 12, at the Cyber Symposium, Arizona State Representatives Mark Finchem, Sonny Borrelli, and Wendy Rogers told the story of the entire audit process, including responding to early election fraud reports and moving through with the forensic audit despite many obstructions from Maricopa County, the media and others.
In the video, they respond to the common attack against the audit: that "Cyber Ninjas are not an accredited audit company", reporting that there is no such thing as accredited election auditors in America, only accredited voting system test laboratories (VSTL). These labs are hired by voting machine companies like Dominion to grant them government EAC certification, and as such would be inherently biased against finding issues in machines that they themselves were paid to certify. When the Senators then approached big financial auditing companies, they all refused, saying it would put their government contracts at risk. The media has often ignored these crucial points.
See also: Common Criticisms of the Audit
Senate President Karen Fann also tells the story from her perspective in a 3-part video series on Twitter. See Part 1, Part 2, Part 3.
Forensic Audit Results
On Sep 24, 2021, the Arizona Senate heard presentations from the key auditors, presenting their findings.
The audit report identifies more than 57K questionable votes, intentionally deleted election files, and other suspicious voting machine activity. 23
The official written reports can be obtained from The Arizona State Senate Republican Caucus, or we've included direct links below.
►
Show Full List of Reports
Major issues identified:
255,326 early votes are recorded in the VM55 file of counted ballots but are missing from the EV33 file 24

17,322 duplicate votes (where voters sent in 2 or more ballots) that were illegally counted in the final certified tally (a large surge of these were dated the week following the election) 25

27,807 ballots cast from individuals who had moved prior to the election, and are unlikely to have physically received their ballots legally

Envelopes without signatures that were stamped as "approved"

Ballot envelopes showing an apparent "approved" stamp behind the basic graphics of the envelope, suggesting tampering, or at the very least, poor quality scanning and archival of envelope images

The systems related to elections integrity had numbers that could not balance or agree with each other

The voter rolls and the registration management process itself having many data integrity issues. For instance, over 200 individuals were easily identifiable as likely being the same person but having two different Voter IDs and voting twice in the election.

Without access to the County's detailed records including personally identifiable information and registration systems it is more likely there were many tens of thousands of improper votes in the election from double voters, deceased voters, voters for which there is no trace in the public records nor association to their voting address

Proper voter registration law and procedures were not followed

There were unexplained large purges of registered voters, right after the election, of people who had voted in the election

There was back-dating of registrations, adjustments made to historical voting and voter records, unexplained linking of voter registration affidavits to multiple voters and more

Files were missing from the Election Management System (EMS) Server and other voting machines, either intentionally or negligently removed

Ballot images on the EMS were corrupt or missing

Logs appeared to have been intentionally overwritten

All data in one database related to the 2020 General Election had been fully wiped. This occurred on the day prior to Maricopa's own internal audit. 26

On the ballot side, batches were not always clearly delineated, duplicated ballots were missing the required serial numbers, some originals were duplicated more than once, and the auditors were never provided chain-of-custody documentation for the ballots for the time-period prior to the ballot's movement into the auditors' care. This all increased the complexity and difficulty in properly auditing the results.

There were significant anomalies identified in the ratio of hand-folded ballots, on-demand printed ballots, and a significant increase in provisional ballot rejections for a mail-in ballot already being cast, suggestive of mail-in ballots being cast for voters without their knowledge.

Maricopa County failed to follow basic cyber security best practices and guidelines from CISA 27

Remote Access and "Terminal Services" features of Windows were enabled allowing machines to be remotely controlled 27

Software and patch protocols were not followed 27

Credential management was flawed: unique usernames and passwords were not allocated. Many (if not all) accounts shared the same password, and multiple users appear to have shared the same account. 27

A dual-boot configuration was discovered on adjudication equipment which is not an approved configuration. The second hard drive contained non-Maricopa County data.
Here is a summary table from the Cyber Ninjas report (Volume III). This does not include the 17,322 duplicate ballots found by Dr. Shiva (EchoMail) and the 255,326 early votes that appear in the VM55 but are missing from EV33 file.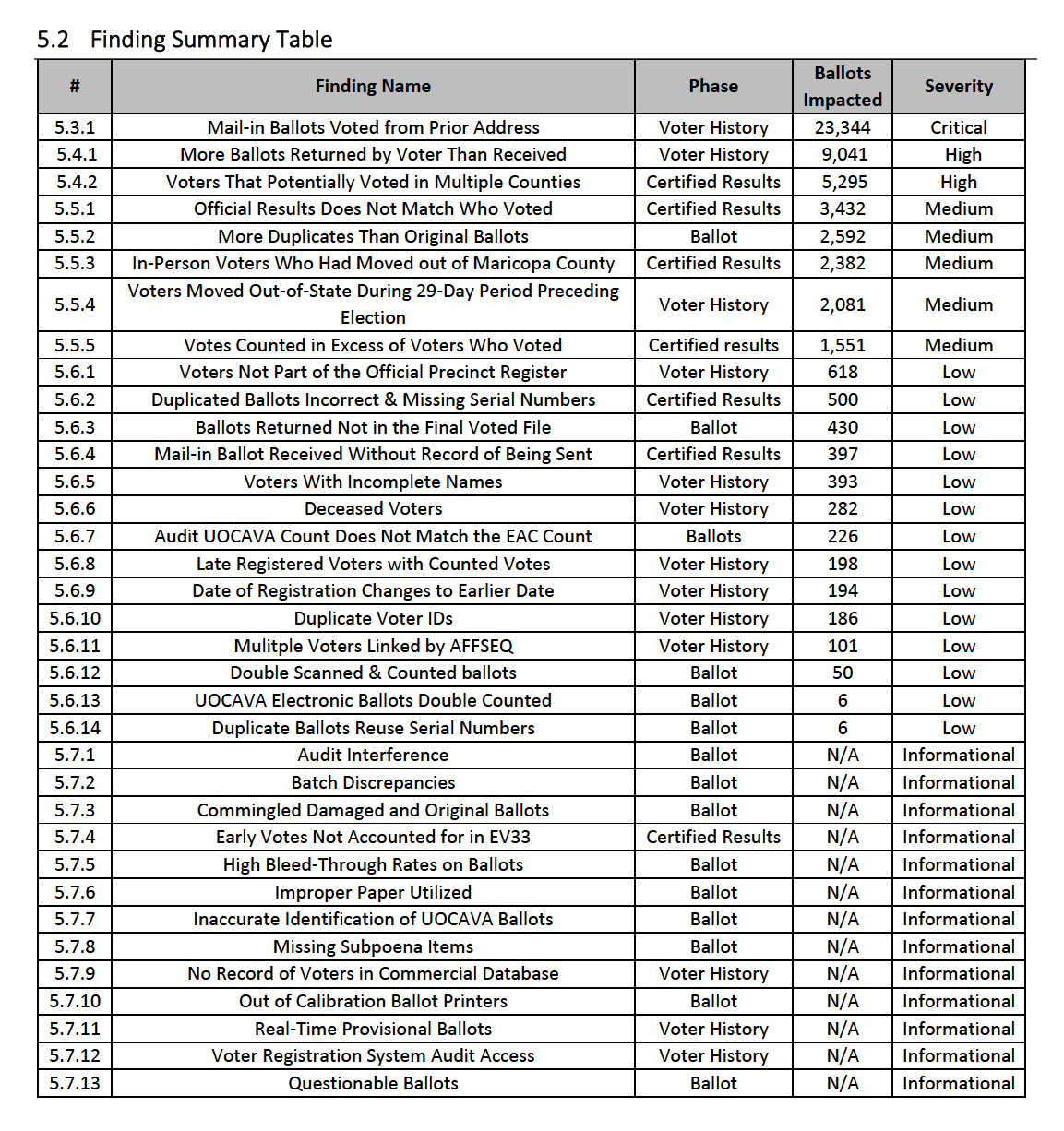 A lot of the mainstream media has picked up on a single results table from Doug Logan that showed that the audit team's count of the ballots closely matched the certified results, using that as supposed proof that Biden still won the state. What is being overlooked is the highly questionable validity of those votes.
Also note that this is not the complete audit report. Analysis of the routers, Splunk logs, and paper ballots is still ongoing.
Thanks to @LibertyOverwatchChannel for sifting through the reports and providing summaries. A further summary, with slightly more detail is on Patrick Byrne's website.
Below, you can watch the full 3-hour hearing:
Several workers from the forensic audit — Maricopa residents who voted in the election and passed background checks — were interviewed on what they witnessed during the audit. They reported seeing numerous anomalies including ballots that were filled in "too perfectly", indicating possible duplication by machine; and abnormal repeating patterns such as 7 for Biden, 1 for Trump, 7 for Biden, 1 for Trump, 7 for Biden, 1 for Trump. Despite being reported, these issues may not have made it into the final report. See their testimony in the video below:
Editor's note: Regarding the machine-printed ballots mentioned in the video above, Doug Logan, the lead auditor from Cyber Ninjas reported that there are some legitimate scenarios where ballots are marked by a machine, such as if they are damaged, or unable to be scanned 28, or from ballot marking devices (BMDs) used by voters who are unable or uncomfortable marking a ballot by hand. While BMDs may be needed for voters with disabilities, they have known issues when used in large populations.
Analysis of the routers, Splunk logs, and paper ballots is still ongoing. We'll update this page as more findings are uncovered.
Continued Debate
Maricopa County officials took to Twitter and sympathetic media channels to deny the allegations and minimize the report's findings. They claimed the results were mistaken and that they had provided everything in the Senate's subpoena, despite several key items still being withheld.
Members of the Maricopa County Board of Supervisors, as well as Ken Bennett, Senate liason for the audit, presented testimony to Federal Congress' Oversight Committee on the findings, during which the county admitted to removing election files from machines prior to the audit. 29
Dr. Shiva, who ran the audit of ballot envelopes, held a follow-up open discussion forum on the Maricopa Audit, open to Republicans, Democrats and state/county officials. See the full video and our summary here.
Cyber Ninjas later provided a great, detailed rebuttal to Maricopa County on their denials and deflections. It addresses specific claims, one-by-one, with screenshot evidence and links to further references.
So What Happens Now?
Senator Karen Fann has forwarded all reports onto Attorney General Mark Brnovich, who is in the process of identifying criminal activity and other breaches of law that need to be prosecuted.
The state congress will also likely explore further actions such as potentially decertifying the results. We expect to hear more about this in the coming days and weeks. 30
Forensic Ballot Analysis by Erich Speckin
As part of the Maricopa Forensic Audit covering the 2020 election, forensic document analyst and ink dating specialist Erich Speckin was brought in to review the authenticity of the paper ballots via scans and microscopic photographs.
In summary, he found that:
23,000 ballots were printed from an unidentified printing source other than directly from the official election ballot PDF

58 batches of ballots (totalling 11,600) favored Biden by 90% or more. Only three batches (totalling 600) favored Trump by 90% or more. This outcome is very statistically unlikely in such a closely contested election. These all came from the "early voting" ballots. If these batches are excluded, Biden would not have won the election in Arizona.
In the following video he explains his findings:
Read More About the Speckin Report
Maricopa County Canvassing Results
The original scope of the Maricopa Forensic Audit included voter canvassing — directly interviewing voters and visiting registered addresses to confirm that official records match how residents actually voted. The Federal Department of Justice swiftly enacted significant pressure against this canvassing, saying that it equated to "voter intimidation", and would be potentially illegal. This blockade of the Senate's efforts forced them to focus on the remaining aspects of the audit.
But hundreds of private citizens such as those led by Liz Harris had already begun their own grass-roots canvassing effort, visiting 11,708 residential properties and gathering data on 4,570 voters. On Sep 8, 2021, Harris shared her report revealing that:
Votes lost
Out of 964 residents interviewed who were on record as having not voted — over 34% of them said they actually did vote. 1 in 3 of these voters had their votes "lost". If this rate is applied to the entire county, this would account for 165,518–180,690 lost votes. A similar survey in Nov 2020 found an even higher rate of 50.1% of mail-in ballots not being recorded. 31

Votes added
5.66% of the interviews identified "phantom" voters who did not reside at their specified address, yet submitted mail-in ballots. This could affect an estimated 96,389 mail-in ballots out of the 1.7 million total. They discovered repeated instances over 8+ years whereby this occurred.

In some cases the ballot was crossed out and returned to the county, at other times the ballot was retained by the real resident; yet in both of these types of cases, ballots were somehow recorded as "returned", and a vote was counted.

Smaller scale issues such as votes cast by mail from vacant lots
The team is also surveying all Arizona residents via a form at canvass50.com, asking as many residents as possible to identify which method they used to vote during the 2020 election, so that any issues with the county records can be identified.
Similar grassroots canvass efforts are underway in at least eleven states. Learn more about the thousands of irregularities being uncovered in our article on Door-to-Door Canvassing Results.
Pima County
On Dec 13, 2021, Pima County also came under the spotlight with a 7-hour election integrity hearing. The full video can be seen below:
We hope to provide a summary of the findings in the coming days.
Get Involved
Volunteers are needed to help verify the irregularities found. One key way this is done is through voter canvassing, with teams analyzing the county and state records and voter rolls, and others going door-to-door to identify whether the records match the actual residents living at the address.
Learn more about Canvassing Volunteer in Your State
You can also contact your state representatives and ask them to thoroughly investigate all credible allegations and ensure forensic audits are pursued to completion, across all necessary counties.
Further Updates
Mar 21, 2022

On March 9th, the Arizona Attorney General's office sent the Maricopa County Recorder's office and the Board of Supervisors (BOS) a "Third Request For Records Or Information on Voter Registration Records, Ballot Affidavit Signature Batching, & Renewed Request." This third round added a demand for signature records based on Dr. Shiva's two signature verification reviews.

Liberty Overwatch
Feb 24, 2022

Dr. Shiva completed a pilot signature verification study of the early voting mail-in ballot (EVB) signatures in Maricopa County, AZ. From this analysis, he determined that at least 12% of the 1,911,902 EVBs in Maricopa County had signature mismatches, representing 229,433 ballots that should have been "cured."

Liberty Overwatch
Feb 7, 2022

State Representative Mark Finchem has introduced HCR 2033, a concurrent resolution calling for the elections of Maricopa, Pima and Yuma Counties to be set aside based on clear and convincing evidence that the elections in those counties were irredeemably compromised.

Representative Mark Finchem
Feb 3, 2022
Election Audit Groups on Telegram
To join the grassroots efforts in pursuing election integrity and audits of the 2020 election in Arizona, you can join the following groups on Telegram:
For other states, see our Full List of Telegram Channels.
ElectionFraud20.org has no affiliation with nor any responsibility for these channels. Discern carefully, as some users and even admins of channels have shown obstruction to transparent audits of our elections.
State Representatives Supporting Election Integrity & Audits
Following the results of the Maricopa Arizona Forensic Audit, 188 state representatives from 39 states signed a letter asking for forensic audits in all 50 states. The signatories for Arizona include:
Representative Beverly Pingerelli
Representative Brenda Barton
Representative Jacqueline Parker
Representative Jake Hoffman
Representative John Fillmore
Representative Joseph Chaplik
Representative Judy Burges
Representative Kevin Payne
Representative Leo Biasiucci
Representative Mark Finchem
Senator Kelly Townsend
Senator Sonny Borrelli
Senator Wendy Rogers
Arizona Congresswoman Debbie Lesko is part of the US Congress Election Integrity Caucus, a group of 55 federal members working together on issues of election integrity to ensure that Americans in every state and territory have confidence in free, fair, accurate, and transparent elections.
Raw Data
We aim to publish links to both the raw election data and voter registration data for Arizona so that citizens and researchers can analyze this information for themselves.
Further Leads
Footnotes & References
Visitor Comments
Do you have more information about what happened in Arizona? Share in the comments below.