Number of disputed ballots
At least 130,000 votes
Joe Biden's winning margin
33,596 votes (2.4%)
Nevada's electoral college votes under dispute
6 votes
(36 would need to be flipped for a Trump win)
Independent forensic audit investigation
❌ Not yet
Outstanding Issues
Over 42,000 people voted more than once

1,500 deceased persons voted

42,000 voter address anomalies

8,952 more votes than individuals recorded as voting

Obstruction of audits

Courts blocking the presentation of evidence
Key Allegations
The following evidence of election fraud in Nevada was presented to the US Senate Committee on Homeland Security and Governmental Affairs, Full Committee Hearing, examining irregularities in the 2020 Election, December 16, 2020. Chaired by Senator Ron Johnson. Jesse Binnall presented testimony that:
"All in all, experts identified 130,000 unique instances of voter fraud in Nevada, but the actual number is almost certainly higher. This was not statistical sampling, but by analyzing and comparing the list of actual voters with other lists, most of which are publicly available.

"…We can't pretend we have a clean election when there's evidence to the contrary."

— Jesse Binnall, Nevada lawyer 1
Court Cases
Lawyer Jesse Binnall has testified that:
Nevada's lower court used technicalities to limit the presentation of evidence and limit the amount of witnesses we could bring forward saying that we "couldn't introduce any live testimony but only 15 depositions … only 15 depositions to show 130,000 instances of voter fraud 1

When it later went to the Supreme Court of Nevada they "gave us two hours to brief the issues before immediately coming down with a decision. We were never fully considered by those courts." 1
As of October 2021, the district, state and supreme courts have ruled on several election fraud issues, while numerous other cases are still open. Some cases were dismissed on legal technicalities, preventing evidence from being presented and considered; but a detailed list of cases and outcomes available here show that at a national level, Trump/Republicans have so far prevailed in 18 out of 25 cases that were decided on the merits of the evidence.
Seth Keshel's Trend Analysis
Former US military intelligence officer and statistical analyst Seth Keshel analyzed the trends of voter registrations versus actual votes and discovered alarming anomalies in a number of counties, ones that defy typical historical trends. He has published a report for every state, indicating which counties' vote counts align with the trend in voter registrations and which have small or large divergences.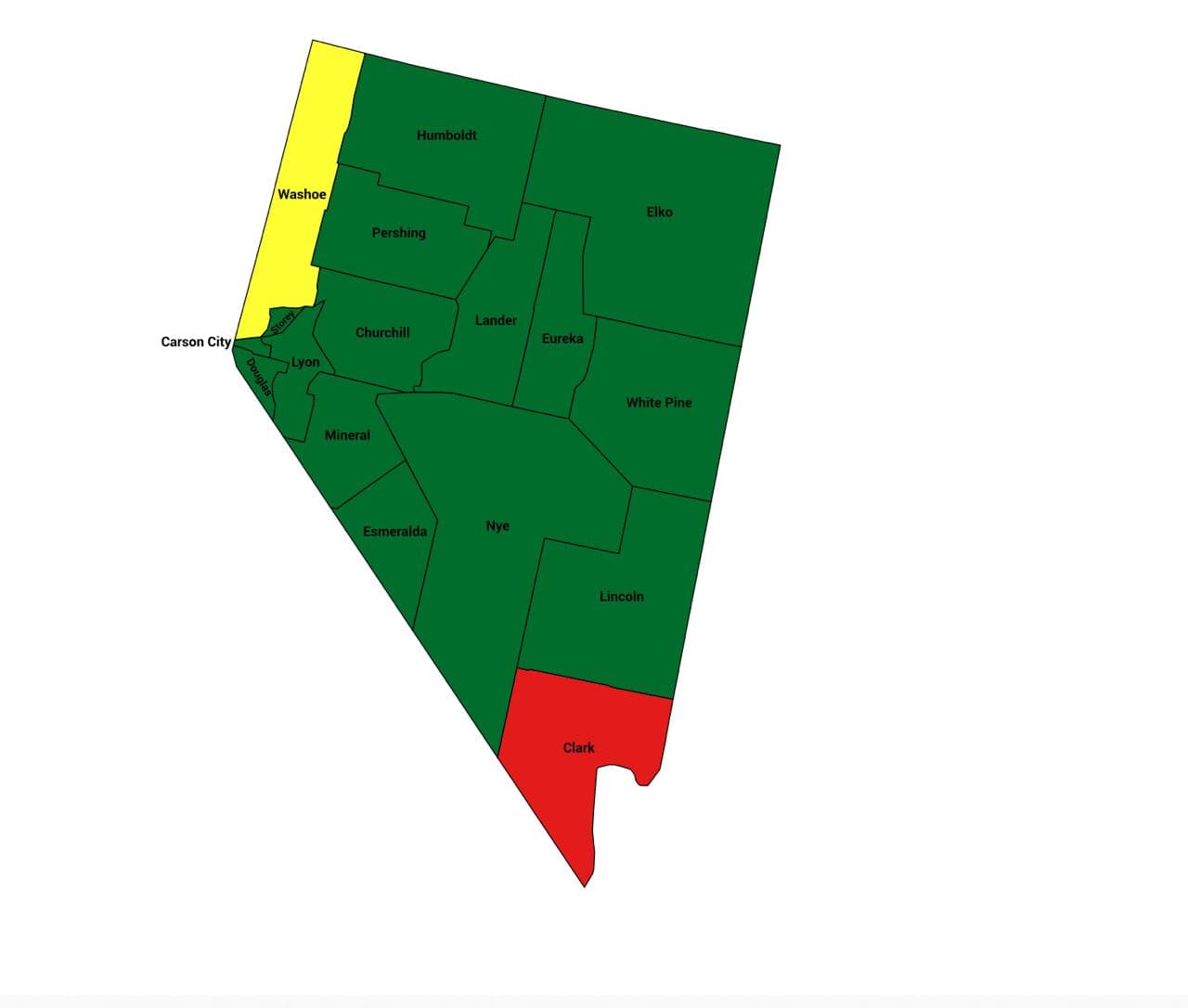 Trump votes
Biden votes
Other votes
Officially reported results

669890

(47.67%)

703486

(50.06%)

31900

(2.27%)

Estimate of potential fraud

100000

(7.1%)

Estimate of actual result
(with fraud removed)

669890

(51.3%)

603486

(46.2%)

31900

(2.4%)
Seth estimates that there may be approximately 100,000 votes for Biden in excess of what Nevada registration trends would indicate — a possible indicator of fraud. Counties with the greatest number of excess votes deserve closer inspection.
Seth has listed Nevada's Clark and Washoe counties as being among the Nation's Top 100 Worst Counties in terms of abnormal trends during the 2020 election.
View Seth's National Summary   View Seth's Nevada Report
Vote Count Irregularities
In August 2021, reports emerged that there were 8,952 more votes counted than were officially cast. 15 of Nevada's 17 counties certified more ballots cast than there were individual voters recorded as voting. Clark (5,869 more) and Washoe (2,191) had the largest discrepancies, according to the analysis. 2
Data is being published online at VoteRef.com where visitors are be able to "crowd-source" any errors.
Alleged Interference from Mark & Priscilla Zuckerberg
Multiple reports 3 4 5 6 7 accuse charities supported by Facebook CEO Mark Zuckerberg and his wife of illegally influencing the 2020 presidential election in multiple states, including Nevada. Through their donations of $400 million into charities like The Center for Tech and Civic Life (CTCL), millions poured into the key swing states of Michigan 8, Pennsylvania, Arizona, Wisconsin, Georgia, Nevada, as well as Texas, North Carolina, and Virginia, in violation of federal law. 6
25 out of the 26 cities and counties that received at least $1 million from CTCL were won by Biden in 2020. 4
CRC traced $2,671,515 to two of Nevada's 17 counties, accounting for 2.74 million of the state's 3 million residents. 9 These two counties, Clark (centered on Las Vegas) and Washoe (centered on Reno), were the only counties Democrat Joe Biden won in 2020 and accounted for 649,980 votes, or 92.4 percent of all his votes statewide. 10
Having paid poll workers in one district and only minimal volunteers in Republican districts added to the disparity while counting the votes, which could lead to inaccurate tallies.
The American Voter's Alliance published a detailed investigative report on this issue, as did RealClear Investigations, InfluenceWatch, and Caesar Rodney Election Research Institute.
Arizona legislators are working to ban this practice in the state, and we hope that other states will follow suit.
Get Involved
Volunteers are needed to help verify the irregularities found. One key way this is done is through voter canvassing, with teams analyzing the county and state records and voter rolls, and others going door-to-door to identify whether the records match the actual residents living at the address.
Learn more about Canvassing Volunteer in Your State
You can also contact your state representatives and ask them to thoroughly investigate all credible allegations and ensure forensic audits are pursued to completion, across all necessary counties.
State Representatives Supporting Election Integrity & Audits
Following the results of the Maricopa Arizona Forensic Audit, 188 state representatives from 39 states signed a letter asking for forensic audits in all 50 states.
From Nevada, only Assemblyman Jim Wheeler has so far signed the document.
Raw Data
We aim to publish links to both the raw election data and voter registration data for Nevada so that citizens and researchers can analyze this information for themselves.
Footnotes & References
Jesse Binnall, lawyer. youtu.be/fq8OPTIEf2U?t=915 (around 15:15 mark, onwards). Read his full statement (PDF). This was during the US Senate Committee on Homeland Security and Governmental Affairs, Full Committee Hearing, see 11.

His conclusion was that:

"Thousands upon thousands of Nevada voters had their voices cancelled out by election fraud and invalid ballots, legislators made drastic changes to election law, and evidence from data scientists and brave whistleblowers confirms this.

"We cannot ignore voter fraud away we can't just wish it away unfortunately that's what the media these past weeks has been trying to do in the most biased reporting I think I've ever seen—even in headlines they try to claim that the evidence I've seen with my own eyes is somehow not there. We can't wish it away, it is just simply right now a gaslighting attempt on America. This is real, this happened, and we have to address it." ↩ ↩2 ↩3 ↩4 ↩5 ↩6 ↩7 ↩8 ↩9 ↩10

Silver State Times: "More votes counted than cast in Nevada 2020 General Election, analysis of voting files shows", Aug 5, 2021. ↩

American Voters Alliance & The Amistad Project: "The Legitimacy and Effect of Private Funding in Federal and State Electoral Processes", Dec 14, 2020. ↩

InfluenceWatch: "Center for Tech and Civic Life (CTCL)" ↩ ↩2

RealClear Investigations: "How Zuckerberg Millions Paid for Progressives to Work With 2020 Vote Officials Nationwide", May 26, 2021. The article outlines many of the specifics about how the funds were spent. ↩

"39 Election fraud witnesses take case to Michigan Supreme Court, one alleges outside influence by Zuckerberg funded charities", The Sara Carter Show, Dec 3, 2020 ↩ ↩2

Caesar Rodney Election Research Institute, as reported in The Federalist: "The 2020 Election Wasn't Stolen, It Was Bought By Mark Zuckerberg", Oct 12, 2021. ↩

See also our Michigan Report for more about Zuckerberg's interference there, including a legal case taken to the Supreme Court. ↩

Hayden Ludwig. "How CTCL Helped Biden in Arizona and Nevada", Capital Research Center, January 22, 2021. ↩

For a complete list of grants discovered in Nevada, see this data (current as of January 2021): https://capitalresearch.org/app/uploads/CTCL-Grants-2020-AZ-NV_fixed.xlsx  ↩

US Senate Committee on Homeland Security and Governmental Affairs, Full Committee Hearing, examining irregularities in the 2020 Election, December 16, 2020. Chaired by Senator Ron Johnson. Summary video available at youtu.be/fq8OPTIEf2U, additional full testimonies available at hsgac.senate.gov/examining-irregularities-in-the-2020-election. ↩
Visitor Comments
Do you have more information about what happened in Nevada? Share in the comments below.