Number of disputed ballots
500,000 votes (approx.)
Joe Biden's winning margin
81,660 votes (1.2%)
Pennsylvania's electoral college votes under dispute
20 votes
(36 would need to be flipped for a Trump win)
Independent forensic audit investigation
❌ Process was begun, but stonewalled by Senate President Corman
Outstanding Issues
Poor (and illegal) security controls for mail-in ballots

170,830 more votes counted than individuals recorded as voting

Unobserved ballot counting

A large, questionable batch of 580,000 ballots that went 99.5% to Biden

No chain of custody documentation

A trailer containing 144,000–288,000 completed ballots disappeared, mysteriously

Lack of transparency

Conflicting records of absentee ballot numbers (including mysterious changes to the numbers, post-election)

Significant statistical anomalies

Courts blocking the presentation of evidence
Key Allegations
Senate Committee Report by Francis X. Ryan 1
On December 16, 2020, the US Senate Committee on Homeland Security and Governmental Affairs held a full committee hearing, examining irregularities in the 2020 Election. Representing Pennsylvania, Francis X. Ryan stated:
The mail in-ballots system for the general election of 2020 in Pennsylvania was so fraught with inconsistencies and irregularities that the reliability of the mail-in votes in the Commonwealth of Pennsylvania is impossible to rely upon."

— The Honorable Francis X. Ryan, State Representative, Commonwealth of Pennsylvania 1
Francis X. Ryan also submitted the following specific concerns:
1. State Supreme Court undermining of authenticity controls
Pennsylvania supreme court undermined the controls inherent in Act 77 of 2019 which included:
Extended mail-in ballot deadline to 3 days after election 7
Mandated that ballots mailed without a postmark would be presumed to be received
Allowed use of drop-boxes for collection of votes
Skipped authentication of mail-in ballots, treating them dissimilarly and eliminating a critical safeguard against fraud
It's believed that relaxing these controls permitted the issues that follow.
2. Counting irregularities, and lack of oversight controls
"At the county level the pattern of inconsistencies is easily seen. For instance, Over-vote in Philadelphia County – On November 4th at 11:30am, the Department of State (DOS) posted updated mail in vote counts for Philadelphia County. The number of ballots reported to have been counted was an impossible 508,112 ballots despite the fact that only 432,873 ballots had been issued to voters in that county. Later that day, the ballots counted number was reduced but this begs the question, who had the authority to add and subtract votes on the ballot counts reported to the Department of State? Even if this was simply a data entry error, the lack of internal controls over such reporting necessitates a review of the numbers, the process and system access." 1
3. Unexplained changes in ballot records
"Additionally, in a data file received on November 4, 2020, the Commonwealth's PA Open Data sites reported over 3.1 million mail in ballots sent out. The CSV file from the state on November 4 depicts 3.1 million mail in ballots sent out but on November 2, the information was provided that only 2.7 million ballots had been sent out. This discrepancy of approximately 400,000 ballots from November 2 to November 4 has not been explained.
"Furthermore, a newly available voter dataset available on data.pa.gov which had been offline for weeks indicated that it was last updated on 11/16/2020. The download of 11/16 shows 75,505 more ballots returned on 11/16 than the download from 11/15. Therefore, from 11/15 to 11/16, 75,505 ballots were added to the dataset with no explanation."
"Due to the magnitude of the potential discrepancies and closeness to the elections the results of the 2020 presidential election of pennsylvania would just be completely difficult if not impossible to determine with conclusiveness."
4. Ballots with invalid dates
"Mail Date irregularities to include ballots mailed before the ballot was finalized, ballots mailed late and ballots mailed inconsistent with enacted legislation relative to mail in ballots: 154,584 ballots."
5. Number of votes over 100 years old
"Voter Date of Birth irregularities: (voters over age 100): 1573 ballots"
6. Lack of transparency
"Before and after the election of November 3, 2020, the efforts by the State Government Committee and other members of the PA Legislature to obtain oversight information and relevant data to confirm or deny claims of improprieties were stymied. For instance, a hearing sought by Dominion Voting Systems with the State Government Committee of the PA House, which was scheduled for November 20, 2020, was cancelled by Dominion at the last-minute citing litigation concerns. Right to know requests were similarly not responded to except by delay from the Executive Branch until well into January 2021."
"Without knowing the answer to these questions and due to the magnitude of the discrepancies and the closeness of the election, the results of the 2020 presidential election in Pennsylvania cannot be conclusively determined."
"2000 Mules" Reveals Ballot Harvesting Operation
The May 2022 documentary 2000 Mules revealed video evidence of a coordinated, funded, illegal ballot trafficking network across critical swing states including Arizona, Georgia, Pennsylvania, Michigan, Wisconsin, Nevada, and Texas.
The documentary explains how True the Vote were able to identify over 2,000 ballot traffickers by obtaining 2 petabytes of geofencing cellphone ping data purchased from brokers. Their threshold for identifying a mule was if they visited at least 10 drop boxes and made at least 5 visits to a non-profit organization which showed evidence of functioning as a ballot "stash house". They then obtained 4 million minutes of drop box video surveillance footage through FOIA requests which showed the traffickers in action. 8
| | |
| --- | --- |
| PENNSYLVANIA |   |
| Mules identified: | 1,150 |
| Drop boxes involved: | 45 |
| Estimated illegal votes: | 275,000 |
This massive number of votes was more than enough in itself to tip Pennsylvania's election outcome where Biden supposedly won by 81,660 votes.
Statistical Anomalies
For a detailed analysis of the statistics and anomalies uncovered within the 2020 election in Pennsylvania, we recommend reading this report, provided by Election-Integrity.info.
Eyewitness Accounts
The following 20min video contains a number of eyewitness testimonies of fraud witnessed in Pennsylvania:
Seth Keshel's Trend Analysis
Former US military intelligence officer and statistical analyst Seth Keshel analyzed the trends of voter registrations versus actual votes and discovered alarming anomalies in a number of counties, ones that defy typical historical trends. He has published a report for every state, indicating which counties' vote counts align with the trend in voter registrations and which have small or large divergences.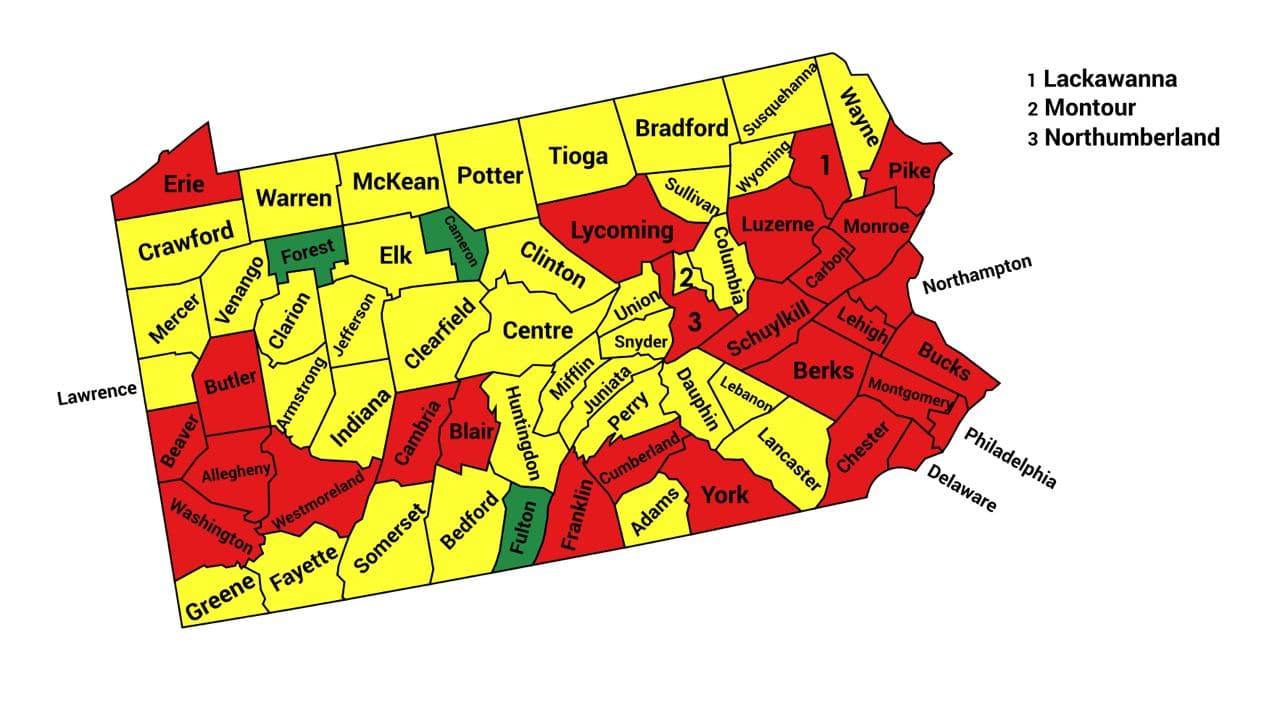 Trump votes
Biden votes
Other votes
Officially reported results

3378263

(48.8%)

3459923

(50.0%)

83038

(1.2%)

Estimate of potential fraud

504000

(7.3%)

Estimate of actual result
(with fraud removed)

3378263

(52.6%)

2955923

(46.1%)

83038

(1.3%)
Seth estimates that there may be approximately 504,000 votes for Biden in excess of what Pennsylvania registration trends would indicate — a possible indicator of fraud. Counties with the greatest number of excess votes deserve closer inspection.
Seth has listed Pennsylvania's Allegheny, Berks, Bucks, Chester, Delaware, Erie, Lackawanna, Luzerne, Montgomery, Northampton, Philadelphia, Westmoreland, and York counties as being among the Nation's Top 100 Worst Counties in terms of abnormal trends during the 2020 election.
View Seth's National Summary   View Seth's Pennsylvania Report
Election Integrity Scorecard
The Heritage Foundation's Election Integrity Scorecard is an assessment of each state's voting laws, written regulations and procedures. Pennsylvania was ranked equal 19th out of 51.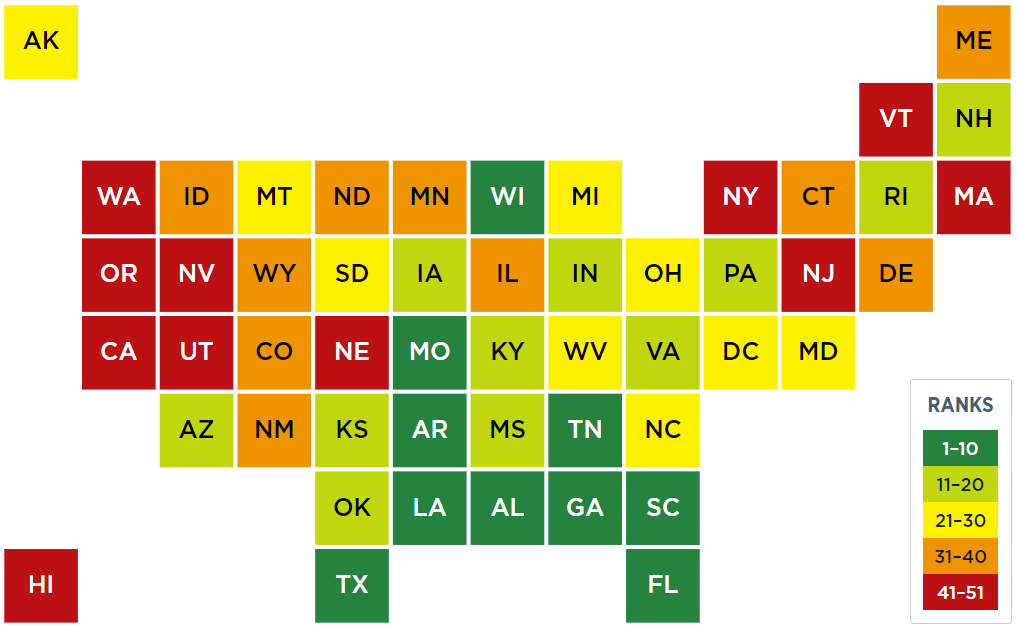 | Pennsylvania's Total Score | 63% |
| --- | --- |
| Voter ID Implementation | 50% |
| Accuracy of Voter Registration Lists | 67% |
| Absentee Ballot Management | 62% |
| Vote Harvesting/Trafficking Restrictions | 100% |
| Access of Election Observers | 100% |
| Verification of Citizenship | 0% |
| Identification for Voter Assistance | 100% |
| Vote Counting Practices | 100% |
| Election Litigation Procedures | 33% |
| Restriction of Same-day Registration | 100% |
| Restriction of Automatic Registration | 100% |
| Restriction of Private Funding of Election Officials or Government Agencies | 0% |
View the full Scorecard for Pennsylvania
It's important to note that the scores above reflect the laws, regulations, and processes that exist within the state, but not whether they were actually followed. In the 2020 election, some states with highly-rated election integrity measures did not uphold them. 14 As The Heritage Foundation reminds us, even the best laws are not worth much unless responsible officials enforce them rigorously. It is up to the citizens of each state to make sure that their elected and appointed public officials do just that.
Dr. Doug Frank's Analysis
Dr. Douglas Frank discovered a strange algorithmic pattern that enabled him to accurately predict voter registration by age and voter turnout by age with a very high degree of accuracy (a correlation of 0.996).
The same, exact algorithm (or "key" as Frank calls the mathematical formula) used in one county could be applied to many other counties in Pennsylvania to predict their voter registration and turnout by age, too.
Dr. Frank has performed his analysis on at least 17 other states and has found the same disturbing pattern where he is able to predict the voter turnout rate for every age bracket in many counties based only on US Census Bureau data.
Having registration and turnout rates that repeatedly reflect a common mathematical formula across numerous demographically-unique counties is an indication that voter rolls and votes themselves may have been illegally manipulated via a computer algorithm. In all cases where this has occurred, we believe a forensic audit of the ballots, software logs, election records, and voter rolls is highly necessary.
Learn More About Dr. Frank's Analysis View Dr. Frank's Report on Pennsylvania
Audit The Vote PA's Anomalies By County
A helpful explanation on how to understand the county data above is provided in this YouTube video.
Dominion Voting Machines
Pennsylvania used Dominion Voting Machines in at least some counties. Numerous integrity issues have been uncovered with Dominion.
The polling and tabulation equipment used for each county in the US is listed at Verified Voting, although see our disclaimer 15. They also have a detailed database including photographs of the various models of voting equipment. Note that the polling and ballot marking equipment is different to the scanning and tabulation equipment — both need to be highly secure, and in most cases are not.
Voting machines and computerized tabulation equipment have introduced many vulnerabilities and avenues for manipulation in elections. Cybersecurity experts tell us that there is no such thing as a fully secure computer system, and the more complex our voting systems and election systems get, with more moving parts and connections, the more impossible it will be for any state or county to defend against a nation-state-level threat. Local counties running elections can no longer defend against these motivated and well-funded foreign nations. The efficiency gains brought by machines are not reason enough to tolerate the loss of security, accountability, and transparency.
Elections need to return to paper ballots and mechanical or hand counting to minimize the threat of cyber attacks and manipulation by fraud. Let your state representative, county clerk, county commissioners, and Secretary of State know your opinion about this.
The Arizona Ballot Integrity Project is one such initiative promoting new, ultra-secure paper ballots with state-of-the-art security features to prevent fraud and help restore faith in elections. Learn more about the initiative.
AuditTheVotePA.com has also provided a separate list of all the voting machines used in the state, along with an explanation video:
Alleged Interference from Mark & Priscilla Zuckerberg
Multiple reports 16 17 18 19 20 21 accuse charities supported by Facebook CEO Mark Zuckerberg and his wife of illegally influencing the 2020 presidential election in multiple states, including Pennsylvania. Through their donations of $400 million into charities like The Center for Tech and Civic Life (CTCL), millions poured into the key swing states of Michigan 22, Pennsylvania, Arizona, Wisconsin, Georgia, Nevada, as well as Texas, North Carolina, and Virginia, in violation of federal law. 19
25 out of the 26 cities and counties that received at least $1 million from CTCL were won by Biden in 2020. 17
In Pennsylvania, donations were dispersed in a seemingly partisan way: 16
| | | |
| --- | --- | --- |
| Counties previously won by Hillary Clinton | $13,063,828 | 94.7% |
| Counties previously won by Donald Trump | $692,742 | 5.3% |
| Total | $13,756,570 |   |
Here are the 10 largest CTCL grants in Pennsylvania and who won each county in 2020: 17
Having paid poll workers in one district and only minimal volunteers in Republican districts added to the disparity while counting the votes, which could lead to inaccurate tallies.
The American Voter's Alliance published a detailed investigative report on this issue, as did RealClear Investigations, InfluenceWatch, and Caesar Rodney Election Research Institute.
As of March 2022, twelve states have either banned or severely restricted the acceptance and use of private funds for state and local elections: AZ, AK, FL, GA, ID, IN, KS, MS, ND, OH, TN, and TX. Another 5 states have passed anti-Zuckerbucks legislation that is awaiting a Republican governor's signature: AL, OK, SD and VA. We're hoping that more will soon follow suit.
Voting Trend Anomalies
In our series of articles on election trend analysis, we identified the following statistical outliers for Pennsylvania which deserve further investigation. Visit the linked articles to learn more.
| | | |
| --- | --- | --- |
| ⚠️ | Voting Rate Increase | The turnout, or percentage of registered voters who voted, was significantly higher in 2020 than in previous elections, increasing from a range of 57-65% up to 70.2%. |
| ⚠️ | Biden's Vote Gains Far Surpassing Obama's | The increase in Democrat votes Pennsylvania displayed in 2020 far surpassed the increase achieved in Obama's successful campaign in 2008. This seems unusual. |
Court Hearings
It appears that evidence of fraud has not yet been heard by a court, despite two attempts:
The Pennsylvania Supreme Court denied a petition by state lawmakers, seeking review of the election result. The Court's order invoked "laches" — the legal doctrine that calls for dismissal of complaints filed too late.

Despite the above issues, the US Supreme Court declined to hear the case. 3
As of October 2021, the district, state and supreme courts have ruled on several election fraud issues, while numerous other cases are still open. Some cases were dismissed on legal technicalities, preventing evidence from being presented and considered; but a detailed list of cases and outcomes available here show that at a national level, Trump/Republicans have so far prevailed in 18 out of 25 cases that were decided on the merits of the evidence.
Election Audits
A small, but state-wide "risk-limiting" audit of 45,000 randomly selected ballots was performed in February 2021. 23 The process was a smaller version of a "hand recount" which checks that the paper ballots match the official tally. It concluded that the counts were accurate.
Note that a recount does not tend to identify chain of custody issues and the alleged injection or manipulation of fraudulent paper ballots, such as those noted in the above sections. It may simply recount the same fraudulent ballots.
Philadelphia County rejected attempts at further audits claiming that it would duplicate "extensive efforts already undertaken by the Philadelphia County Board of Elections, the Pennsylvania Department of State, state and federal courts, and … the Pennsylvania State Senate". 24 It's not clear, however, whether these previous investigations went any deeper than the risk-limiting audit.
If you have any further information, let us know in the comments below.
Forensic Audit
Pennsylvania's Intergovernmental Operations Committee followed Arizona's lead and decided a deeper forensic audit was necessary and initiated this process on July 7, 2021.
Senator Doug Mastriano (a Republican, and also the chairman of the Senate Intergovernmental Operations Committee) requested three counties hand over all of their election material in order for them to be audited. All three refused: 25
| | |
| --- | --- |
| County | Response |
| Philadelphia County | "We will not cooperate as this duplicates previous audits" 26 |
| York County | "We will not send materials or provide access to voting machines" 27 |
| Tioga County | "We will not provide access to machines unless the Senate pays for a new set of machines" 28 |
Governor Tom Wolf and Attorney General Josh Shapiro, both Democrats, instructed counties not to participate in the audits. The Department of State then gave a directive to all 67 counties that they must block unauthorized third party access to their voting machines, or otherwise face decertification. 29
This again highlights a crucial problem with electronic election machines:
Nobody seems to be able to verify whether or not they have been tampered with. As such, state leaders threaten to decertify them out of mistrust of the auditor, and seemingly, to prevent any inspection at all.
If they cannot be validated as being safe and secure, they should not be used at all.
The deadline passed, and none of the counties complied. The Senator sought official subpoenas (legally binding requests) to force the counties to hand over all ballots, records, documents, voting machines and tabulators in order to conduct a forensic audit, but this was blocked. The majority of the Senate Committee supported this move.
Republican Senate President Jake Corman has repeatedly blocked Senator Mastriano's forensic investigation by demanding that he not send requests to the counties, blocking subpoenas, blocking committee meetings, stripping Mastriano of his investigation and role on the committee, and even removing his entire staff. 30 31
[This was] a move many of my fellow senators feel was an outrageous and unprecedented move unbecoming of a senate leader.

"I don't know why Senator Corman obstructed my investigation for so long or why he has now hijacked it. What I do know is that if it was up to Senator Corman, there would be no investigation for him to steal. What I also know is that no matter who leads it, the investigation must go forward. I know that the people of Pennsylvania will never settle for a symbolic investigation. They deserve nothing less than a full forensic investigation that gets to the bottom of what happened in the 2020 election, and I'll be a relentless voice to make sure that's exactly what happens. I haven't, and will not retreat.

"The question is why Jake Corman went from ten months of obstructing a forensic investigation to suddenly hijacking it and maligning the hard work we put into making this happen. The people need answers."

— Senator Doug Mastriano, Aug 26, 2021 30
AuditTheVotePA.com has collected over 100,000 signatures demanding an audit. Their website contains further information, data, and interviews.
"The people in Pennsylvania want to know what happened, who did it, and who's going to jail."
They've expressed zero confidence in Corman's effort to lead the audits. 32
Voter Canvassing Results
In the summer of 2021, Audit The Vote PA began working on a canvassing effort in 20 counties across the state to verify the certified results from the 2020 election. This effort was designed to restore voter confidence given all the controversy and unanswered questions surrounding the 2020 election.
The results show that there are egregious discrepancies between the certified result from the State Department and what our canvassers were told from residents at the door.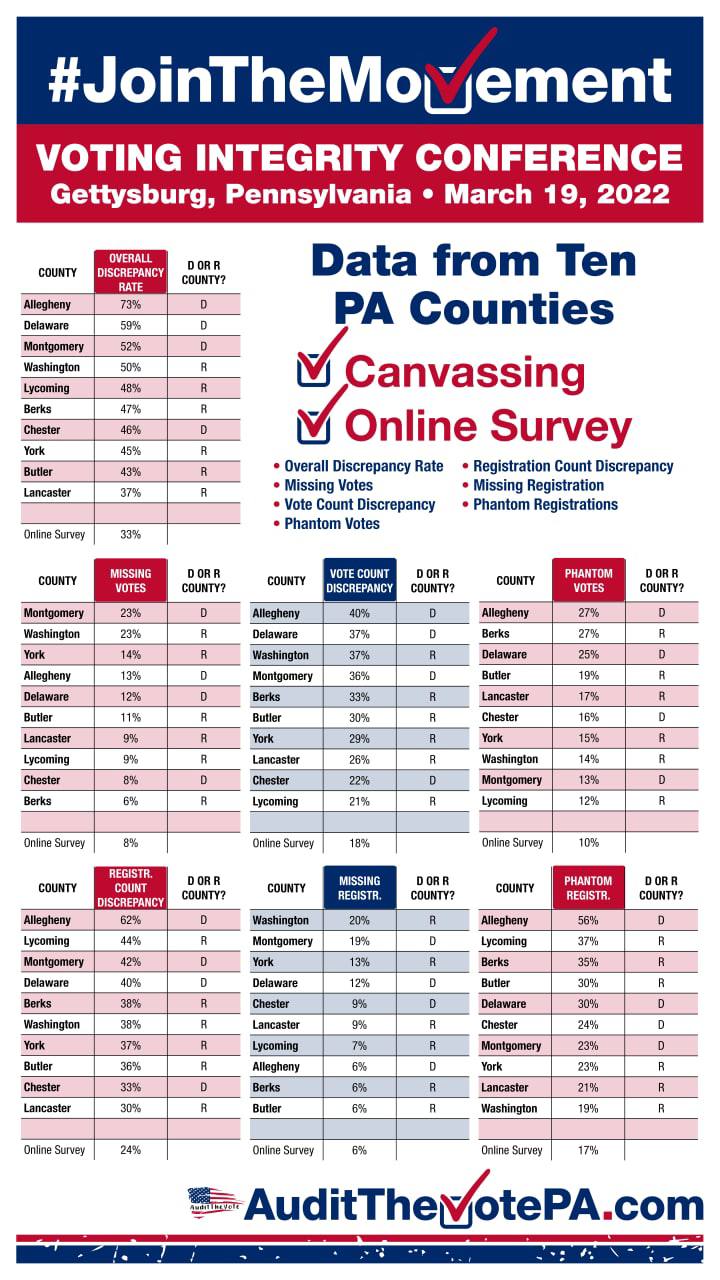 Lancaster County
As of Feb 1, 2022, 411 doors had been knocked on, with 256 able to be surveyed. 33
37% of houses had some election anomaly occur
21.17% had phantom registrations (not belonging to the residents) at the address
8.56% had less registrations on record than resident stated
A massive 26.39% of addresses had a different number of votes on record for 2020 than resident stated. 17.13% had phantom votes and 9.3% were missing votes.
York County
As of Feb 1, 2022, 486 houses had been knocked on, with 206 able to be surveyed. 33
45% of houses had some election anomaly occur
23.4% had phantom registrations (not belonging to the residents) at the address
13.1% had less registrations on record than resident stated
A massive 29.2% of addresses had a different number of votes on record for 2020 than resident stated. 15.3% had phantom votes and 13.8% were missing votes.
Video Summary
While the results are unable to conclude whether Biden or Trump actually won the election, the number of anomalies is likely far greater than the winning margin, deeming the result inconclusive. This indicates that the election results should not have been certified and may be invalid.
Online Survey
Residents of Pennsylvania can complete the following online form to submit their voting information to help match it against the state databases and identify any anomalies.
Other Counties
Results for other counties in PA are due to be released in the coming weeks. Subscribe to @AuditTheVotePA and stay tuned.
Similar grassroots canvass efforts are underway in at least eleven states. Learn more about the thousands of irregularities being uncovered in our article on Door-to-Door Canvassing Results.
Get Involved
Volunteers are needed to help verify the irregularities found. One key way this is done is through voter canvassing, with teams analyzing the county and state records and voter rolls, and others going door-to-door to identify whether the records match the actual residents living at the address.
Learn more about Canvassing Volunteer in Your State
You can also contact your state representatives and ask them to thoroughly investigate all credible allegations and ensure forensic audits are pursued to completion, across all necessary counties.
Further Updates
Mar 12, 2022

In May 2021, James Allen instructed an employee to contact Hart to obtain a Verity key to switch off a setting to allow scanners to accept ballots from any precinct, which is one reason the precincts could not be reconciled.

Election Fraud Evidence and Litigation
Jan 15, 2022

Through a public records request Audit the Vote PA (ATVPA) learned that nearly 100 Democrat-funded groups outside of PA have keys to the state's voter registration system. There's not a single conservative organization on that list.

Liberty Overwatch
Nov 19, 2021
Nov 19, 2021

A complaint alleges Pennslyvania election officials were tearing tapes 'into pieces and placing … them into the trash stating they will have a campfire to burn the data.'

The Federalist
Nov 18, 2021
Election Audit Groups on Telegram
To join the grassroots efforts in pursuing election integrity and audits of the 2020 election in Pennsylvania, you can join the following groups on Telegram:
For other states, see our Full List of Telegram Channels.
ElectionFraud20.org has no affiliation with nor any responsibility for these channels. Discern carefully, as some users and even admins of channels have shown obstruction to transparent audits of our elections.
State Representatives Supporting Election Integrity & Audits
Following the results of the Maricopa Arizona Forensic Audit, 188 state representatives from 39 states signed a letter asking for forensic audits in all 50 states. The signatories for Pennsylvania include:
Representative David Zimmerman
Representative Russ Diamond
Representative Stephanie Borowicz
Senator Doug Mastriano
Pennsylvania Congressman Mike Kelly, Congressman Dan Meuser, and Congressman Scott Perry are part of the US Congress Election Integrity Caucus, a group of 55 federal members working together on issues of election integrity to ensure that Americans in every state and territory have confidence in free, fair, accurate, and transparent elections.
Raw Data
We aim to publish links to both the raw election data and voter registration data for Pennsylvania so that citizens and researchers can analyze this information for themselves.
Further Leads
Footnotes & References
Visitor Comments
Do you have more information about what happened in Pennsylvania? Share in the comments below.